Star Trek: DS9
By Captain Pyke | December 9, 2011 - 10:26 pm
We've been hitting the DS9 pretty hard the last few weeks and got to thinking about Alexander Siddig (Dr. Bashir).. He's made quite a career for himself since leaving the station's sick bay (most recently with his work on Primeval) and his next project Inescapable is going to be a worthy addition. According to Variety,  The film, written and directed by Ruba Nadda, is the story of a Syrian expatriate (Siddig) whose journalist daughter goes missing in Damascus. He must return to his homeland to find her despite the risks, and calls on a former love to help him. An embassy official is at first helpful but may have an agenda of his own
By Captain Pyke | December 9, 2011 - 12:13 am
Happy birthday to a very special Klingon security officer, Michael Dorn turns 59 today (December 9th). Michael started off his career in Hollywood playing an uncredited role in the hit Sylvester Stalone film Rocky. He then moved on to black & white, cars that is. Michael played Officer Turner in a prominent fixture from my child, CHIPs. Of course we all remember the irascible Lt. Cmdr. Worf from our beloved Star Trek: The Next Generation, Star Trek: Deep Space Nine, and subsequent films. On this special day, we'd like to pay tribute to Michael with something we haven't done in a while. That's right kids, it's time for a Youtube Video Round-up: Happy Birthday Worf edition.
By Crewman Becky | November 7, 2011 - 11:09 pm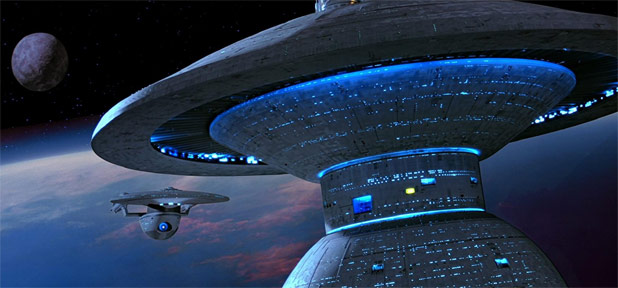 You say you haven't heard of Starbase Indy yet? You should have! We attended last year's convention and supplied live coverage to all of our readers. Oh, you weren't reading our site yet last November? ...ok I guess you get a pass on that one, but you don't have an excuse to be in the dark any longer.
Starbase Indy is an awesome fan run convention that is held every year around Thanksgiving. They get fabulous guests and put on one of the most interactive events we've seen. If you've yet to attend, their convention isn't a 9 to 5 deal where you go home early. It's what I like to call a fully immersive experience. They provide workshops, vendor access, fun events, and of course plenty of celebrity goodness practically around the clock, for kids as well as "grups."
By Captain Pyke | November 1, 2011 - 10:28 pm
Spanning two Trek series, Colm Meaney played the role of Engineer Miles O'Brien from the decks of the Enterprise-D to the halls of Deep Space Nine. Now he's starring in a brand new series for the cable network AMC called Hell on Wheels. In this contemporary western, Hell on Wheels centers on former Confederate soldier Cullen Bohannon, portrayed by Anson Mount, whose quest for vengeance has led him to the Union Pacific Railroad's westward construction of the first transcontinental railroad. Colm plays Thomas "Doc" Durant, a greedy entrepreneur taking full advantage of the changing times. As the railroad comes closer to completion and he becomes rich beyond his wildest dreams, he becomes more and more concerned about his place in history.
"He's not a very nice character. In many ways he's a crook, he's a liar, he's a cheater." Says Colm. "With any great project like this, the federal government is very involved and Durant was very clever at playing this game... He's a guy who's prepared to do what he has to do to get it done and not be concerned about posterity. He's truly an epic character of the era."
By Captain Pyke | October 30, 2011 - 9:25 pm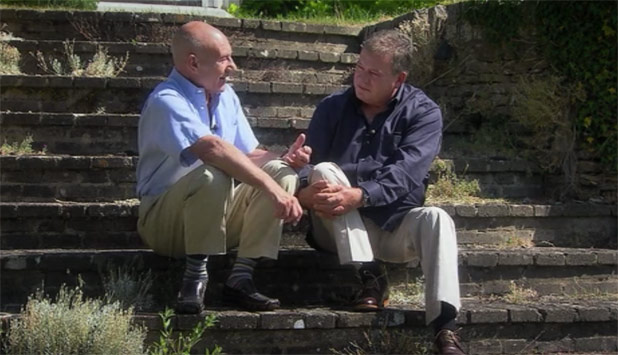 So I was cruising Netflix tonight, searching for Chuck Norris's The Delta Force (no lie!) and I stumbled upon William Shatner's documentary The Captains
on Watch Instantly. You know the one; it features interviews with all six Star Trek captains... Patrick Stewart, Avery Brooks, Kate Mulgrew, Scott Bakula, and Chris Pine. Oh, and The Shat, of course. I've been meaning to sit down and watch The Captains since release back in July, but I just simply haven't made the time. Now that I have, here are a few takeaways; First, Patrick Stewart seems to be one of the most thoughtful and eloquent actors in the history of the stage, Kate Mulgrew is tough-as-nails and can hold her own with anyone, Avery Brooks is down right crazy & amazing all at the same time, Scott Bakula is extremely down-to-earth, and Chris Pine IS William Shatner 30 years younger. And on top of that, Patrick Stewart's chair is gigantically disproportionate to Shatner's.
By Captain Pyke | October 27, 2011 - 9:57 pm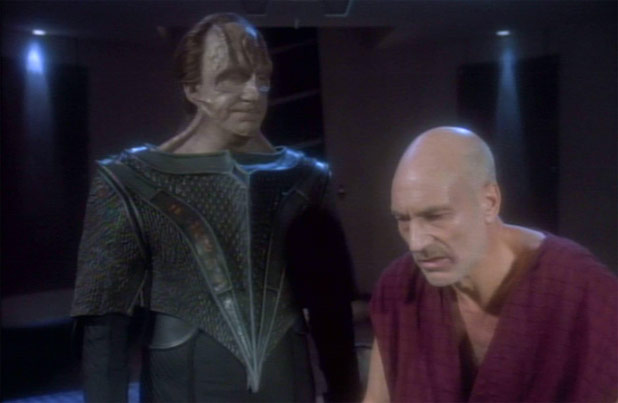 This completely slipped under our radar and if we'd known about it, we would be live blogging from there this weekend. For those of you in the Orlando, FL. area, head down to the Hilton Orlando Resort Lake Buena Vista to get your Trek on. Vulcan Events is hosting it's Away Mission: Orlando with a slew of Trek stars from the captain of the Enterprise to two famous Ferengi brothers and many others in-between. Sir Patrick Stewart will be on hand with David Warner, Armin Shimuerman, Max Grodenchick, Larry Nemecek, Rick Sternbach, Lolita Fatjo, Phil Morris, Jennifer Hetrick, & Grace Lee Whitney. For the Stargate / Firefly fans, Jewel Staite & David Nykl. The show starts tomorrow (October 28th) at 5pm and runs through Sunday.
By Captain Pyke | October 22, 2011 - 11:57 pm
Armin Shimerman (Quark DS9) is onboard a brand new project called The Sublime and Beautiful that's seeking funding through the every popular Kickstarter. With various donation levels, one in particular caught our attention; for a $60 donation you can have a personalized outgoing voicemail message from Quark. This is limited to the first 60 donors, but how cool would it be to have that fabulous Ferengi on your voicemail message? Maybe he could berate the callers for being to cheap, or maybe blame his idiot brother Rom for your not being able to answer the phone. The possibilities are endless. Not only will you get the personalized greeting, but you'll also be helping an independent production get off the ground. The film has an interesting premise that deals with the heavy subject of grief and loss and has been on the drawing board for nearly eight years.
By Captain Pyke | October 19, 2011 - 10:57 pm
Our good friends Scott & Miles from The SciFi Diner Podcast just posted another awesome interview with none other than Q, Star Trek's John De Lance. Recorded at this year's Shore Leave convention John discusses his new projects including Torchwood: Miracle Day and of course his time as that mischievous omnipotent being on Star Trek: The Next Generation, Star Trek: Deep Space Nine, & Star Trek: Voyager. As you guys & gals know, The SciFi Diner is one of our favorite podcasts and you should definitely check out the rare interview with John De Lance. You won't be disappointed. See the episode details below.
The SciFi Diner Podcast Episode 114:
John de Lancie (born March 20, 1948) is an American actor. He is best known for his recurring role as Q on the various Star Trek series and as Frank Simmons in Stargate SG-1.
By Captain Pyke | October 3, 2011 - 9:49 pm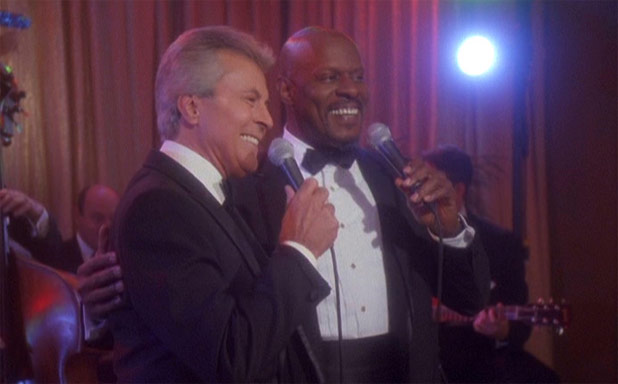 Today we get the chance to celebrate the birthday of a very original and special actor in all of Trekdom, the one and only Avery Brooks. Of course you know that Avery played the amazing Captain Benjamin Sisko on Star Trek: Deep Space Nine. You know, the guy who punched Q in the face and then later poisoned an entire planet. That same man that can "live with" killing a Romulan Senator to bring that same pointed eared very suspicious race into the Dominion war. The Emissary and religious figure to millions of Bajorans and the same icon that later became a non-corporeall being and now calls the celestial temple his home. Anyway, you get the idea.