Starbase Indy: A Great Fan Run Star Trek Convention Coming Up In Indianapolis
By Crewman Becky | November 7, 2011 - 11:09 pm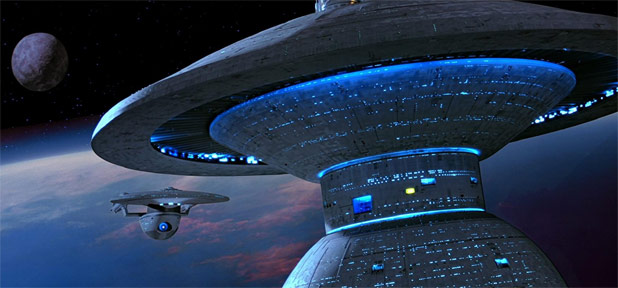 You say you haven't heard of Starbase Indy yet? You should have! We attended last year's convention and supplied live coverage to all of our readers. Oh, you weren't reading our site yet last November? ...ok I guess you get a pass on that one, but you don't have an excuse to be in the dark any longer.
Starbase Indy is an awesome fan run convention that is held every year around Thanksgiving. They get fabulous guests and put on one of the most interactive events we've seen. If you've yet to attend, their convention isn't a 9 to 5 deal where you go home early. It's what I like to call a fully immersive experience. They provide workshops, vendor access, fun events, and of course plenty of celebrity goodness practically around the clock, for kids as well as "grups."
This year they're holding court over the weekend of December 9-11, and their guests include: John Billingsley, Tony Todd, Bonita Friedericy, Jay Acovone, Dean Haglund, David Reddick, Deborah Downey, Morgan Gendel, Five Year Mission, and iL Troubadore.
Being fan run, they are more relaxed than some of the bigger cons. This relaxed atmosphere gives the attendees you more access to the celebrities throughout the whole weekend. Be prepared to run into your favorite actor at the hotel restaurant or just walking around the convention floor. If spontaneous conversation isn't your bag, you can always attend the Dinner With The Stars . Here you'll get to sit and eat dinner at the same table with one of the guests. There are few seats still available so be sure to order yours in advance. Last year we had a ton of fun listening to Tim Russ sing and Ethan Phillips tell his infamous jokes after we were through with dinner.
Be sure not to miss it this year!
See the official Press Release below:
Find your inner alien and discover your inner light with a Hugo Award-winning writer and stars from Star Trek, X-Files, Stargate SG-1 and Chuck during Starbase Indy: The 16th Generation. The annual science fiction convention draws fans from around the Midwest and will run during a different weekend this year, Dec. 9 to 11, at the Indianapolis Marriott East, 7202 E. 21st St.
Besides guest stars, the weekend festivities at Starbase Indy will include Star Trek-based musical groups, arcade games, robot battles, a masquerade, sessions on science and science fiction, karaoke, and a movie on Saturday, The Truth is Out There, with discussion by guest star Dean Haglund, who portrayed computer geek Richard Langly in the X-Files.
Hugo Award-winning screenwriter Morgan Gendel will lead a two-hour writing workshop. He will also talk about "The Inner Light," the Star Trek: The Next Generation episode which won him the Hugo and in which Capt. Picard lived an entire lifetime on another world.
Other guest stars include Tony Todd, known to Star Trek: The Next Generation fans as the Klingon Kurn, Worf's brother, and for his role in horror movies like Final Destination and Candyman. John Billingsley portrayed the alien Dr. Phlox in the Star Trek series Enterprise; he also had a recurring role in the HBO series True Blood. His wife, Bonita Friedericy, is familiar to fans of the NBC hit series Chuck as General Diane Beckman. Jay Acovone appeared in Stargate SG-1 as Major Charles Kawalsky and in the TV series Beauty and the Beast as deputy district attorney Joe Maxwell. Other guests will be native Hoosiers Deborah Downey, who guest starred in the original Star Trek series, and David Reddick, award-winning artist whose work has appeared on www.roddenberry.com, www.startrek.com, in Star Trek Magazine and other magazines.
Star Trek fans can rock on with Five Year Mission, a musical group that composes songs based on episodes of the original Star Trek, and Il Troubadore, a Klingon band. The two bands will battle Friday evening and each band will perform separately Saturday. In addition, Dinner with the Stars is back again this year, giving fans a chance to mingle with the stars and see them perform.
Besides seeing stars, convention attendees can try their skills in the 1980s video arcade room, featuring blasts from the past such as Dig Dug, Super Pac Man, Tron and Dragonslayer. Even more games are promised for this year. Keep your quarters, the games will be set on free play.
In the Robot Room, Joe Greene will help attendees build Lego robots from his huge inventory of parts, with competitions for the creation; think of Real Steel in miniature. Wax Chaotic will provide Filking, folksongs for the future.
On the other hand, if Project Runway holds a certain fascination, Starbase Indy has its own variation with a masquerade where attendees strut their stuff across the stage in science fiction gear. One note about the stage – it's not your typical backdrop. It looks like the bridge of the U.S.S. Enterprise, complete with sliding doors for entry onto the bridge.
For those who want to shop, but don't want to face holiday rush at the shopping centers, the dealers room at Starbase Indy offers out-of-this-world merchandise for the science fiction fan. Models, cups, jewelry, soaps, T- shirts and more provide selections to tempt even a bounty hunter such as Boba Fett.
Other featured activities include karaoke and a con suite where attendees can relax and enjoy some munchies. The con suite has been named the Dana Dougan Con Suite in honor of the longtime organizer of the suite, who lost her battle with cancer last year.
For the younglings, special programming will include a session on making your own tribble, Saturday morning cereal & cartoons, making a wave bottle and more.
Convention charities are Cats Haven - a no-kill shelter - and LUNGevity, in honor of Dana Dougan and her battle with lung cancer. By promoting worthwhile charities, Starbase Indy follows the precepts of Star Trek creator Gene Roddenberry, who believed that people could work for a better future.
Registration is $40 (at-door $45). Additional fees apply for autographs, the writing workshop and the Dinner with the Stars.