Star Trek: Voyager
By Crewman Becky | December 6, 2014 - 6:23 pm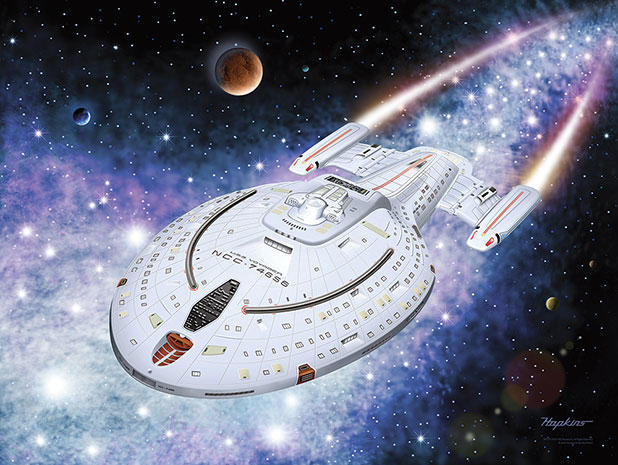 Bye Bye, Robot has announced its launch of Five new officially licensed Star Trek posters...one poster for each of the live series. As with many of Bye Bye, Robot's previous posters, all of these new posters are printed on acid-free heavyweight coverstock that is thicker than normal paper...more akin to business card thickness. Further, the acid-free nature of the paper makes them archival. These five new prints were painted by four different artists; two returning artists, and two artists who are new to Bye Bye, Robot.

By Crewman Becky | September 19, 2014 - 4:30 pm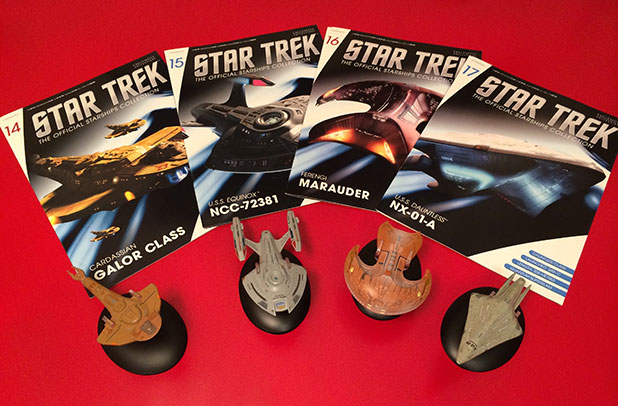 We're super stoked every time we see a box in the mail from Eaglemoss, the people responsible for the Star Trek Starships Collection, but this time the time between shipments seemed to be quicker than normal. We'd love to blame that on an exciting temporal anomaly adventure but the reality is that we've just been plain old busy. But hey, how is it not cool when the outcome of busy-ness is that you get to open 3 shipments of Star Trek collectibles all at once? It was totally Trek-mas in July September. Check out their website to sign up for a subscription of your very own.
Anyway, as usual, we loved every second of opening and "assembling" our ships. That's one of those things I personally like to savor. Examining each ship's detail is a blast. Don't tell anybody, but when I happen to be opening them when no one else is around, they even go out for a little "test-flight" around the room...with corresponding "vroom vroom" sound effects (provided by me, of course). Remember...mum's the word on that one.
By Captain Pyke | September 3, 2013 - 10:11 pm
If you're in the LaLa-Land area (Los Angeles Califor-ni-ya), be sure to swing by the Laemmle's Music Hall 3 theater to check out IT'S A FRAME UP. The Michael DeMeritt (Life After Trek Episode) co-produced short will be playing Tuesday through Thursday and features another well known Voyager alumnus, Robert Picardo. IT'S A FRAME UP features 30's slapstick comedy in the style of Abbot & Costello or better yet Benny Biffle and Sam Shooster. Check out the info below to learn more.
By Captain Pyke | May 1, 2013 - 11:03 pm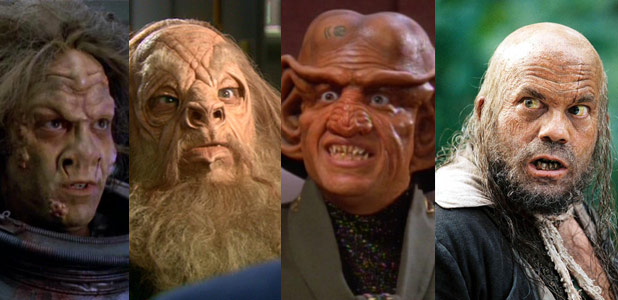 Our good buddies Scott & Miles over at The Scifi Diner Podcast just dropped another episode featuring an interview with Lee Arenberg (Grumpy from Once Upon a Time and Pintel from the Pirates of the Caribbean). Lee also has an illustrious Star Trek resume as well. Here's the break down.
By Captain Pyke | March 31, 2013 - 9:42 pm
Here's a bit of nostalgia for you. I recently stumbled upon a documentary on Youtube called Star Trek Voyager - Inside the New Adventure. The documentary was originally released on January 14th, 1995 on the fledgling UPN network just two days before the premiere of Janeway and her crew. Hosted by Robert Picardo, the hour long (42 mins sans commercials) video showcases what new viewers could expect from the next installment of the Trek franchise.
By Crewman Becky | March 26, 2013 - 10:53 pm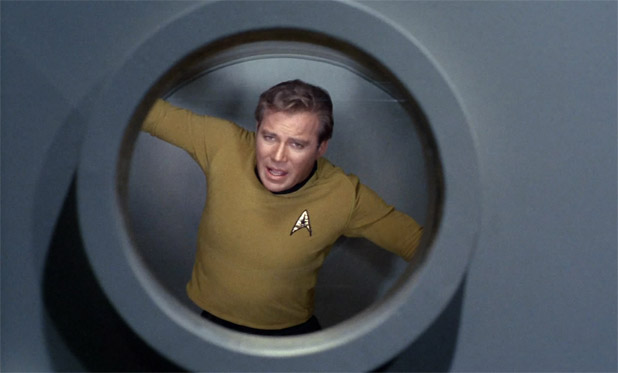 If you have already heard about Hulu's Free Star Trek Week, then you won't see this article because you've been on your couch since the announcement watching it…like we have…and are not diligently checking your interwebs. But…if you haven't heard about it, then listen up! Go grab some munchies, adjust your favorite recliner, and be prepared to enjoy non-stop Star Trek till the end of the month!!! (it deserved triple exclamation points, fer-sure)
Hulu is offering everyone free access to all Star Trek shows, in honor of The Shat's birthday.
You can watch your favorite series, or your favorite episodes…but if you've never watched (or hardly watched) Star Trek before and are overwhelmed about where to start, check out this list of excellent episodes. It pretty much hits it right on the nose with the suggestions.
By Captain Pyke | January 15, 2013 - 12:52 am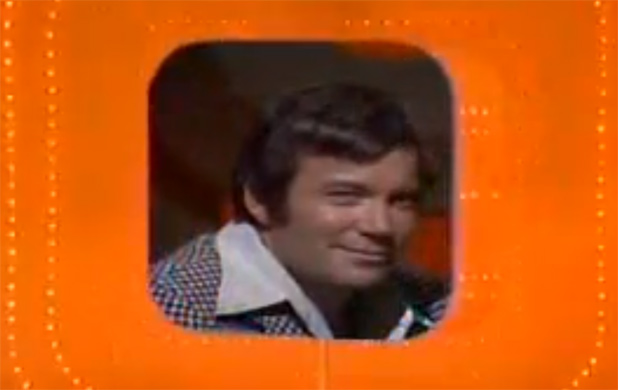 If there's one thing I love almost as much as Star Trek (besides The Rockford Files), it's Match Game. It could be any incarnation, 73, 74, 78, PM, it doesn't matter. Just give me a YouTube playlist and lots of Charles Nelson Reilly. I hear he won the Tour de France with two flat tires and a missing chain...but I digress. Recently watching an episode (or six) of Match Game, I got to thinking... Surely there are episodes of Match Game and other game shows chock full o'Trek stars. And, since we live in the future, I was able to fire up the Googles and find several episodes for all you Vulcans and Andorians alike. So, in my best Gene Rayburn, "There are so many Trek stars in these game shows [long pause] that you'll have to [BLANK]." As an added note, even though the title of this article sounds like a question from Jeopardy, this list is Alex Trebek-less. That's on principle... Enjoy.
By Captain Pyke | November 18, 2012 - 11:09 pm
By now, many of you have heard of the new Tim Russ helmed Trek project Star Trek: Renegades. If not, it's a brand new film brought to you by the same folks responsible for Star Trek: Of God's and Men that needs your help via Kickstarter. The new project features many Trek alumns including: Tim Russ reprising his role as Tuvok & directing the feature, Garrett Wang, Gary Graham, Ethan Phillips, Robert Picardo, and Life After Trek-kers Manu Intiraymi & Walter Koenig. The story of Renegades takes place several years after Voyager's return home and delves into the dark side of the human psyche, pushing the characters to their limits, and forcing them to carry out actions that they never would have as Starfleet officers
By Captain Pyke | September 4, 2012 - 10:31 pm
We're pleased to announce episode 20 of our "Life After Trek" podcast, featuring Michael DeMeritt. Many of you know Michael from his time on the full run of both Star Trek: Voyager & Star Trek: Enterprise as First / Second Assistant Director. He also worked, most recently, on hit shows like ABC Family's Make It or Break It, Showtime's Californication, NBC's Las Vegas, and many others. We met him at BayouCon 2012 in Lake Charles, Louisiana and got the chance to experience his inside Star Trek panels featuring many never-before-seen photos & stories. We knew, then and there, that he would be an excellent guest on "Life After Trek".