Trek Culture
By Crewman Becky | December 6, 2014 - 6:23 pm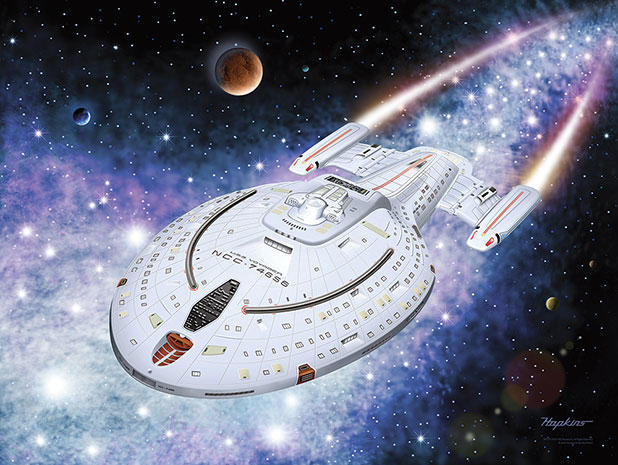 Bye Bye, Robot has announced its launch of Five new officially licensed Star Trek posters...one poster for each of the live series. As with many of Bye Bye, Robot's previous posters, all of these new posters are printed on acid-free heavyweight coverstock that is thicker than normal paper...more akin to business card thickness. Further, the acid-free nature of the paper makes them archival. These five new prints were painted by four different artists; two returning artists, and two artists who are new to Bye Bye, Robot.

By Karin Wellman | March 13, 2014 - 7:13 pm
The hardest and most rewarding thing about Deep Space 9 is that it is not episodic in nature. The stories often do not bear their full weight without being experienced in series and, like that, Avatar bears no weight without the entirety of the television run behind it. In other words, if you haven't watched Deep Space 9 all the way to the end, this isn't the book you're looking for.
By Captain Pyke | October 17, 2013 - 9:09 pm
We're pleased to announce the 25th episode of our "Life After Trek" podcast. In this episode we're featuring an interview with "Star Trek Stellar Cartography: The Starfleet Reference Library" Author Larry Nemecek. Larry's new book is available for pre-order from Amazon
and will be available for sale December 3rd at bookstores everywhere.
Of course many of you out there know Larry from his many other works including "Star Trek: The Next Generation Companion", The Con of Wrath, hundreds of Trek interviews featured in Trekland on Speaker, his personal site Treklandblog.com, numerous convention appearances, and pretty much every aspect of Star Trek from TNG onward.
By Captain Pyke | September 3, 2013 - 10:11 pm
If you're in the LaLa-Land area (Los Angeles Califor-ni-ya), be sure to swing by the Laemmle's Music Hall 3 theater to check out IT'S A FRAME UP. The Michael DeMeritt (Life After Trek Episode) co-produced short will be playing Tuesday through Thursday and features another well known Voyager alumnus, Robert Picardo. IT'S A FRAME UP features 30's slapstick comedy in the style of Abbot & Costello or better yet Benny Biffle and Sam Shooster. Check out the info below to learn more.
By Crewman Becky | September 1, 2013 - 9:37 pm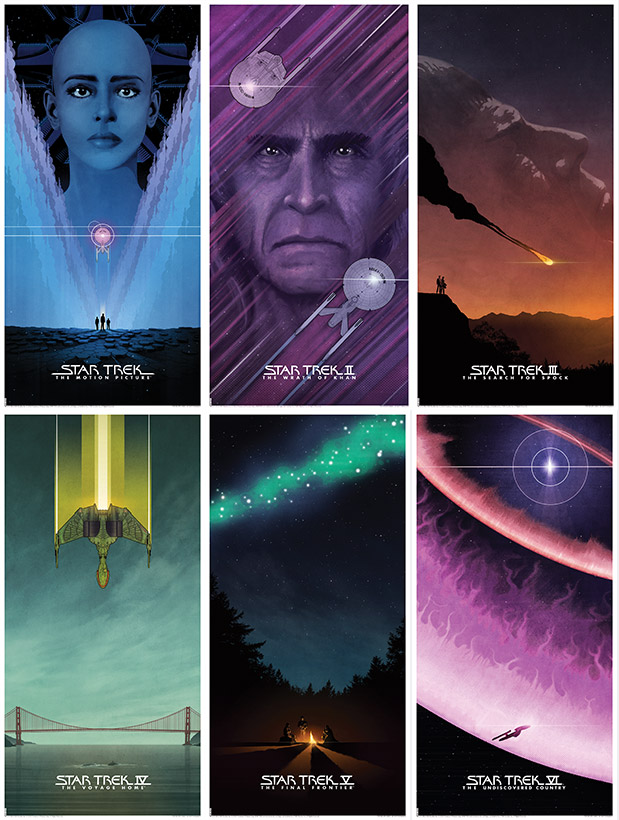 We're super stoked to announce the launch of Bye Bye, Robot's newest prints. Six new TOS lithographs!
These new posters, by artist Matt Ferguson, are inspired by all of The Original Series movies, and every one is a unique visual representation of the story told within the films.
By Karin Wellman | July 24, 2013 - 9:55 pm
The thing I love most about Star Trek is the stories it inspires in my mind. Each episode is the doorway into new story possibilities in the Star Trek universe, so I am exploring the stories that Star Trek has inspired in other people's minds looking for deeper explorations of themes and characters.
I chose Q-In-Law as my 2nd "mission" because it featured two of my favorite comedic characters, Lwaxana Troi and Q. The hilarity that my mind conjured for such an encounter convinced me that this book had to be the TNG book that I read first.
By Crewman Becky | July 23, 2013 - 10:14 pm
MAKE IT SO!!! Be part of this great effort!! There's still a little time to get in on the fun. Bring the bridge of the Enterprise-D to Vegas. Who knows...maybe traveling to Vegas will be just the thing it needs to get traveling more...next time maybe even to your neck of the galaxy woods.
By Karin Wellman | July 10, 2013 - 8:31 pm
How I picked this book
It started with the title. I don't think anyone who has watched The Original Series can forget the moment in "Charlie X" when Uhura is singing in the rec room while accompanied by Spock on the Vulcan lyrette. Her voice and songs are a reminder of beauty in an environment built for functionality and protocol. Combined with the promise of cat-people1 I knew that this was the novel for me.
By Crewman Becky | July 8, 2013 - 10:03 pm
As you well know (...anyway...I'm assuming you do...after all, your only source of online info & entertainment is us, right?... right?!?) Subspace Communique reported on the Enterprise Bridge Restoration Project back in February 2013 on "Life After Trek." Well, much has happened since then, and now, Trek Radio is teaming up with Huston Huddleston's New Starship to bring the iconic Enterprise-D bridge to Creation Entertainment's Star Trek Las Vegas convention this August. This is your chance to help bring this cool memorabilia to the Rio where you'll actually be able to sit in one of the bridge chairs, and bark, "Make it so!" or shout, "FIRE!" Don't miss out on making this dream a reality!