Trek Culture
By Aaron Gallo | March 12, 2013 - 10:10 pm
Note from Captain Pyke: Thanks to Aaron from the Starfleet Escape Podcast for sending along the new episode info and show primer. It's a show we dig and know you will too. Follow these guys on twitter @SFEscapePod
The Starfleet Escape PodCast started out in August of 2012 on the Four Eyed Radio Network. Every other week three Star Trek fans get together and discuss various topics in the Star Trek universe.
By Crewman Becky | March 11, 2013 - 11:23 pm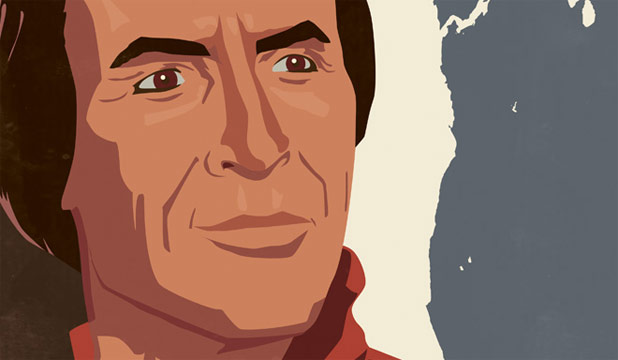 Hi-ya folks. Gather up around the fireplace and I'll tell you a story about a young augment, tyranny and the repercussions from a giant ego through space and time. No I'm not talking about Lady Gaga; I'm talking about Khan, of course.
By Captain Pyke | March 10, 2013 - 8:06 pm
You may have heard of that little event in our neck of the woods called SXSW. Well, it seems Google Search Chief, Amit Singhal, has a vision for the future of search that he says will be much like the computer from Star Trek.
"You can walk up to a computer and say, hey, computer," Says Singhal.
Tags:
By Captain Pyke | March 9, 2013 - 4:32 pm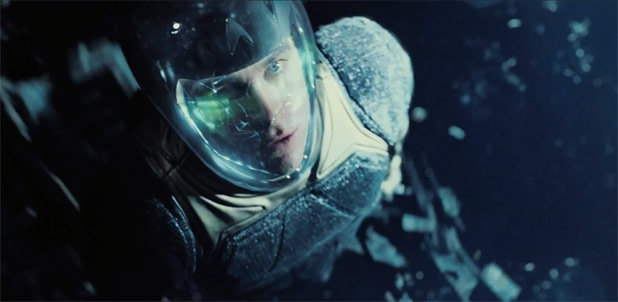 A brand new teaser trailer for the upcoming J.J.-verse Star Trek Into Darkness was leaked to the web. Supposedly, this is the trailer that's being shown as a preview before the new Disney film Oz the Great and Powerful. The new teaser features a handful of as-of-yet-seen intense action shots from the film including Kirk & Spock in a small (shuttle? fighter?) ship chase and general spacesuit awesomeness.
By Captain Pyke | March 8, 2013 - 9:16 pm
To celebrate the launch of Star Trek: The Next Generation - Season Three [Blu-ray]
, CBS & NCM Fathom Events have joined forces to present one of our favorite episodes in theaters nationwide. "The Best of Both Worlds" was a game changing episode for TNG which solidified the series in the minds of Trek fans nation wide and will be shown for one night only in April.
According to the Fathom Events website; The two-part storyline comprising the third season finale and the fourth season premiere of the beloved series Star Trek: The Next Generation®- will, for the first time ever, be seamlessly tied together as one continuous and uninterrupted story digitally restored with new CGI effects… on the big screen! Audiences will also see special clips from "Regeneration: Engaging the Borg", a behind-the-scenes look at the making of The Best of Both Worlds.
By Trek Queen | March 4, 2013 - 11:50 pm
The weekend following Valentine's Day marked the return of the Grand Slam Sci-Fi Summit in Southern California after an absence from the convention circuit for a few years. The event had been a major affair in the sci-fi world, but especially with Star Trek, for nearly twenty years and had been prominently displayed in the Trekkies documentaries and on various media productions.
Despite attendance dropping due to the growing popularity of the Las Vegas Star Trek Convention and a move to different locations (first starting in Pasadena, then Burbank, next to LAX, and then back to Burbank again), the Grand Slam has had a loyal following and ended up having a more intimate feel than many of the other conventions of similar genres with thousands of attendees.
By Rebekah Eckhart | February 25, 2013 - 9:49 pm
"Star Trek was an attempt to say that humanity will reach maturity and wisdom on the day that it begins not just to tolerate, but take a special delight in differences in ideas and differences in life forms. If we cannot learn to actually enjoy those small differences, to take a positive delight in those small differences between our own kind, here on this planet, then we do not deserve to go out into space and meet the diversity that is almost certainly out there."
-- Gene Roddenberry
I personally think this war nonsense has gone on long enough; it's almost as annoying as the Trekkie/Trekker argument. Almost. So, let's start with the basics shall we?
By Captain Pyke | February 24, 2013 - 10:55 pm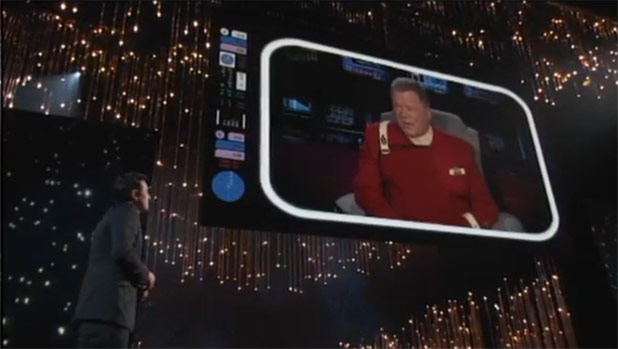 During the opening number for the 85th Academy Awards, one James Tiberius Kirk sent a message... from the future. The fate of the Oscars was at stake and host Seth MacFarlane was in dire need of help.
By Captain Pyke | February 12, 2013 - 12:09 am
Like so many fan films, Starship Exeter ceased production short of completing its final episode. With its bridge slowly rotting in a Central Texas barn, the Exeter team parted ways when funding ran dry. Now, the bridge is getting new life through a brand new fan series called Starship Ajax in Oklahoma City. In 2010, OKC resident John Hughes found out about the abandoned set and made his way to Austin to retrieve it.