Trek Culture
By Captain Pyke | November 19, 2012 - 11:47 pm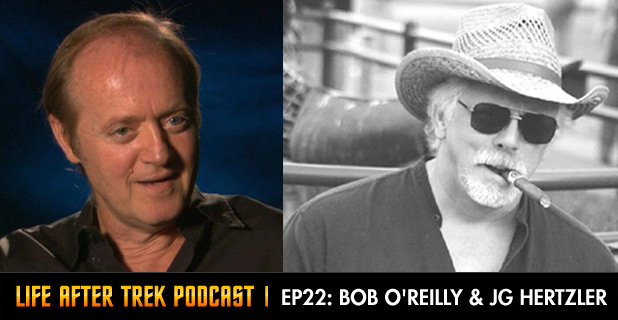 We're pleased to announce episode 22 of our "Life After Trek" podcast, featuring Robert O'Reilly & J.G. Hertzler. Many of you know them as Chancellor Gowron and General / Chancellor Martok. We would like to give a special thanks to the fine folks at Starbase Indy for hooking us up with this fantastic interview. If you're in the Indianapolis area, be sure to stop by this coming Thanksgiving weekend (November 23-25, 2012) and enjoy this fantastic fan run con. Both Bob & J.G. will be on hand in full Klingon regalia for a special panel, plus other (non-forhead ridged) events for the full run of the convention.
By Captain Pyke | November 18, 2012 - 11:09 pm
By now, many of you have heard of the new Tim Russ helmed Trek project Star Trek: Renegades. If not, it's a brand new film brought to you by the same folks responsible for Star Trek: Of God's and Men that needs your help via Kickstarter. The new project features many Trek alumns including: Tim Russ reprising his role as Tuvok & directing the feature, Garrett Wang, Gary Graham, Ethan Phillips, Robert Picardo, and Life After Trek-kers Manu Intiraymi & Walter Koenig. The story of Renegades takes place several years after Voyager's return home and delves into the dark side of the human psyche, pushing the characters to their limits, and forcing them to carry out actions that they never would have as Starfleet officers
By Captain Pyke | November 17, 2012 - 12:30 am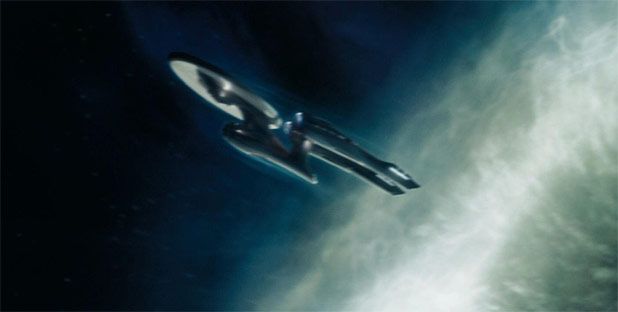 The full bore press frenzy has yet to start for J.J. Abrams's Star Trek Into Darkness, but we are starting to see an upswing in news. It seems that not only will the film's first theatrical trailer debut December 14th with The Hobbit, but the first nine minutes of the film will be shown at IMAX theaters. I gotta say, I don't think we'll be going to see the short preview. I'm one of those guys that doesn't enjoy spoilers... of course they're hard to escape when you run a Trek site. I've tried my best to avoid news for films like The Dark Knight Rises and Skyfall and have been mildly successful, with Into Darkness though, it will definitely prove to be more difficult.
By Crewman Becky | November 13, 2012 - 7:26 pm
Ok, so I would have translated that whole title into Klingon, but my language skills suck so bad that I'm pretty sure a targ could write Klingon better than I. Anyway…how cool is it that we're one step closer to a real universal translator? And this step…is a doozy.
Microsoft recently showed off new technology that, not only translates your spoken word into another language in real time, but also makes the voice of the translated version sound very much like the actual speaker's voice.
By Crewman Becky | November 9, 2012 - 12:20 am
Did you get to attend the TNG 25th Anniversary Movie Event in July? If the answer is Yes, you have the opportunity to have that kind of fun all over again. If No, then hang on to your polyester jumpsuit because Star Trek delight is waiting for you at your local theater at the end of this month. In case you haven't guessed it yet, the TNG Season 2 blu-rays are finished and having their own release party, of sorts. You'll get to experience two episodes on the big screen with thousands of other Star Trek fans at theaters across the country. As a fan, this is an event that you don't want to miss. It's like a mini-con that comes to you.
By Captain Pyke | November 1, 2012 - 11:01 pm
For all of you TNG fans, (and come on, who isn't?), Star Trek: The Next Generation Season 2 is headed to blu-ray December 4th. Hey, just in time for Christmas, or Picard Day, or whatever. The new release will include a special edition of "The Measure of a Man" that includes deleted scenes and different angles from the broadcast version. Pretty cool.
By Captain Pyke | October 29, 2012 - 8:50 pm
A brand new look at the history of Star Trek has hit bookstore shelves nationwide. Written by Star Trek author Robert Greenberger, Star Trek: The Complete Unauthorized History spans the entire life of the franchise from The Original Series through J.J. Abrams's reboot. Robert is best known for his dozens of Trek novels ) short stories and his long stint with DC Comics. The book promises to dive into the full history of Trek including its triumphs and defeats.
By Captain Pyke | October 24, 2012 - 11:10 pm
Today is a day I remember well. I was 16 years old and an avid Star Trek fan. It was one of those moments that we all have... knowing exactly where we were when we learn of something tragic. Some time, late in the evening of October 24th, 1991, I was incessantly flipping cable channels until I stumbled upon a news story about Gene. Like so many Trek fans, I was saddened to hear of his passing. While I don't have any personal memories of Gene, he influenced and touched my life in many different ways and I wish I had had the opportunity to thank him.
By Captain Pyke | October 20, 2012 - 11:51 pm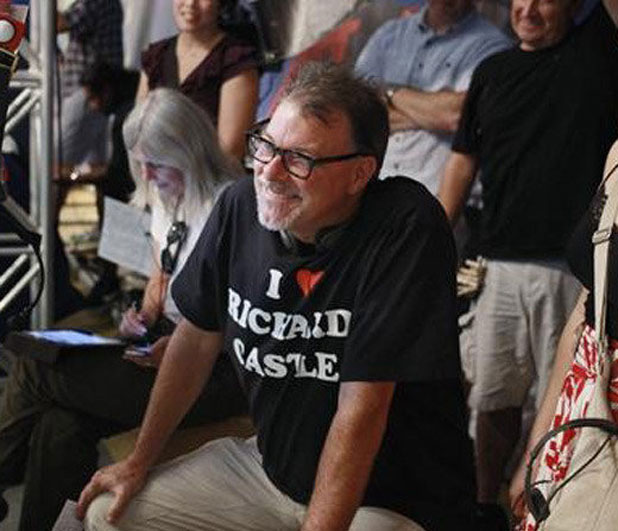 As we reported last month, Jonathan Frakes is directing a brand new episode of the hit show Castle guest starring Armin Shimerman. It looks like the first images from the set are starting to appear online. Zap2it.com has posted several pics from the set featuring both Frakes and Castle star Nathan Fillion.