Trek Culture
By Captain Pyke | February 7, 2013 - 11:27 pm
Looks like the folks over at Entertainment Weekly have been privy to another Into Darkness exclusive, or exclusives, as the case may be. In the FEB 15, 2013 print & digital issues, EW is showcasing several new sneak peak images of the upcoming J.J. Abrams sequel.
By Captain Pyke | January 28, 2013 - 10:15 pm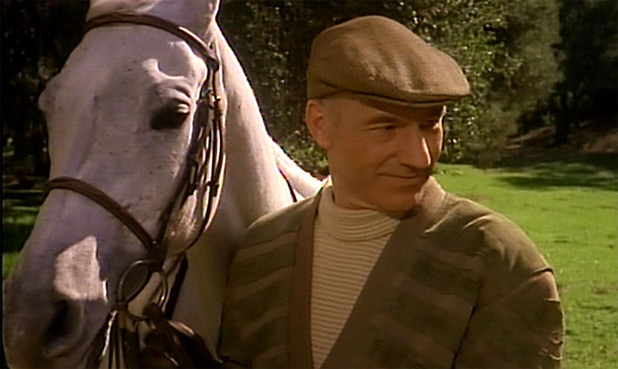 As refined thespians and Knights of the Realm, Patrick Stewart & Ian McKellen are no strangers to the Broadway stage. This fall Picard & Magneto (or Professor X & Gandalf, if you prefer) are set to co-star in two separate plays. First, they will be reprising their roles in the critically acclaimed Samuel Becket play Waiting for Godot, which originally played in 2009 to sold out audiences at London's West End. Next, they will be in a limited engagement run of Harold Pinter's No Man's Land.
By Captain Pyke | January 24, 2013 - 8:07 pm
Okay, so this is the second article I've written in so many months about that other "star" franchise. Let me set the record straight, I dig Star Wars too. In fact, I love Empire... both the Queensryche album and the Star Wars movie. So, when the news came through the tubes today that J.J. "will" direct the Episode VII, I got kinda excited. I was hoping for Joss Whedon, but what's a brother gonna do?
By Captain Pyke | January 20, 2013 - 11:35 pm
Today we'd like to celebrate the birthday of our favorite country doctor, black hat cowboy, and consummate actor DeForest Kelley. De would have been 93 years-young today and the Trek universe hasn't been the same since his untimely passing in 1999. De started his career in Hollywood with a role in the film noir classic Fear in the Night which starred Paul Kelly & Ann Doran. Shortly after that role, De served his country during World War II in the First Motion Picture Unit, making propaganda & training films for the US Armed Forces. During his time with FMPU, De was spotted by a paramount talent scout and the rest, as they say, is history.
By Captain Pyke | January 19, 2013 - 12:14 am
I have a few idiosyncrasies as a Trek fan and my choice for favorite Captain is definitely one of them. Sure, I dig Kirk, Picard, & the rest of the gang, but my fav has to be Captain Pike. Of course, you probably guessed it by my nom de plum. The original Christopher Pike was played by the late great Jeffrey Hunter and TrekWeb just recently reprinted excerpts from an interview featuring the "first" captain of the Enterprise. The original interview was conducted in 1965 and Jeffrey explains the premise of a scifi pilot that he's filming and how excited he is to be a part of it.
"We run into pre-historic worlds, contemporary societies and civilizations far more developed than our own" Hunter told the interviewer "It's a great format because writers have a free hand - they can have us land on a monster infested planet, or deal in human relations involving the large number of people who live in this gigantic ship."
By Crewman Becky | January 15, 2013 - 11:44 pm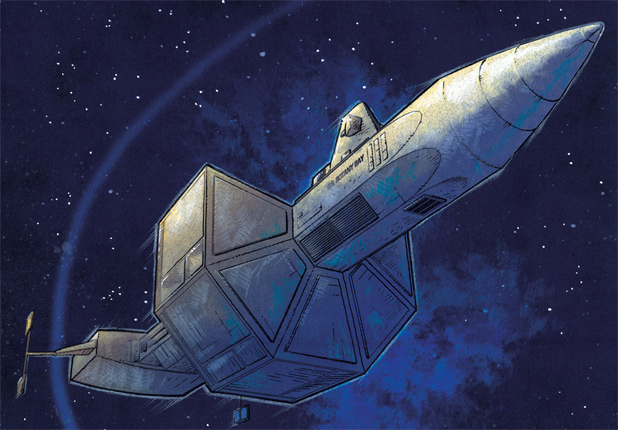 Look out Khan! We've got your ship! …and now you, at home, can have it too. We're very pleased to announce Bye Bye Robot's newest officially licensed Star Trek poster release, "SS Botany Bay" by illustrator Mark Brayer.
By Captain Pyke | January 12, 2013 - 11:36 pm
Here's an interesting video that we found on Youtube featuring Star Trek: The Next Generation screen tests for everything form Data's makeup to Troi's contacts and hairstyle. Entitled "Creepy TNG Test Footage" the video show's what must have been the pre-production lighting and wardrobe test's for Brent Spiner, Marina Sirtis, Jonathan Frakes, Denise Crosby, LeVar Burton, and Patrick Stewart.
By g4nd7n | January 9, 2013 - 11:26 pm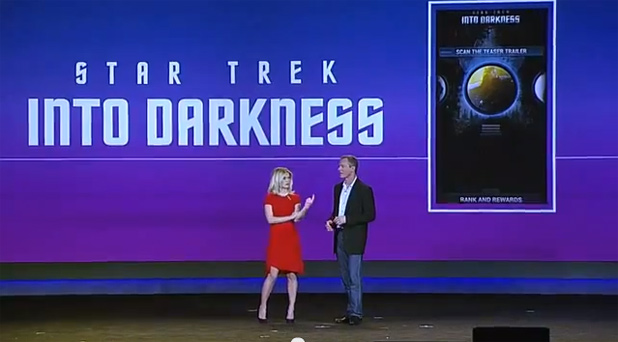 Two Star Trek Into Darkness videos have hit the web and showcase the upcoming film in different ways. First up is a video from the Qualcomm keynote address from CES in Las Vegas. CES is currently running all over Vegas with hundreds-of-thousands in attendance and Qualcomm has taken over as keynote presenter from Microsoft. The big Q had an awkward presentation that showcase everything from over-the-top actors, a fully electric Rolls Royce and Maroon 5. Sandwiched in there somewhere, was a brief appearance by Alice Eve (Dr. Carol Marcus), featuring a new augmented reality app for Star Trek: Into Darkness. You can see the video below, complete with awkward pauses and wandering teleprompter eyes.
By Captain Pyke | January 6, 2013 - 10:10 pm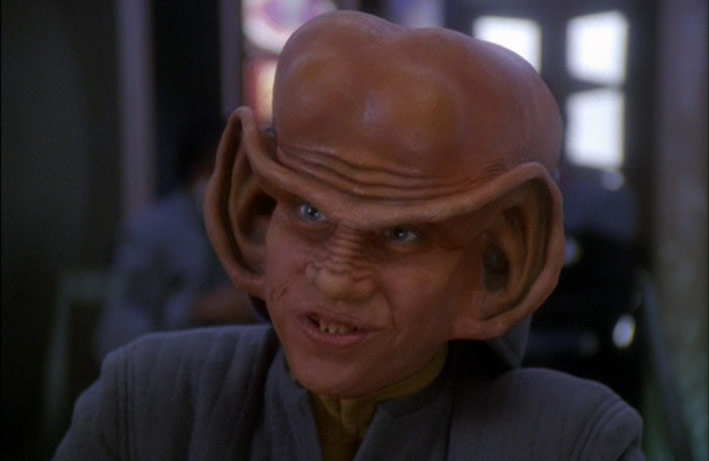 Today we'd like to give warm birthday wishes to Star Trek: Deep Space Nine's own Aron Eisenberg. As you all know, Aron played Nog for all seven seasons of DS9 and was featured in one of our favorite Trek episodes of all time, "It's Only a Paper Moon"". We got the change to talk with Aron on our Life After Trek podcast back in 2011 where he talked about his time on DS9, his videography business, his career/life strategies, and he even filled us in on his inspiration for his role in "Paper Moon".