Benedict Cumberbatch
By Adam Cohen | May 20, 2013 - 10:04 pm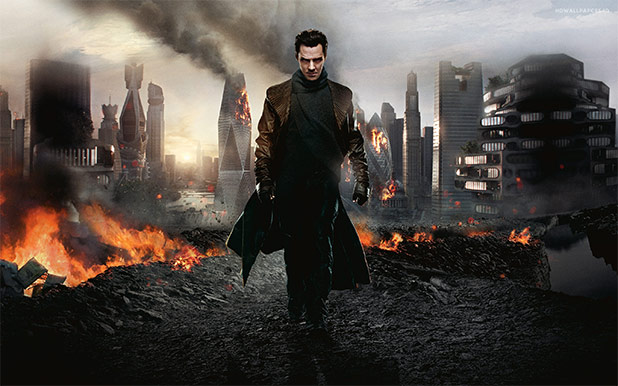 [WARNING! SPOILERS AHEAD]
About three weeks before STAR TREK INTO DARKNESS (STID) was released in the U.S., I shamelessly tracked down posts on Trek message boards for any single spoiler review following the initial press screenings. I wanted to know the truth behind everything: John Harrison, whether the Enterprise is destroyed and what about those pesky Klingons?
I got a lot more than I expected from a couple of reviews that gave excruciatingly detailed scene-by-scene breakdowns of the entire film. As I scanned the posts, my eyes began to widen at the most unbelievable (and at the time unforgiveable) revelations: Kirk dies saving the Enterprise, the death scene from THE WRATH OF KHAN (TWOK) is reversed and Spock screams Khan. I declared this movie a complete failure in that moment.
I kept this knowledge to myself among my friends. I was committed to see this disaster regardless of what I had read; I purchased my advance tickets in February, I never missed a STAR TREK movie in the theaters since I was old enough to decide I wanted to see STAR TREK (for the record, STAR TREK III: THE SEARCH FOR SPOCK rocked my seven year-old brain). I gave up hope for this film and I had negative expectations going in.
By Captain Pyke | March 24, 2013 - 11:00 pm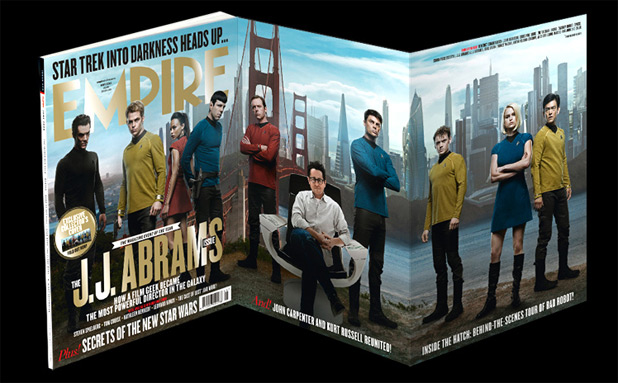 Empire magazine just released photos of its May issue cover featuring Star Trek Into Darkness cast and crew. In a first ever three page fold-out cover, the magazine features the main crew of the J.J.-prise with Alice Eve, Benedict Cumberbatch, and the director himself parked in the captain's chair. The magazine will be available March 28th and will feature a full 75 pages about J.J. and his "Star" franchises. You can get your copy from newsstands everywhere, online, or via your mobile devices. Any news on Khan, Klingons, or Robocop? Not yet, but we'll keep you posted.
By Crewman Becky | February 18, 2013 - 12:14 am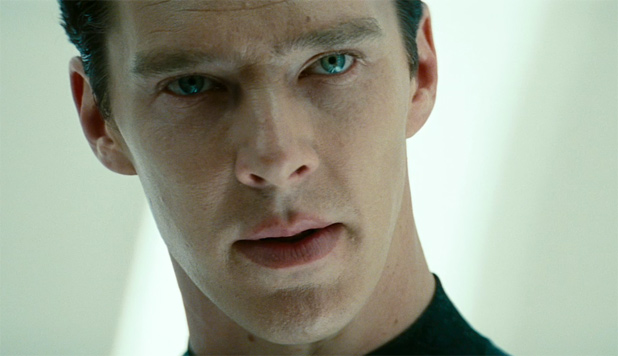 We all knew that Simon Pegg was a world class actor and writer. It now seems he can add world class prankster to that list.
British actor Benedict Cumberbatch spent a morning on the Star Trek set with cream smeared on his face after falling for a prank by his co-star Simon Pegg
By Captain Pyke | February 7, 2013 - 11:27 pm
Looks like the folks over at Entertainment Weekly have been privy to another Into Darkness exclusive, or exclusives, as the case may be. In the FEB 15, 2013 print & digital issues, EW is showcasing several new sneak peak images of the upcoming J.J. Abrams sequel.
By Captain Pyke | December 13, 2012 - 10:16 pm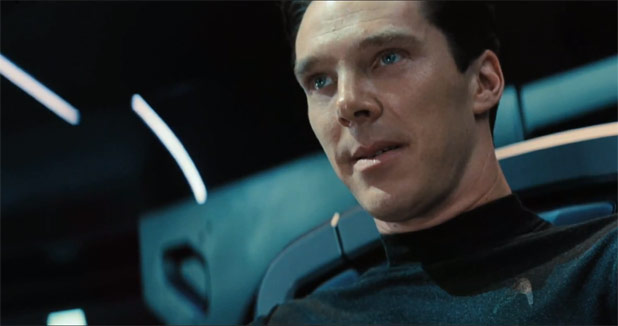 Benedict Cumberbatch recently talked to MTV News about his role in Star Trek Into Darkness. Mr. John Harrison... If that's your real name... "He is a terrorist, he operates as a terrorist," Says Benedict. "He has extraordinary physical powers but also mental powers."
By Captain Pyke | December 10, 2012 - 11:39 pm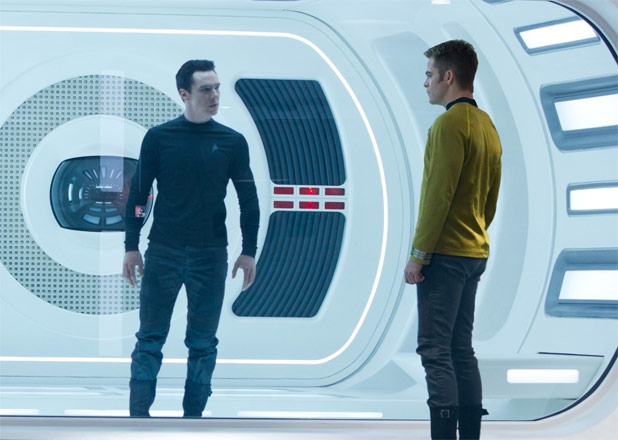 Yeah, we've guessed Gary Mitchell. Sure, we've said Landru or The Doomsday Machine. Heck, we've even thrown around The Horta, but who the heck is John Harrison? According to a recently released Paramount publicity still, that's who Benedict Cumberbatch is playing in Star Trek Into Darkness. Okay, okay, we get it. Maybe it's more of J.J's skillful subterfuge. Maybe it was released just to get the blogosphere (I so hate that word) whirring. Well, guess what kids? It worked.