Chris Pine
By Adam Cohen | May 20, 2013 - 10:04 pm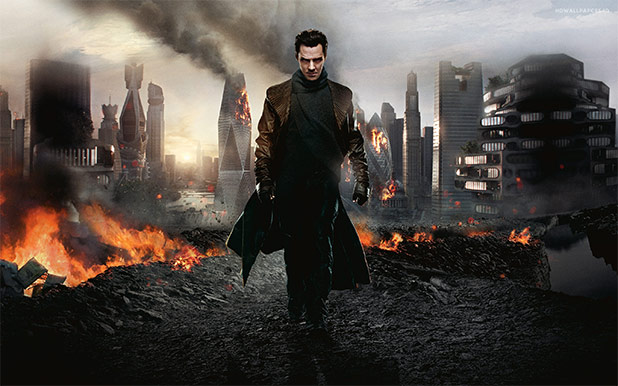 [WARNING! SPOILERS AHEAD]
About three weeks before STAR TREK INTO DARKNESS (STID) was released in the U.S., I shamelessly tracked down posts on Trek message boards for any single spoiler review following the initial press screenings. I wanted to know the truth behind everything: John Harrison, whether the Enterprise is destroyed and what about those pesky Klingons?
I got a lot more than I expected from a couple of reviews that gave excruciatingly detailed scene-by-scene breakdowns of the entire film. As I scanned the posts, my eyes began to widen at the most unbelievable (and at the time unforgiveable) revelations: Kirk dies saving the Enterprise, the death scene from THE WRATH OF KHAN (TWOK) is reversed and Spock screams Khan. I declared this movie a complete failure in that moment.
I kept this knowledge to myself among my friends. I was committed to see this disaster regardless of what I had read; I purchased my advance tickets in February, I never missed a STAR TREK movie in the theaters since I was old enough to decide I wanted to see STAR TREK (for the record, STAR TREK III: THE SEARCH FOR SPOCK rocked my seven year-old brain). I gave up hope for this film and I had negative expectations going in.
By Captain Pyke | January 3, 2013 - 12:38 am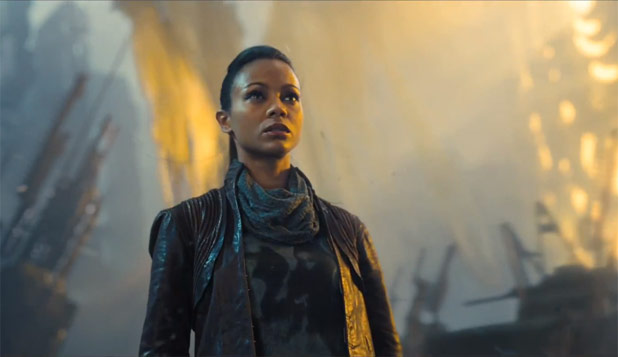 In a less than detailed interview with Extra, Into Darkness's Spock, Kirk, and Uhura are cagey about plot details. Of course they are, you say, but it's interesting that the Zoe Saldana, Chris Pine, and Zachary Quinto are already hitting the publicity circuit five months before the premiere. Zachary and Chris talk vaguely about the blossoming friendship between Kirk and Spock (notice I didn't say "slash")... "Kirk really earns his leadership" Zachary explains, "Spock really earns an understanding of friendship."
By Captain Pyke | June 26, 2012 - 10:30 pm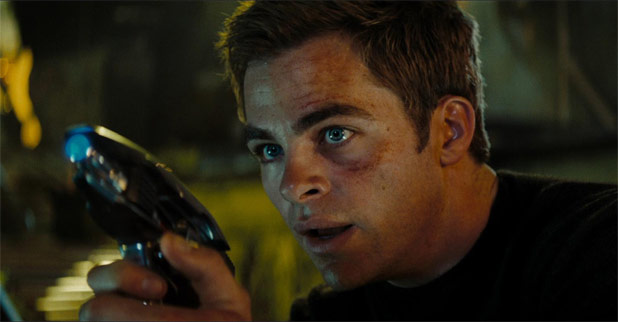 The next installment of the rebooted Trek franchise is currently in post production and speeding along at warp 9 (well, maybe full impulse) towards its May 17, 2013 release date. In the meantime, one of its writers, and a certain young captain, are out promoting their new film People Like Us. Ain't It Cool News recently sat down with Alex Kurtzman and Chris Pine to discuss the new project plus get some insight into Star Trek 2. Chris Pine is calling Trek 2 "Relentless"...
By Captain Pyke | June 5, 2012 - 10:36 pm
Paramount Pictures & Namco Bandai just announced, at E3, that The Gorn will be the main villain in a new video game based on the Star Trek JJ-verse. According to the press release; the storyline will pick up after the 2009 Star Trek film and will put players in the shoes of Captain James T. Kirk and Mr. Spock, in co-op style gameplay against the reptilian species. We're not going to hold out hope for a bamboo cannon.
By Captain Pyke | October 30, 2011 - 9:25 pm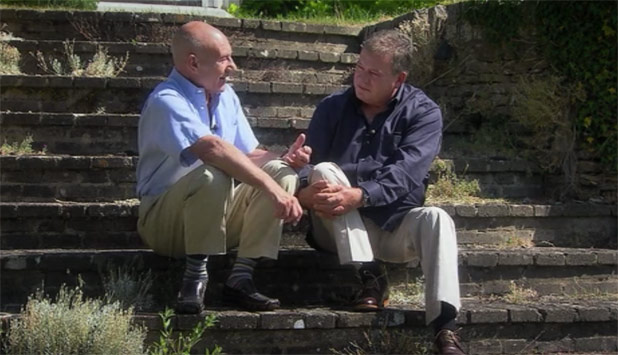 So I was cruising Netflix tonight, searching for Chuck Norris's The Delta Force (no lie!) and I stumbled upon William Shatner's documentary The Captains
on Watch Instantly. You know the one; it features interviews with all six Star Trek captains... Patrick Stewart, Avery Brooks, Kate Mulgrew, Scott Bakula, and Chris Pine. Oh, and The Shat, of course. I've been meaning to sit down and watch The Captains since release back in July, but I just simply haven't made the time. Now that I have, here are a few takeaways; First, Patrick Stewart seems to be one of the most thoughtful and eloquent actors in the history of the stage, Kate Mulgrew is tough-as-nails and can hold her own with anyone, Avery Brooks is down right crazy & amazing all at the same time, Scott Bakula is extremely down-to-earth, and Chris Pine IS William Shatner 30 years younger. And on top of that, Patrick Stewart's chair is gigantically disproportionate to Shatner's.
By Captain Pyke | July 9, 2010 - 11:45 pm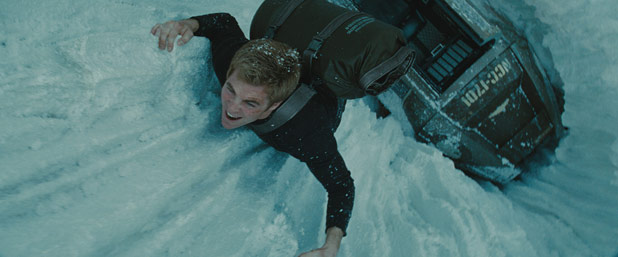 Chris Pine admits that his role in J.J. Abrams's "Star Trek" has opened up many new opportunities for the young actor. "I've been really blessed from 'Star Trek' to get more opportunities than I had previously in my career." says Pine, 29 & Captain Kirk redeux in Star Trek XI. In an interview with the Orange County Register, Pine talks about his reasoning for picking certain roles and his upcoming part in "The Lieutenant of Inishmore" set to open July 11th at the Music Center downtown Los Angeles.
The Orange County Register: Did you see this play before landing the role of Padraic, its dark-hearted leading man?
Tags:
By Captain Pyke | July 5, 2009 - 8:46 am
In a recent interview, 'Star Trek' actor Chris Pine talks about how Trek is an 'Optimistic Series' with a 'real sub-current of great ideas'.
Star Trek star Chris Pine has revealed that he could not understand why the famous film has appealed to so many people, as he was never a fan of the original sci-fi series.

Chris, 28, plays the role of Captain James T Kirk in the blockbuster sci-fi film, which was released earlier this year.

Tags:
By Captain Pyke | May 12, 2009 - 3:21 pm
In a recent interview Chris Pine and Zachary Quinto discuss Gene Roddenberry's vision for human equality and why Star Trek has stayed viable for so long.
Quinto, who plays Spock, said: "I think Gene Roddenberry was a visionary in a lot of ways, and at a time in American history where there was a lot of civial, socio-political and racial unrest, he created a series which really explored themes which people are a little reticent to talk about, in an allegorical way which was subversive at times, and provocative.

Tags:
By Captain Pyke | May 10, 2009 - 10:55 pm
Leonard Nimoy, Chris Pine and Zachary Quinto stopped by Saturday Night Live over the weekend and made a guest appearance on weekend update.
Nimoy, Pine & Quinto take on Trekker reaction to the tagline "This isn't your father's Star Trek' with some lighthearted ribbing of Trek fans Some fans may not find it humorous, but it's definitely not the infamous Shatner 'Get a life' Skit. Although, seeing the Shatner skit first run we thought that was pretty funny as well. Check out the video below.