Star Trek XI
By Crewman Becky | November 26, 2014 - 9:58 pm

If you're in the Indianapolis area and celebrate Thanksgiving on Thursday but still have a bunch of days off after that, you can now fill that time with Star Trek! It's time again for Starbase Indy!
That's right, one of the best independently run Star Trek conventions around, Starbase Indy, just happens to be going on this weekend; November 28th - 30th 2014. We're not biased, we swear...it's just that we've attended one of their conventions a few years back and it was a fabulous time. Because this convention is not a "mega-convention" you get less wait time for panels and events, tons of after hours parties and fun, close up seating to panels, and much closer access to the guests overall, which ultimately turns it into an awesomely memorable experience!
By Crewman Becky | September 7, 2014 - 4:01 pm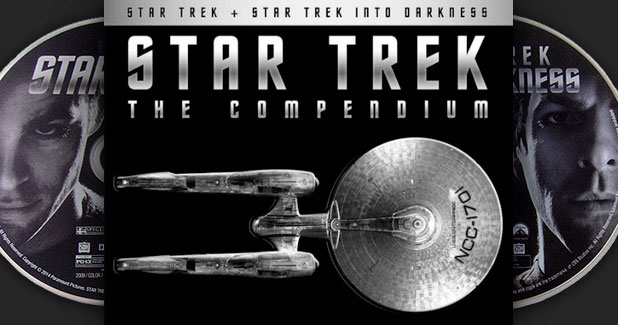 Releasing on September 9th, a new blu-ray box set called Star Trek: The Compendium contains both new movies Star Trek and Star Trek Into Darkness plus tons of bonus features including IMAX footage and a behind the scenes gag reel with the cast and crew having fun on the set.
You can (pre)order all the Trek-awesomeness here
.
Check out a bit of that gag reel, below:
(Source: IGN.com and CinemaBlend)
By Crewman Becky | April 24, 2014 - 8:50 pm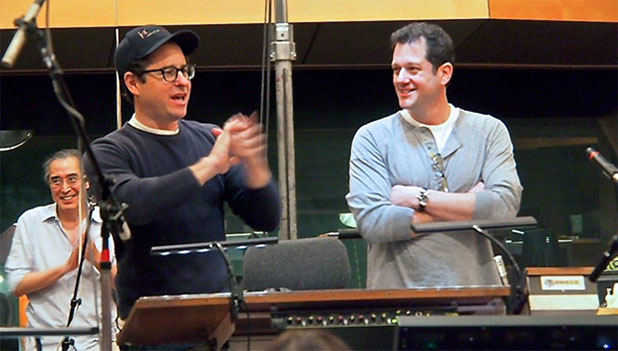 Ever want to view the films, Star Trek (2009) and Star Trek Into Darkness, while listening to the score being performed by a live orchestra right in front of you? Well now's your chance.
According to StarTrek.com:
Star Trek: Live in Concert is coming your way, with screenings of Star Trek (2009) and Star Trek Into Darkness accompanied by live symphony orchestra performances of Michael Giacchino's scores. The Star Trek: Live in Concert tour will kick off in Europe next month with events in the UK and Switzerland, followed by U.S. premieres set for July in Houston and San Diego; the San Diego Symphony performance will coincide with the Comic-Con International. Star Trek: Live in Concert will then head to Canada in March, 2015, with additional dates to be announced.
By Aaron Gallo | April 14, 2013 - 9:16 pm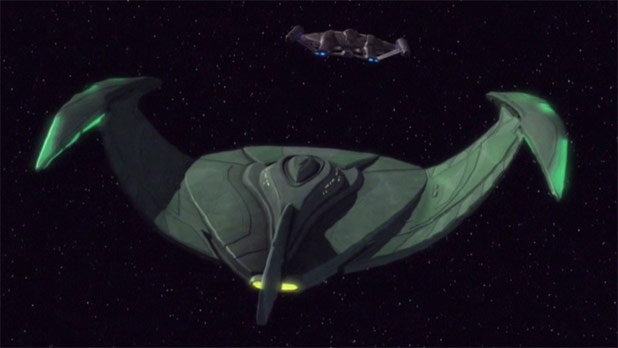 This post contains two of the latest episodes from the Starfleet Escape PodCast on the Four Eyed Radio Network. First up, Aaron, Marty, and Eric discuss one of Star Trek's greatest foes, the Romulans. We begin this episode talking about the latest news from the Trek universe including the new Vulcan characters in "Star Trek The Game," "Star Trek Renegades" updates, the passing of Malachi Throne, and the upcoming wedding of Sir Patrick Stewart. We highlight another great "Would You Buy It?" from Bye Bye Robot and find out if the crew would buy it or not.
By Crewman Becky | September 18, 2012 - 10:24 pm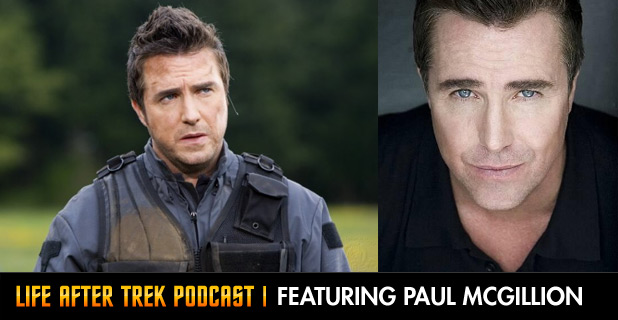 We're pleased to announce episode 21 of our "Life After Trek" podcast, featuring Paul McGillion. Many of you know Paul from his work on Stargate: Atlantis as character Carson Beckett, but did you know that he also had a cameo in J.J. Abrams's Star Trek and was even considered for the character of Scotty?...but I'm getting ahead of the game here. Being huge fans of Paul from his time on Atlantis and A Dog's Breakfast (just to name a few), we were thrilled to chat with him to find out what he's been up to lately.
By Captain Pyke | October 30, 2011 - 9:25 pm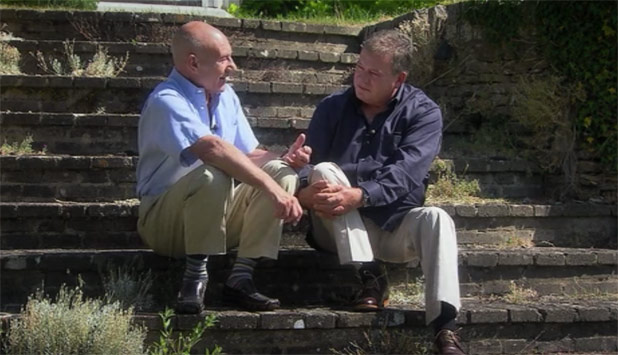 So I was cruising Netflix tonight, searching for Chuck Norris's The Delta Force (no lie!) and I stumbled upon William Shatner's documentary The Captains
on Watch Instantly. You know the one; it features interviews with all six Star Trek captains... Patrick Stewart, Avery Brooks, Kate Mulgrew, Scott Bakula, and Chris Pine. Oh, and The Shat, of course. I've been meaning to sit down and watch The Captains since release back in July, but I just simply haven't made the time. Now that I have, here are a few takeaways; First, Patrick Stewart seems to be one of the most thoughtful and eloquent actors in the history of the stage, Kate Mulgrew is tough-as-nails and can hold her own with anyone, Avery Brooks is down right crazy & amazing all at the same time, Scott Bakula is extremely down-to-earth, and Chris Pine IS William Shatner 30 years younger. And on top of that, Patrick Stewart's chair is gigantically disproportionate to Shatner's.
By Crewman Becky | March 16, 2011 - 10:40 pm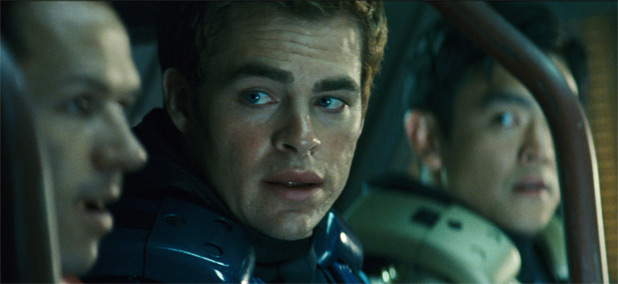 For all you slot machine fanatics out there (…and we've been to Vegas Khhaaan…we know you exist) a new online slots game set to the theme of Star Trek XI is out on the inter-webs and ready for your love and attention. Kerching, the online casino has just released their newest game in two varieties; free play and cash play modes. Here's a little bit of what Kerching has to say about the new game;
As soon as you enter the Star Trek online slots game, it's clear that this is the next generation of gaming. The graphics are just astonishing, from realistic animations to real images from the movie. Characters including Kirk, Spock, Scotty and the sultry Uhura adorn the reels and star in their own special bonus rounds.
By Captain Pyke | August 16, 2010 - 9:58 pm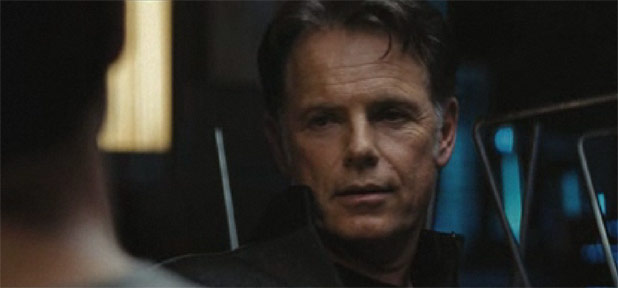 We've said it once, and we'll say it a thousand times, Bruce Greenwood as Captain Christopher Pike was simply amazing in Star Trek XI. We would love to see him reprise the role as our beleaguered Captain, ahem, Admiral Pike. According to an interview with Collider.com, Bruce would also like to see Pike return in the upcoming sequel to "Star Trek". Not only in the sequel, but Bruce jokingly explains that "there should be a whole offshoot of Pike's adventures". We're with you there Bruce. Put us down for a Hamilton, we'd definitely be on board for that.
By Captain Pyke | July 4, 2010 - 11:53 pm
Outdoor free movies seem to be a growing trend across the US. With shows cropping up all over, even in D.C., J.J. Abrams's "Star Trek" as well as other Trek films seem to be a popular showing. Fort Worth, Texas is no exception. Originally scheduled for July 1st, but unfortunately rained out, the new Showing of Star Trek XI is scheduled for July 8th. If we lived closer, we would definitely attend. It's really exciting to see this new enthusiasm for Star Trek.
Check out the details below.
Tags: