"I Just Want To Get Out Of The Wheelchair" Says Bruce Greenwood, On Captain Pike
By Captain Pyke | August 16, 2010 - 9:58 pm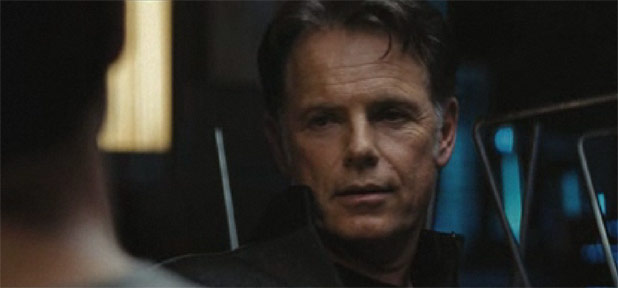 We've said it once, and we'll say it a thousand times, Bruce Greenwood as Captain Christopher Pike was simply amazing in Star Trek XI. We would love to see him reprise the role as our beleaguered Captain, ahem, Admiral Pike. According to an interview with Collider.com, Bruce would also like to see Pike return in the upcoming sequel to "Star Trek". Not only in the sequel, but Bruce jokingly explains that "there should be a whole offshoot of Pike's adventures". We're with you there Bruce. Put us down for a Hamilton, we'd definitely be on board for that.
Bruce also explains that he doesn't know if Pike will return in the next J.J.-verse sequel, or whether or not Orci & Kurtzman have even started the script. The scuttlebutt we heard at Vegas Khhaaan! was that the script was close to completion and that the Gorn would be making an appearance as the nemesis in the next installment. We can't say where we heard it or who we heard it from, but he works in the industry and he used to rock a mullet back in the 90's. You make the call.
Check out the excerpt from the Collider / Bruce Greenwood interview below.
Q: Do you know if you're going to be in the next Star Trek?
BRUCE: I know that I don't know.
Q: We know they're still writing it.
BRUCE: (raises his voice, teasing) How do you know that?!
Q: Maybe not "still" writing. Maybe they've yet to "start" writing it.
BRUCE: You're not going to trap me into saying anything about their writing it. (Laughs) I'm joking. I don't know. I hope so.
Q: I want to know if Captain Pike is still there.
BRUCE: I think Captain Pike is an essential component to the whole franchise. I think there should be a whole offshoot of Pike's adventures.
Q: You had plenty of them leading up to his initial appearance once in the series so…?
BRUCE: There's nothing that says Pike can't get up and out of that wheelchair, get his own ship and go off on some adventures of his own. I'm now an admiral but I just want to get out of the wheelchair.
Q: It's the future. They can do that.
BRUCE: I know. I had a long conversation about that with J.J. (Abrams) early on because he wanted the hair to go [white]…because in the script it says the hair goes all white. I said (crying) "Do we have to get so Malcolm McDowell about it?"
(interview excerpt source Collider.com)