Reviews
By Crewman Becky | September 19, 2014 - 4:30 pm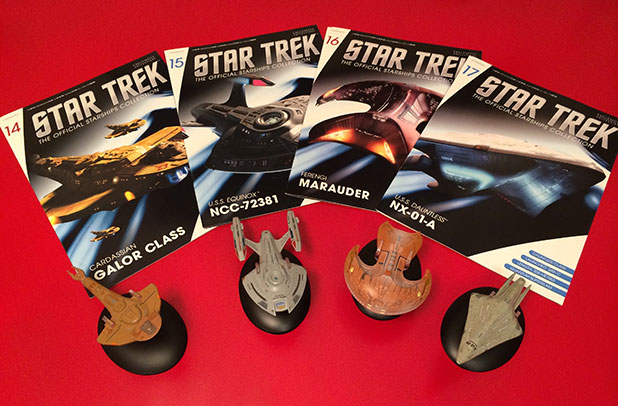 We're super stoked every time we see a box in the mail from Eaglemoss, the people responsible for the Star Trek Starships Collection, but this time the time between shipments seemed to be quicker than normal. We'd love to blame that on an exciting temporal anomaly adventure but the reality is that we've just been plain old busy. But hey, how is it not cool when the outcome of busy-ness is that you get to open 3 shipments of Star Trek collectibles all at once? It was totally Trek-mas in July September. Check out their website to sign up for a subscription of your very own.
Anyway, as usual, we loved every second of opening and "assembling" our ships. That's one of those things I personally like to savor. Examining each ship's detail is a blast. Don't tell anybody, but when I happen to be opening them when no one else is around, they even go out for a little "test-flight" around the room...with corresponding "vroom vroom" sound effects (provided by me, of course). Remember...mum's the word on that one.
By Crewman Becky | June 25, 2014 - 9:22 am
We have our latest ship acquisitions from Star Trek Starships, and they are ready for review!

These latest three in this ongoing series include; Issue #11: U.S.S. Reliant NCC-1864, Issue #12: U.S.S. Thunderchild NCC-63549, and Issue #13: Jem'Hadar Battlecruiser.

The solid construction of these models, is again, the first thing that I notice as I take them out of their boxes. Most of each ship is made of metal, with only a minimal amount of resin pieces. The detail of each ship is still amazing to me. They are scaled appropriately, so they don't feel like a little kid's toy, but even at their scale-model size, you can see every detail of the panels and markings that make up the personality of each ship.

After assembling the stands and setting them into their respective one, I notice that some of the stands fit more snugly than others. Once they were on my display shelf I didn't have any issues, but if you plan to take them down to play with ...errrr...I mean, examine...you should be careful when doing so, so you don't accidentally drop either the ship or the stand. I get the feeling that they wouldn't break...but who wants to take that chance.

By Crewman Becky | March 24, 2014 - 7:05 pm
We've been subscribers of the Star Trek Starships by Eaglemoss Collections since the last Las Vegas Star Trek Convention in August, 2013. We saw them on the vendor floor and were totally hooked, but it wasn't until the day after the convention was over (recovery day, as we like to call it) that our good friend Darren (from Trek Cast) reminded us about them and showed us the awesome books and models that he had already received for signing up, that we remembered to sign up for ourselves. Ever since then, we've been receiving these little metal beauties in the mail every month like clockwork.
By Karin Wellman | March 13, 2014 - 7:13 pm
The hardest and most rewarding thing about Deep Space 9 is that it is not episodic in nature. The stories often do not bear their full weight without being experienced in series and, like that, Avatar bears no weight without the entirety of the television run behind it. In other words, if you haven't watched Deep Space 9 all the way to the end, this isn't the book you're looking for.
By Karin Wellman | July 24, 2013 - 9:55 pm
The thing I love most about Star Trek is the stories it inspires in my mind. Each episode is the doorway into new story possibilities in the Star Trek universe, so I am exploring the stories that Star Trek has inspired in other people's minds looking for deeper explorations of themes and characters.
I chose Q-In-Law as my 2nd "mission" because it featured two of my favorite comedic characters, Lwaxana Troi and Q. The hilarity that my mind conjured for such an encounter convinced me that this book had to be the TNG book that I read first.
By Karin Wellman | July 10, 2013 - 8:31 pm
How I picked this book
It started with the title. I don't think anyone who has watched The Original Series can forget the moment in "Charlie X" when Uhura is singing in the rec room while accompanied by Spock on the Vulcan lyrette. Her voice and songs are a reminder of beauty in an environment built for functionality and protocol. Combined with the promise of cat-people1 I knew that this was the novel for me.
By Captain Pyke | October 7, 2012 - 1:08 pm
Earlier this year we wrote an article about a 3D animated puppet parody of Star Trek called Stalled Trek that's featured on a web-series hosted by a one-eyed alien called Paunk! The Paunk! Show, as it's aptly titled, is a pilot episode that snowballed into a full-blown 15 minute parody of the well know Trek episode "Amok Time", called "Amutt Time", now available on DVD.
By Captain Pyke | August 24, 2011 - 9:48 pm
We're as excited as a Klingon Warrior at a blood wine all-nighter.... That was followed by a "GLOURIOUS BATTLE! QAPLA'!!". In our hot little hands is the preview limited edition MONOPOLY®: Star Trek Klingon Edition box that includes the 1/6th scale Chancellor's Cane from Star Trek VI: The Undiscovered Country, box art & Klingon Empire proclamation. The actual game board and pieces have yet to be released, but the fine folks at USAopoly passed along the preview sample to us, so we could take a few pics and post them here for your viewing pleasure.
First off, the box art looks fantastic. It includes nice vibrant colors featuring recognizable Klingon symbols plus a sweet bat'leth at the top. Opening the box reveals the placeholders for the "Honor" & "Combat" cards, plus the Chancellor's cane. The cane is made from a rubber type resin and has a forged looking stand for displaying.
By Mike Suess | June 11, 2011 - 8:07 pm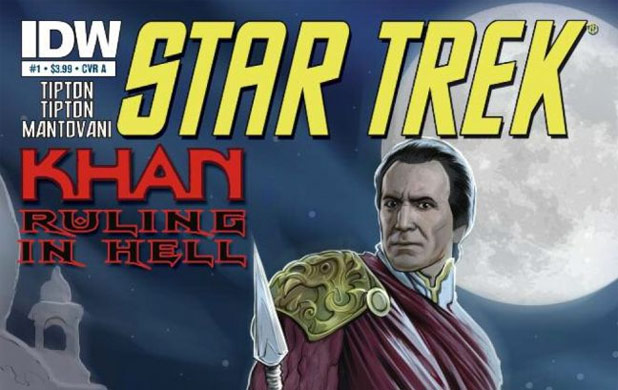 Ruling in Hell
begins with Khan's crew being left on Ceti Alpha Five and Khan reflecting back on the events that led to them starting a new life on this planet. This recap was, of course, detailed in the ST:TOS episode "Space Seed". The early part of the story details a month by month look at Khan and the group's struggles to adapt to the planet and its environs. As the four-issue mini-series progresses, events alluded to in Star Trek II: the Wrath of Khan fall into place. Highlights include the explosion of Ceti Alpha Six, the death of Khan's wife and the story of a power struggle within Khan's group. The mini-series concludes with the arrival of Captain Terrell and first officer Pavel Chekov from the U.S.S. Reliant