Ships
By Crewman Becky | September 19, 2014 - 4:30 pm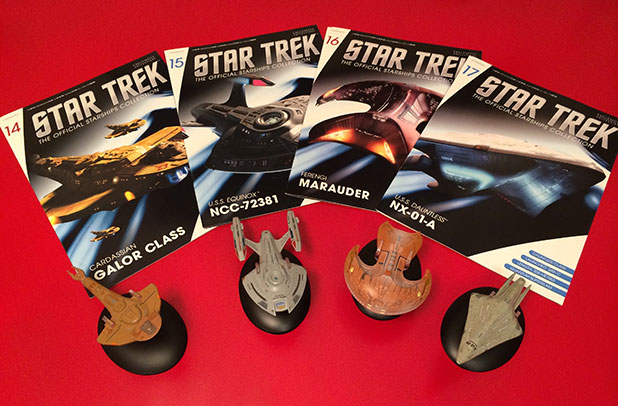 We're super stoked every time we see a box in the mail from Eaglemoss, the people responsible for the Star Trek Starships Collection, but this time the time between shipments seemed to be quicker than normal. We'd love to blame that on an exciting temporal anomaly adventure but the reality is that we've just been plain old busy. But hey, how is it not cool when the outcome of busy-ness is that you get to open 3 shipments of Star Trek collectibles all at once? It was totally Trek-mas in July September. Check out their website to sign up for a subscription of your very own.
Anyway, as usual, we loved every second of opening and "assembling" our ships. That's one of those things I personally like to savor. Examining each ship's detail is a blast. Don't tell anybody, but when I happen to be opening them when no one else is around, they even go out for a little "test-flight" around the room...with corresponding "vroom vroom" sound effects (provided by me, of course). Remember...mum's the word on that one.
By Crewman Becky | June 25, 2014 - 9:22 am
We have our latest ship acquisitions from Star Trek Starships, and they are ready for review!

These latest three in this ongoing series include; Issue #11: U.S.S. Reliant NCC-1864, Issue #12: U.S.S. Thunderchild NCC-63549, and Issue #13: Jem'Hadar Battlecruiser.

The solid construction of these models, is again, the first thing that I notice as I take them out of their boxes. Most of each ship is made of metal, with only a minimal amount of resin pieces. The detail of each ship is still amazing to me. They are scaled appropriately, so they don't feel like a little kid's toy, but even at their scale-model size, you can see every detail of the panels and markings that make up the personality of each ship.

After assembling the stands and setting them into their respective one, I notice that some of the stands fit more snugly than others. Once they were on my display shelf I didn't have any issues, but if you plan to take them down to play with ...errrr...I mean, examine...you should be careful when doing so, so you don't accidentally drop either the ship or the stand. I get the feeling that they wouldn't break...but who wants to take that chance.

By Crewman Becky | March 24, 2014 - 7:05 pm
We've been subscribers of the Star Trek Starships by Eaglemoss Collections since the last Las Vegas Star Trek Convention in August, 2013. We saw them on the vendor floor and were totally hooked, but it wasn't until the day after the convention was over (recovery day, as we like to call it) that our good friend Darren (from Trek Cast) reminded us about them and showed us the awesome books and models that he had already received for signing up, that we remembered to sign up for ourselves. Ever since then, we've been receiving these little metal beauties in the mail every month like clockwork.