Star Trek Video Games
By Crewman Becky | June 10, 2013 - 10:57 pm
Terrilynn Shull is back with this week's installment of Captain's Log for Massively.com
There's lots going on in Star Trek Online's cyberquadrantsspace. With most of the press buzz about the game still revolving around the recent Romulan expansion, Terrilyn takes this week to talk about that and everything else going on in STO.
From the introduction of a new portal platform:
By Crewman Becky | June 4, 2013 - 11:24 pm
I like to personalize the stuff I use on a regular basis, to add a little touch of personality to my everyday life. Embroider my name in my gym socks. Carry a vintage Star Trek metal lunch box to work. Blow my nose in a purple checkered monogrammed hankie. So when it comes to my gaming choices, I'm no different. I don't go with the mundane…I make it my own. With that being said, one thing you already know is that I love sci-fi in general. Because of that, I currently have my Xbox Live Avatar decked out in a certain "scruffy looking smuggler" outfit from another "Starchise". Come on…no flack…it was the only thing available for what seemed like ever.
By Crewman Becky | January 21, 2013 - 10:13 pm
Subspace Communique's good friend, Terilynn Shull, over at Massively, has released a new Captain's Log, today, and it's chock full 'o goodies.
For those of you who don't know, Terilynn writes a new Captain's Log once a week centered on Star Trek Online. This week's release does not disappoint. She fills us in on all the exciting opportunities and upcoming game additions.
By Darren Benjamin | December 22, 2012 - 3:55 pm
This week us Trekkies were blessed with a nice bit of nostalgia, amid all the new news from that upcoming Star Trek movie, Star Trek Into Darkness. Pinball Arcade has blessed us with the release of the now classic Star Trek The Next Generation pinball machine digitally for iOS devices as well as Android devices.
This release is a faithful digital reproduction of the original pinball machine released by Williams Electronics or WMS back in 1993 during the heyday of one of our favorite Star Trek series TNG. WMS was also responsible for a couple of our other favorite great genre pinball releases such as Twilight Zone and Indiana Jones (some of my personal favorites, which by the way cost me quite a few quarters)
By Crewman Becky | October 1, 2012 - 10:25 pm
Hey you guys, there's a new Captain's Log available from our pal over at Massively, Terilynn Shull . This time she has put together a bunch of great tips and info, specifically focused on low-tier ships, for all the new STO players.
By Captain Pyke | June 5, 2012 - 10:36 pm
Paramount Pictures & Namco Bandai just announced, at E3, that The Gorn will be the main villain in a new video game based on the Star Trek JJ-verse. According to the press release; the storyline will pick up after the 2009 Star Trek film and will put players in the shoes of Captain James T. Kirk and Mr. Spock, in co-op style gameplay against the reptilian species. We're not going to hold out hope for a bamboo cannon.
By Captain Pyke | February 11, 2012 - 8:44 pm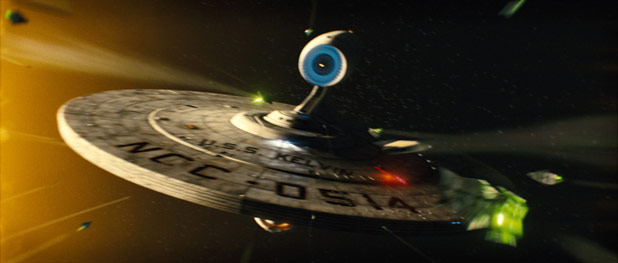 While you enjoy your Star Trek Online and wait patiently for Infinite Space, Paramount has just announced a partnership with Bandai Namco that will produce a brand new Star Trek game based on the upcoming J.J. Verse film and will pit Kirk & Spock against an alien race set on overtaking the galaxy.
"With our Namco Bandai partners leading the distribution effort, we are confident that we will meet an overwhelming demand to get this exciting console experience into the hands of gamers and Star Trek fans worldwide," said LeeAnne Stables, Paramount Pictures Executive Vice President of Worldwide Marketing Partnerships and head of the studio's video game unit.
Set for a release in 2013, sometime before the new film, the new game will be written by Roberto Orci, Alex Kurtzman, & God of War writer Marianne Krawczyk.
By Crewman Becky | February 6, 2012 - 12:45 am
In honor of the new "The 2800" Feature Episodes, Star Trek Online has released a new trailer. For those who don't know,"The 2800" will consist of five featured episodes being released on consecutive Saturdays, until the big conclusion of the story on Saturday, March 10th. The episodes include the following: Episode 1: "Second Wave" (February 11) , Episode 2: "Of Bajor" (February 18) , Episode 3: "Operation Gamma" (February 25) , Episode 4: "Facility 4028" (March 3) , & Episode 5: "Boldly They Rode" (March 10) .
By Captain Pyke | November 13, 2011 - 10:05 pm
Cryptic's Star Trek Online was released nearly two years ago to good reviews and moderate fan acceptance. According to Executive Producer & Cheif Technical Officer Stephen D'Angelo, Cryptic intended to release STO as a free-to-play MMO from the begriming, but Atari wouldn't have it. He tells IGN; "We've always wanted the game to be free-to-play, in fact we tried to make it free-to-play at the original launch, but our publisher didn't want us doing that so we didn't do that."