Star Trek Video Games
By Captain Pyke | November 22, 2009 - 11:00 pm
Cryptic Studios is hard at work getting Star Trek Online ready for release on Feburary 2nd, 2010. We're super excited and found some news updates and a few Youtube videos for you to peruse.
By Captain Pyke | November 19, 2009 - 9:03 pm
Finally, the platform list is almost complete. According to Crispy Gamer, Star Trek D-A-C will soon be available for all you Mac lovers out there. Do you think Steve Jobs will buy a copy? All that's left is the Wii.
By Captain Pyke | November 13, 2009 - 11:04 pm
By Captain Pyke | November 8, 2009 - 9:43 pm
MMORPG.com just released three new Star Trek Online screens featruing Federation ships and the Jem'Hadar. Victory is life! Check out the high-res versions over at MMORPG.com.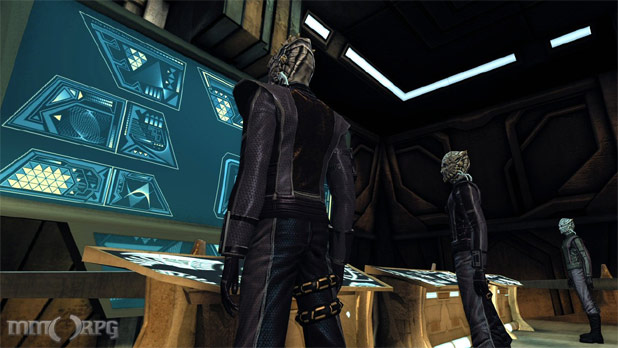 By Captain Pyke | November 7, 2009 - 11:31 pm
Star Trek Online is in it's closed beta phase and we can neither confirm or deny whether or not we're currently participating :). We can, however, let you treklings know that the officially release date is set for Feburary 2nd 2010. Yes friends, that's the year we make contact!
Also, in other trek gaming news, Star Trek D-A-C is finally set for it's release on the PC on November 12th. Check out more deets below. BTW, the pic above has nothing to do with either of these announcements. It just makes me happy inside.
ST:O info:
Cryptic and Atari have confirmed that their MMO Star Trek Online will be released for PC on 2nd February 2010 in North America, and 5th February in Europe.

By Captain Pyke | November 2, 2009 - 8:55 pm
With it's closed beta underway, Cryptic Studio's Star Trek Online is already offering pre-order bonuses through Gamestop and Amazon.com. As reported by Big Download, the pre-order bonuses include a collectible box, comm badge, in game Constitution Class ship, special crewmen, art book and access to the closed beta, from the online retailers.
Check out the exerpt below for details.
By Captain Pyke | November 1, 2009 - 9:36 pm
As reported by Cinema Blend, Star Trek D-A-C is finally making it's way to PC & Sony's PS3 this month, featuring new ships. The space shooter has been a hit on the XBOX 360's Xbox Live Arcade since it's release in May. Surprisingly, it's taken nearly six months for the game to finally grace other platforms.
By Captain Pyke | October 28, 2009 - 9:43 pm
As reported by Videogamer.com, a brand new Xbox 360 Elite bundle will be hitting store shelves featuring a theme based on J.J. Abrams "Star Trek".
According to the latest issue of trade publication The Future, Microsoft is readying two new Xbox 360 Elite bundles.
By Captain Pyke | October 16, 2009 - 10:08 pm
Cryptic Studios and IGN just released a brand new Star Trek Online trailer featuring our favorite ridged aliens with temper issues. BY THE BLOOD OF KAHLESS! Check out the new tralier below.