Denise Crosby
By Crewman Becky | January 21, 2013 - 10:13 pm
Subspace Communique's good friend, Terilynn Shull, over at Massively, has released a new Captain's Log, today, and it's chock full 'o goodies.
For those of you who don't know, Terilynn writes a new Captain's Log once a week centered on Star Trek Online. This week's release does not disappoint. She fills us in on all the exciting opportunities and upcoming game additions.
By Captain Pyke | January 15, 2013 - 12:52 am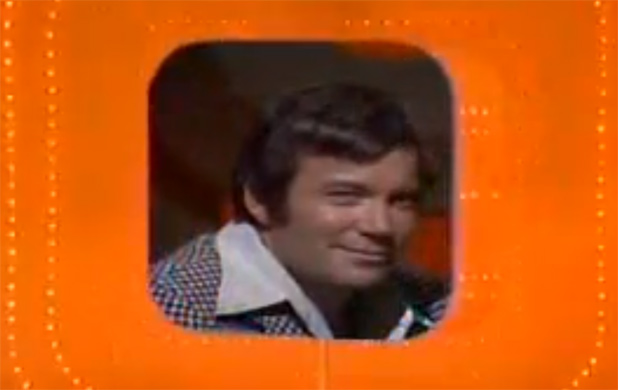 If there's one thing I love almost as much as Star Trek (besides The Rockford Files), it's Match Game. It could be any incarnation, 73, 74, 78, PM, it doesn't matter. Just give me a YouTube playlist and lots of Charles Nelson Reilly. I hear he won the Tour de France with two flat tires and a missing chain...but I digress. Recently watching an episode (or six) of Match Game, I got to thinking... Surely there are episodes of Match Game and other game shows chock full o'Trek stars. And, since we live in the future, I was able to fire up the Googles and find several episodes for all you Vulcans and Andorians alike. So, in my best Gene Rayburn, "There are so many Trek stars in these game shows [long pause] that you'll have to [BLANK]." As an added note, even though the title of this article sounds like a question from Jeopardy, this list is Alex Trebek-less. That's on principle... Enjoy.
By Captain Pyke | January 12, 2013 - 11:36 pm
Here's an interesting video that we found on Youtube featuring Star Trek: The Next Generation screen tests for everything form Data's makeup to Troi's contacts and hairstyle. Entitled "Creepy TNG Test Footage" the video show's what must have been the pre-production lighting and wardrobe test's for Brent Spiner, Marina Sirtis, Jonathan Frakes, Denise Crosby, LeVar Burton, and Patrick Stewart.
By Crewman Becky | January 30, 2012 - 11:11 pm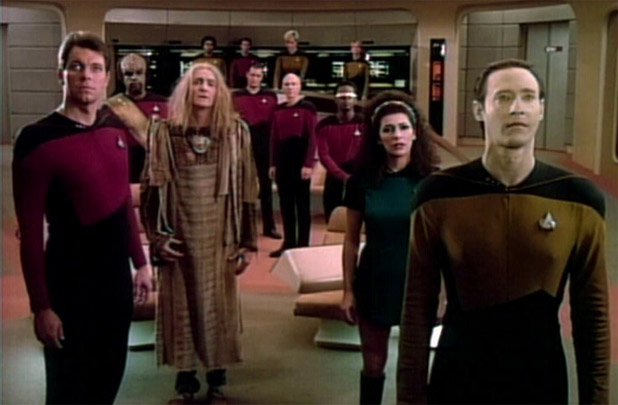 Well, the 25th anniversary of Star Trek: The Next Generation is swiftly upon us. I can't believe it's been so long. I still remember watching the first episode, begrudgingly, because my mom wanted to watch it and we only had one TV in the house. You see I was a purist…it wasn't the Original Series…so I didn't want any part of it. Needless to say, at the end of those two hours, I was totally hooked. Now, fast forward seven years to the series ender. We swear we didn't plan it this way, but "All Good Things…" just happened to be aired during our honeymoon. Being the fans that we were, we ordered in that night. There was no way either of us were going to miss that.
By Crewman Becky | September 21, 2011 - 11:12 pm
Here's a mini Next Gen reunion for ya. Gates McFadden is directing a new play, in Los Angeles, called "House of Gold" whose cast includes fellow Star Trek: The Next Generation's Denise Crosby. Let's hope that Denise's current character doesn't go on any away missions this time.
Gates talks about her impetus for this particular subject matter and its relevance to today's society.
"House of Gold is a hilarious, yet scathing critique of our culture, revealing dark truths about our values, and, ultimately, about ourselves," explains EST/LA artistic director Gates McFadden, who also directs. "Reading this play returned me to my own childhood. Like the character in the play, I was the 'pleaser' child-performer. As an adult, my role on Star Trek was my parents' dream come true, but for me, it brought back a lot of childhood ambivalence."
She continues, "In American culture, reality TV is more real than real life. Parents think it's normal to exploit and humiliate their children on camera, if only to give their own dreary lives more meaning-'my video got over a million hits on You Tube!' Children either receive too much parental attention or not enough. Something horrible in the news? Goodie! Let's get the details."
By Captain Pyke | August 25, 2010 - 3:57 pm
Over the years, we've all heard stories about certain actors who were up for roles on "Star Trek: The Next Generation", but for one reason or other didn't want or get the part. Now, thanks to Sliceofscifi.com (via Lettersofnote.com), we have an April 1987 dated Paramount studio memo that sheds light on the actually prospects for the TNG crew.
Among the many names listed, Yaphet Kotto was up for the role of Captain Picard, Ben Murphy (Alias Smith & Jones) was a candidate for Riker (spelled Ryker in the memo), Denise Crosby was considered to play Troi, & kid's game show host J.D. Roth was the only actor listed for Wesley. Here's something that we learned at Vegas Khhaaan (that the memo confirms, Eric Menyuk (aka The Traveler from TNG) was a possibility for our lovable android, Data.
By David Kleparek | December 5, 2009 - 1:30 pm
By David Kleparek
As I don't live in LA or Vegas, I don't have the opportunity of getting into the Star Trek scene. The number of times I've met respectable Star Trek personalities can be counted on one finger. Now I'm not a believer in destiny or fate, but sometimes coincidence is a little too much to ignore. Such was the case on Friday, December 4th, 2009.
By Captain Pyke | June 28, 2009 - 7:56 am
Newsok.com recently conducted a phone interview with TNG alum Denise Crosby. Set to appear at Trek Expo, Crosby got the call a few days before the convention. In the interview she discusses Trekkies 1 & 2 and even the possibility for a third.