Patrick Stewart
By Crewman Becky | December 6, 2014 - 6:23 pm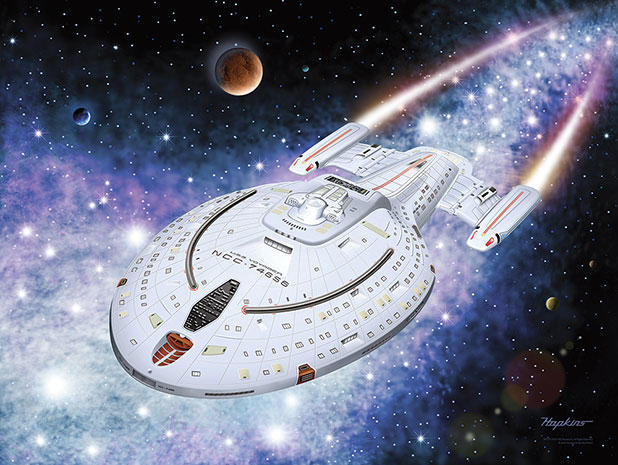 Bye Bye, Robot has announced its launch of Five new officially licensed Star Trek posters...one poster for each of the live series. As with many of Bye Bye, Robot's previous posters, all of these new posters are printed on acid-free heavyweight coverstock that is thicker than normal paper...more akin to business card thickness. Further, the acid-free nature of the paper makes them archival. These five new prints were painted by four different artists; two returning artists, and two artists who are new to Bye Bye, Robot.

By Crewman Becky | August 25, 2014 - 5:03 pm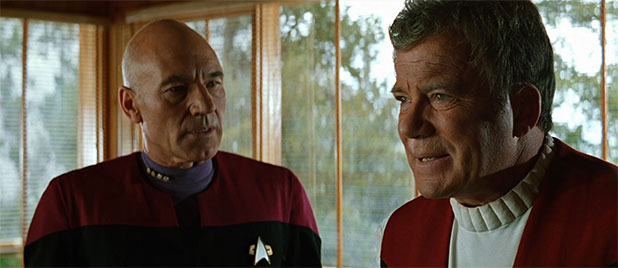 In case you haven't heard, William Shatner's Star Trek TNG Documentary 'Chaos On The Bridge' Debuts Tonight, Monday, Aug. 25, at 9 p.m. ET/MT on HBO Canada. Hey to all of our Canadian pals...you'll have to let us know how it is!!
The Toronto Sun writes;
By Captain Pyke | January 28, 2013 - 10:15 pm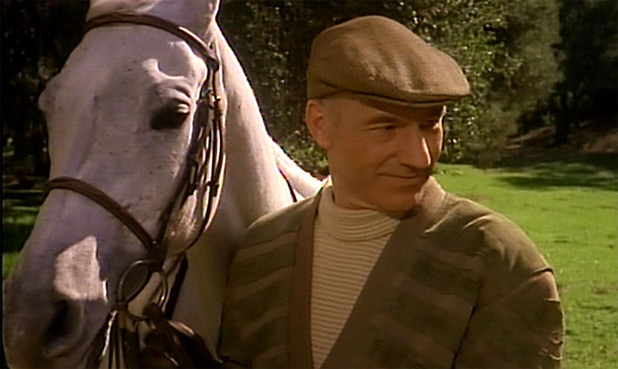 As refined thespians and Knights of the Realm, Patrick Stewart & Ian McKellen are no strangers to the Broadway stage. This fall Picard & Magneto (or Professor X & Gandalf, if you prefer) are set to co-star in two separate plays. First, they will be reprising their roles in the critically acclaimed Samuel Becket play Waiting for Godot, which originally played in 2009 to sold out audiences at London's West End. Next, they will be in a limited engagement run of Harold Pinter's No Man's Land.
By Captain Pyke | January 12, 2013 - 11:36 pm
Here's an interesting video that we found on Youtube featuring Star Trek: The Next Generation screen tests for everything form Data's makeup to Troi's contacts and hairstyle. Entitled "Creepy TNG Test Footage" the video show's what must have been the pre-production lighting and wardrobe test's for Brent Spiner, Marina Sirtis, Jonathan Frakes, Denise Crosby, LeVar Burton, and Patrick Stewart.
By Crewman Becky | November 5, 2012 - 9:21 pm
Don't make any plans for mid-February next year…your calendar is soon to be full of convention festivities. That's right kids, Creation Entertainment's Grand Slam: The Star Trek & Sci-Fi Summit XVIII, comes to Burbank, California on February 15-17, 2013. This con has a great set of celebs already lined up with more promised to be added as the event approaches. There will even be a Saturday night reunion event of the Star Trek: The Next Generation cast featuring; Sir Patrick Stewart, Jonathan Frakes, LeVar Burton, Michael Dorn, Gates McFadden and Marina Sirtis.
By Captain Pyke | October 30, 2012 - 10:34 pm
We just got back from a fantastic con in our neck of the woods. That's right earthlings, it's time for the Wizard World Austin Comic Con post convention wrap-up. This was a special Trek centric con, that featured the entire bridge crew from Star Trek: The Next Generation. We've been covering news about Austin CC for the past several months and the show really lived up to the hype.
By Captain Pyke | October 22, 2012 - 11:19 pm
For all of you that are excited about the Star Trek: The Next Generation reunion at Austin Comic Con, Wizard World just released the full programming schedule. In addition to all of the exciting TNG programming, our good friend Larry Nemecek is slated to appear at the con as well.
By Captain Pyke | September 24, 2012 - 11:06 pm
Austin Comic Con is nearly a month away and Wizard World just announced that Wil Wheaton has been added to the roster. All that's left for a complete US Next Gen cast reunion is Denise Crosby. Fingers crossed... Here's the Trek guest rundown; Patrick Stewart (Captain Jean-Luc Picard), Jonathan Frakes (Commander William T. Riker), LeVar Burton (Lt. Commander Geordi La Forge), Michael Dorn (Lieutenant Worf), Marina Sirtis (Counselor Deanna Troi), Brent Spiner (Lt. Commander Data), Gates McFadden (Dr. Beverly Crusher), and Wil Wheaton (Wesley Crusher).
By Captain Pyke | July 30, 2012 - 9:56 pm
This has been bouncing around the net as of late, but I found it rather entertaining and thought I would share it with you, gentle reader. Heh, that was almost poetic... Almost. Moving on. Star Trek: Nemesis is one of those like it or hate it Trek movies. We see it as missed potential. One thing you can't really argue is the fantastic chemistry between Patrick Stewart and Tom Hardy. The Picards duke it out scene after scene in an almost Shakespearean duel.