Patrick Stewart
By Captain Pyke | October 18, 2010 - 11:35 pm
Sir Patrick is the consummate professional. We love that… Not only does he give us the best performance he possibly can, whether it be on stage or as Jean Luc, but he's willing to do whatever it takes to make it happen. For his latest Broadway play, this even includes changing his eating habits and cutting out dairy all together. Now that's devotion…think about it…that means no ice cream. No ice cream?! Not even for Captain Picard day?!
In the new comedy "A Life in the Theatre" written by David Mamet, Patrick co-stars with T.R. Knight from Grey's Anatomy and has to take serious measures to protect his voice. You see, the play is 90 minutes of dialog with no intermission.
By Captain Pyke | August 25, 2010 - 3:57 pm
Over the years, we've all heard stories about certain actors who were up for roles on "Star Trek: The Next Generation", but for one reason or other didn't want or get the part. Now, thanks to Sliceofscifi.com (via Lettersofnote.com), we have an April 1987 dated Paramount studio memo that sheds light on the actually prospects for the TNG crew.
Among the many names listed, Yaphet Kotto was up for the role of Captain Picard, Ben Murphy (Alias Smith & Jones) was a candidate for Riker (spelled Ryker in the memo), Denise Crosby was considered to play Troi, & kid's game show host J.D. Roth was the only actor listed for Wesley. Here's something that we learned at Vegas Khhaaan (that the memo confirms, Eric Menyuk (aka The Traveler from TNG) was a possibility for our lovable android, Data.
By Captain Pyke | June 22, 2010 - 9:46 pm
We absolutely love how much Patrick Stewart has been in the news lately. With his recent addition to the Vegas Khhaaan! roster it seems the Captain is on a whirlwind tour of the Globe. In fact, he's in Edinburgh, Scotland this week as the jury chairman for the Edinburgh International Film Festival. Not only as a part of the jury, but Patrick was also the focus of an on-stage interview helmed by Alan Morrison, arts editor of the Sunday Herald.
By Captain Pyke | June 15, 2010 - 9:06 pm
Patrick Stewart has had quite a year. From being knighted to being in almost every Shakespearean production this side of Talos IV, our humble Captain seems to be in his prime. Added to his full year has been his seemingly none stop convention attendance. This is a true treat for Trek fans as Patrick had been absent for many years.
By Captain Pyke | May 30, 2010 - 10:21 pm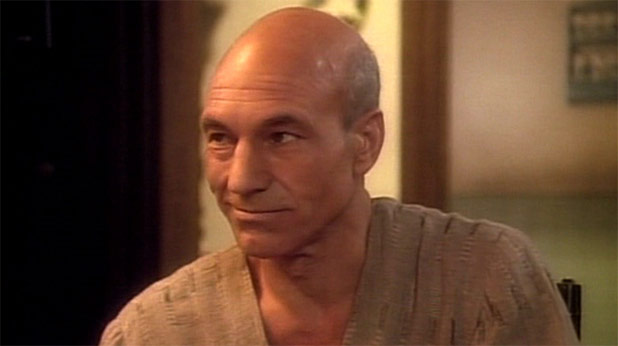 June 11th through the 13th is the date and Philadelphia, PA. apparently is the place for an awesome gathering of Trek stars. Among other stars from various scifi and fantasy genres, you'll get the chance to see three captains (two Starfleet and one Gorn), a father and son duo of omnipotent beings, an android, our favorite Russian navigator, and the son of the Emissary. Just added to the roster is none other than Sir Patrick Stewart. Wizard World is currently working with Sir Patrick to set up one or two panel discussions that should prove enjoyable.
We didn't intentionally plan our list to be a guessing game, but we enjoyed it none-the-less. Check out the full list of Trek stars below.
By Captain Pyke | May 18, 2010 - 10:24 pm
He's discovered new worlds and new civilizations. He's boldly gone where none of us have gone before. He's explored the final frontier. All while having to pull down his uniform and gaining his own named maneuver in the process. That's right, you've guessed it. We're talking about the Captain of the federation flagship. Our dear Captain Jean-Luc Picard. More importantly we're talking about the man who brought him to life. The amazingly talented and versatile actor Sir Patrick Stewart.
By Captain Pyke | March 10, 2010 - 11:07 pm
So, I don't know how we missed this, but Patrick Stewart was recently on an episode of Robert Llewellyn's "CarPool" podcast. Robert Llewellyn, as you may or may not know, played Kryten on the wildly popular BBC SciFi series "Red Dwarf". Now he's an internet superstar with his special brand of video podcasting.
By Captain Pyke | February 15, 2010 - 10:07 pm
Patrick Stewart, or Sir Patrick if you will, is slowly getting used to his title. "It's beginning to feel, day by day, a little more comfortable." He explains, "But tonight to hear my name linked like that with Sir Ian McKellen was perhaps so far the highlight of this event."
Sir Patrick was in London for the Whatsonstage.com theatre awards where he picked up 2 honors. One for supporting actor as Claudius in "Hamlet and the other he shared with fellow actor and Knight of Relm Sir Ian McKellen for "Waiting For Godot".
By Captain Pyke | January 15, 2010 - 11:41 pm
Patrick Stewart is set to play in two Shakespeare productions this spring for PBS. He's playing Claudius in Hamlet opposite Dr. Who star David Tennant and then a filmed version of the recent modern-dress broadway rendition of Macbeth. This version of Macbeth will see the Scottish King exchanged for a modern day dictator.
"Great works of art endure, and the reason it endures is that it seems to have fresh source of meaning for each generation that comes along," says Stewart. "This is my 52nd year of doing this professionally, and all I wanted to do was act in Shakespeare. And for years, that's all I did. Then, other things happened."