Patrick Stewart
By Captain Pyke | December 19, 2009 - 10:33 pm
Our dear Captain Picard is about to add another distinguished title to his name. Queen Elizabeth II is set to knight Patrick Stewart for his services to drama (and the universe, duh). Check out the article excerpt below.
Star Trek favourite Patrick Stewart is to be knighted in the New Year's Honours list.

The screen and stage legend will receive the gong from the Queen for his services to drama.

Stewart's award will cap an incredible career that has spanned 50 years of film and theatre.

Palace sources said the Queen is a huge fan of the 69-year-old, who played Captain Jean-Luc Picard in Star Trek: The Next Generation.

By Captain Pyke | December 2, 2009 - 10:09 pm
In a recent interview with the Yorkshire Evening Post, Patrick Stewart revealed a deep feeling of homesickness even at the heights of international success.
"My marriage was unravelling," he said. "I had been filled for several years with a homesickness that kept me awake at night."

"FOR a long time my way of getting to sleep was to have a virtual walk through my virtual home in England."
Our lovable Captain went on to explain the turning point at which he returned to his roots in Yorkshire, England.
By Captain Pyke | September 13, 2009 - 8:34 pm
In the same article as the Leonard Nimoy interview, Driven Magazine got a chance to talk to Patrick Stewart about his time in the captain's chair.
By Captain Pyke | September 7, 2009 - 5:06 pm
Even with his $200 photo-ops, Patrick Stewart was particularly popular at this year's Dragon-Con. That's probably because he doesn't make the convention rounds as much as other Star Trek actors. Didn't he retire from Conventions 15 or so years ago? Anyway...
By Captain Pyke | July 13, 2009 - 9:45 pm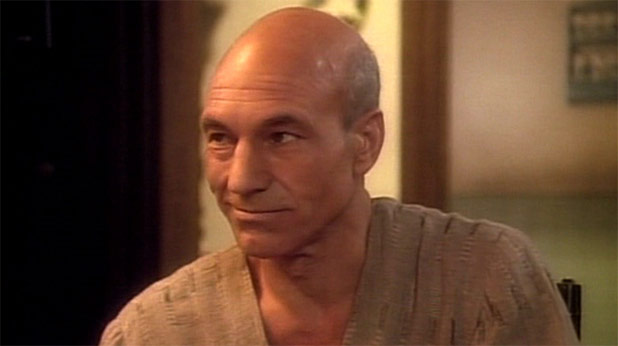 Our favorite captain (yes we say that about all of them), Patrick Stewart celebrated his 69th birthday today.

By Captain Pyke | June 11, 2009 - 9:47 pm
In an in-depth interview for the Yorkshire Post, Patrick Stewart talks about his early days as a child in South Yorkshire, his new theatrical performances, and what he thought of the new J.J. Abrams 'Star Trek'.
By Captain Pyke | May 19, 2009 - 7:20 am
As reported by TVShowsonDVD.com, Patrick Stewart narrates 'The Shape of the World' a 6 part mini-series that explores the history of map making. With a DVD release scheduled for August 4th, the 3 disc set is presented full screen in english stereo and is priced at $59.99