Patrick Stewart
By Captain Pyke | July 13, 2011 - 10:02 pm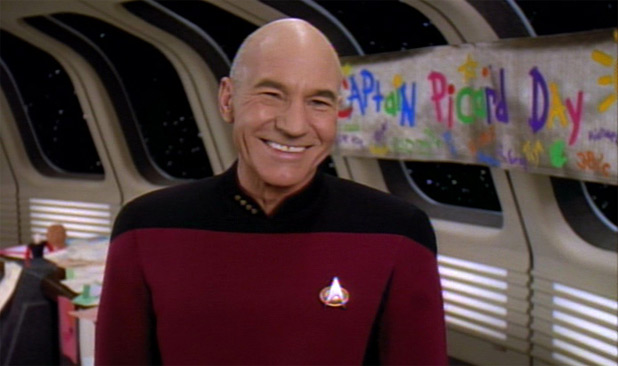 On this day in 1940, during the second World War in Mirfield, Yorkshire, England, a future award winning actor, starship captain, and Knight of the Realm was born. Happy birthday to Sir Patrick Stewart, he turns 71 today. He's a very busy man, from attending several conventions, to starring in video games and Shakespearean plays, Sir Patrick seems to be consistantly in the news. Heck, he's even receiving an honorary degree.
Aside form his various accolades and accomplishments, Patrick has his own idea of how he'd like to be remembered. When asked in an interview earlier this year, he responded: "For being funny, but I don't think that will happen." Of course to Trek fans, he'll always be the captain of the Enterprise-D, Jean Luc Picard.
By Captain Pyke | June 27, 2011 - 9:39 pm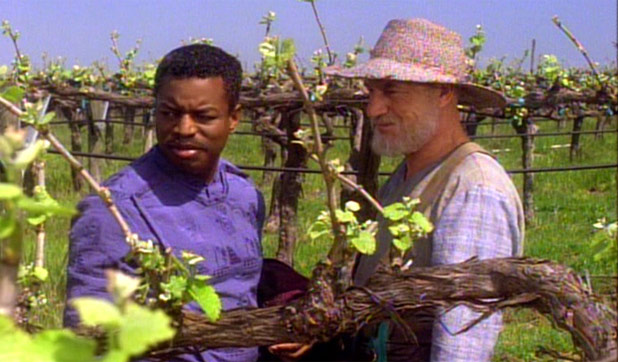 Drum roll...!!!...!!!...It was recently announced that Patrick Stewart will be appearing at Wizard World's Chicago Comic Con this August. The convention runs from August 11-14, 2011. If you are planning to attend, be sure NOT to miss Friday and Saturday (12th & 13th) in particular. That's when Patrick Stewart will be there in all his knighted glory. Not only will Sir Patrick be there but he will be joined by at least two other Star Trek alumni; his son Daniel Stewart (who, coincidentally, played alt-Picard's son on ST:TNG episode "Inner Light") and LeVar Burton (Geordi La Forge, ST:TNG). You can even have your photo taken with the (one, two, or) three of them while you're there. Oh, and as an added bonus, Christopher Lloyd, who played Commander Kruge in Star Trek III: The Search for Spock, will also be in attendance.
By Captain Pyke | June 15, 2011 - 8:31 pm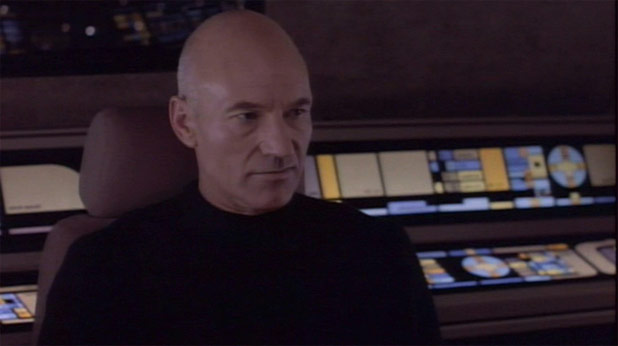 There's something that you may have been able to gather about us by simply visiting this website... We love Star Trek! Shocker, right? As much as we love Phasers, Warp Nacelles, & Man Skants (okay, maybe not the skant), we also adore H.G. Wells novels and video games. With all of that said, it seems that we've just been beamed aboard the USS Nerdheaven-A. Sir Patrick Stewart (or Sir Patty as we like to call him) is set to voice the upcoming video game version of the Wells classic "War of the Worlds".
On a side note, the original USS Nerdheaven was destroyed at Wolf 359.
Announced at E3, the new XBLA / PSN game is designed by Other Ocean Interactive and published by Paramount Digital Entertainment. Based on the Wells classic, the cinematic side-scrolling platformer sets the player in 1950s London during a decimating alien invasion. Sir Patty (we swear that's the last time we'll call him that) will take on the role of the story narrator, and according to the man himself, has always been a "War of the Worlds" fan.
By Crewman Becky | June 5, 2011 - 10:52 pm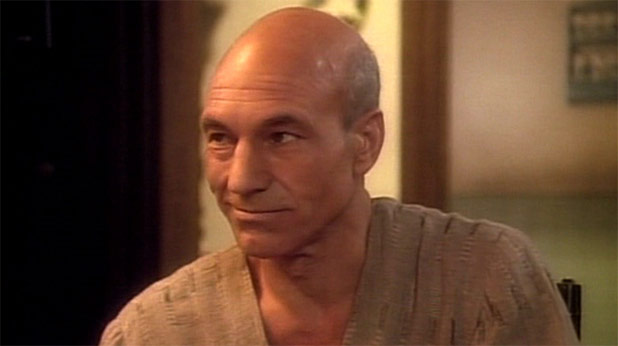 It's starting to look like every Star Trek captain will get an honorary degree this year. First it was Captain Kirk aka William Shatner who received an Honorary Doctorate of Letters from McGill University, his alma mater. Now, it seems as though it's Captain Picard's turn. Sir Patrick Stewart will receive an Honorary Doctorate of Letters from the University of East Anglia, this July.
UEA Registrar and Secretary Brian Summers said: "We present honorary degrees to those who have made a remarkable contribution to the arts, science, sport, and civil society. This July we will bring together 14 highly acclaimed and distinguished individuals who richly deserve this recognition."
The honorary degrees will be awarded at this year's graduation ceremonies which take place from July 19 to 22 at the University of East Anglia.
Sir Patrick Stewart OBE is one of Britain's best loved actors, best known for his film roles as Captain Jean-Luc Picard in Star Trek: The Next Generation and Professor Charles Xavier in the X-Men film series.
By Crewman Becky | May 23, 2011 - 10:06 pm
If you happen to be "across the pond" between now and September you will have the wonderful opportunity to see Sir Patrick Stewart perform at the Royal Shakespeare Theatre in Stratford-upon-Avon, in a modern day production of "The Merchant of Venice"
The London Evening Standard describes the play thusly; Set in modern Las Vegas, it has the dash of Ocean's Eleven, the verve of Legally Blonde and a demented delightfulness all of its own. Yet it's still palpably Shakespeare's protean drama about racial intolerance and the dark side of capitalism.
By Captain Pyke | April 23, 2011 - 9:44 pm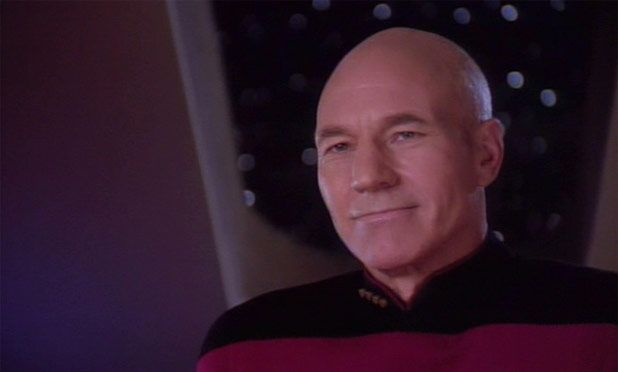 We agree, completely.... In an ongoing BBC.co.uk series called "Five Minutes With:", Matthew Stadlen sits down with celebrities and news-makers to question them for exactly five minutes. With giant clock in hand, Matthew puts Sir Patrick Stewart is in the hot seat. The Captain revealed that he is learning the harmonica, has been in 28 of the 37 known Shakespearean plays, and that TNG "changed everything" in his life and career.
Patrick Explains; "Right up until 1987, when I went to Hollywood to start filming Star Trek: The Next Generation, if you didn't go to the Royal Shakespearan Company you'd never heard Patrick Stewart"
When asked if there had been a highlight in his career, Patrick added; "It would have to be Star Trek: The Next Generation... After that series was such a huge success, which it was immediately, everything was changed for me."
By Captain Pyke | February 13, 2011 - 10:34 pm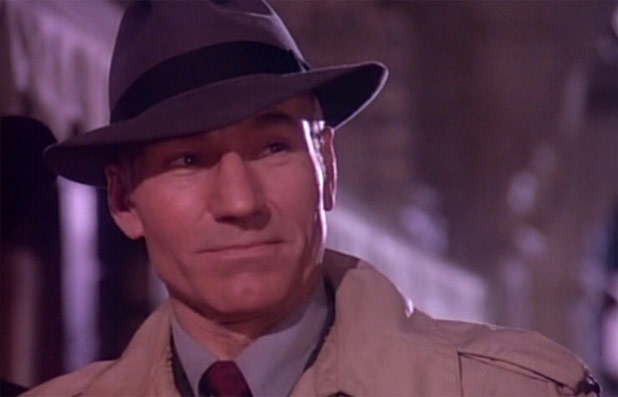 Nope, we aren't talking about his dearly departed follicles, but rather the town where Sir Patrick Stewart was born, Mirfield, England. As honored and decorated as Captain Picard was, we have a sneaking suspicion that Sir Patrick may be even more so. He is a Mirfield Ambassador and is set to receive a new award at an upcoming event held at his birthplace.
MIRFIELD- born star Sir Patrick Stewart has scooped a new acting accolade.
He is being honoured for his Shakespearean work ahead of his return to Stratford-on-Avon to appear as Shylock in this season's production of The Merchant of Venice.
Sir Patrick, who is a Mirfield Ambassador, will receive the Pragnell Shakespeare Birthday Prize at a luncheon in the Bard's birthplace in April.
By Captain Pyke | February 4, 2011 - 10:51 pm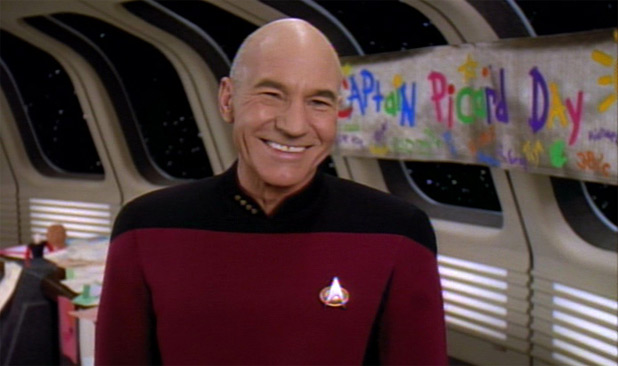 Honestly, we love just about anything having to do with Sir Patrick Stewart. Most recently we reported on his return to the Royal Shakespeare Company in a production of "The Merchant of Venice". Sir Patrick is obviously a marvelous actor, but he also has an interesting since of humor. According to a recent Q&A session with UK's The Guardian, he would love to be remembered "For being funny" but adds " I don't think that will happen." His Star Trek & Stage career may overshadow his sense of humor, but several of Sir Patrick's answers were rather humorous and all of them were very interesting. Check out an excerpt below.
When were you happiest?
A year ago, after only four lessons, skiing alone in the Sierras.
By Captain Pyke | January 31, 2011 - 10:33 pm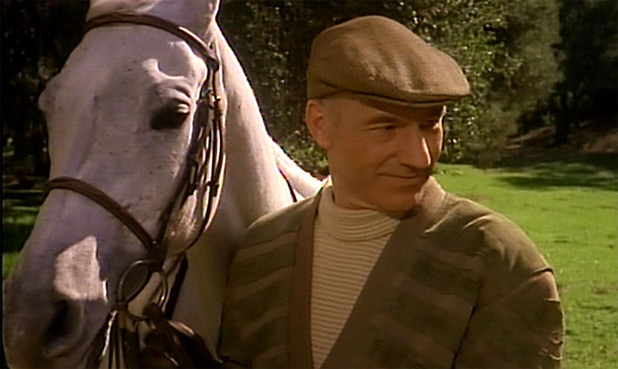 Sir Patrick Stewart is heading back to the Royal Shakespeare Company to play Shylock in the bard's "The Merchant of Venice" this spring. With over 60 RSC productions under his belt, Sir Patrick will be reuniting with director Rupert Goold for the production as a part the RSC's 50th birthday season. The play will run from May 19th to September 26th 2011 and preview on May 13th.
According to Whatsonstage.com; Goold and Stewart previously worked together on the RSC's 2006 production of The Tempest, which transferred to the West End, and most famously, on the multi award-winning 2007 Chichester production of Macbeth, which transferred to the West End and Broadway and was subsequently filmed. Following Macbeth, Stewart returned to the RSC in 2009 to play Claudius to David Tennant's Hamlet, which also transferred to the West End and which won Stewart both Olivier and Whatsonstage.com Awards for Best Supporting Actor.