Youtube Video Round-up
By Captain Pyke | April 20, 2012 - 10:41 pm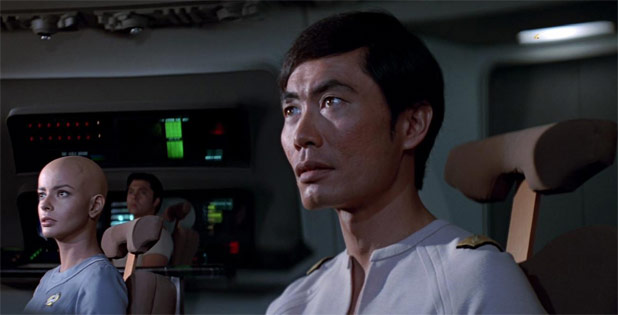 All around the globe, 4/20 is celebrated for a very special reason. No, it's not that....in fact it's something even better. It's George Takei's birthday! It seems that every year George becomes more relevant and spectacular. We've seen him a handful of times at various conventions and he's always fascinating (for the lack of a better word). In fact, George will be on stage at the upcoming Comicpalooza in Houston this May. We'll be there as well and on the edge of our seats for his panel. We love George for his acting ability, his whit, his social activism, and because he smells like a million bucks. So, on this very special day, we'd like to celebrate by watching Star Trek VI, tons of TOS, and by sending a very warm Happy Birthday to the man who helped make Trek what it is today.
By Captain Pyke | December 9, 2011 - 12:13 am
Happy birthday to a very special Klingon security officer, Michael Dorn turns 59 today (December 9th). Michael started off his career in Hollywood playing an uncredited role in the hit Sylvester Stalone film Rocky. He then moved on to black & white, cars that is. Michael played Officer Turner in a prominent fixture from my child, CHIPs. Of course we all remember the irascible Lt. Cmdr. Worf from our beloved Star Trek: The Next Generation, Star Trek: Deep Space Nine, and subsequent films. On this special day, we'd like to pay tribute to Michael with something we haven't done in a while. That's right kids, it's time for a Youtube Video Round-up: Happy Birthday Worf edition.
By Captain Pyke | September 4, 2010 - 9:39 pm
We've expressed our affection for The Shat so many times here on our humble website. We've written many an article, talked about his awesomeness in detail, and covered his attempt to take over the world, one TV show at a time. One thing we haven't discussed is his magnetic personality. Well maybe we have, but that's not the point. From playing Captain Kirk to playing himself, The Shat is simply The Shat. He's a force to be reckoned with and his simple smirk and strange halting laugh is a weapon he often uses from his arsenal. Many a beast has been soothed by it and many Orion Slave girls have fallen victim to it. That's why we give you another Star Trek Youtube video round-up: The Shats & Giggles Edition
This is simply the quintessential Kirk laugh.
By Captain Pyke | August 19, 2010 - 11:19 pm
Eugene Wesley Roddenberry was born August 19th 1921 in El Paso, Texas. Today would have been Gene's 89th birthday and to celebrate the life of this extraordinary man, we bring you a special Youtube Video Round-up: The Gene Roddenberry Edition. Gene wore many different hats over the years, writer, director, producer, husband, father, friend, and as most would agree; visionary. Gene's vision for the future was that of hope in mankind and the hope for a better tomorrow. It has played out on televisions screens all over the world starting on September 8th, 1966 through to today. So, to celebrate the life & legacy of the Great Bird of the Galaxy, we've scoured the halls of Youtube to find the very best of Gene Roddenberry. Enjoy.
By Captain Pyke | June 21, 2010 - 10:02 pm
As I was thinking over a few ideas for an article tonight, I realized that we have yet to honor our favorite Scotsman in the appropriate fashion. So, ladies, gents, and all trans-gender species, it's time for the... Youtube Video Round-up: James Doohan edition. As a young trek fan, I don't think that there was a cast member I tried to imitate more than Scotty. From the ubiquitus "I haven't got the power" to "Aye, the haggis is in the fire for sure", I tried them all.
By Captain Pyke | May 18, 2010 - 10:24 pm
He's discovered new worlds and new civilizations. He's boldly gone where none of us have gone before. He's explored the final frontier. All while having to pull down his uniform and gaining his own named maneuver in the process. That's right, you've guessed it. We're talking about the Captain of the federation flagship. Our dear Captain Jean-Luc Picard. More importantly we're talking about the man who brought him to life. The amazingly talented and versatile actor Sir Patrick Stewart.
By Captain Pyke | January 31, 2010 - 10:15 pm
If your here reading this article, more than likely your a Star Trek fan and you probably no that we are too. We love pretty much everything that's available from our favorite sci-fi series, right down to the funny and sometimes just interesting bloopers that happen on set
This leads us into another edition of the Youtube Video Round-up Star Trek Bloopers edition!! (que cheesy echo) We've scoured youtube for bloopers from every series and even Star Trek XII. Set back, relax with a Raktajino and enjoy!
Star Trek: TOS Bloopers (apparently there were lots of door problems in the 60s)
By Captain Pyke | January 17, 2010 - 10:32 pm
We are the Borg. Lower your shields and surrender your ships. We will add your biological and technological distinctiveness to our own. Your culture will adapt to service us. Resistance is futile. That statement alone is enough to give any space ferrying, warp capable civilization a case of the interstellar runs. We as the audience though, love every second of the space zombie madness.
By Captain Pyke | December 12, 2009 - 10:13 pm
Oh Commander Shran, Brunt, Weyoun, Commander Suldok, and even Penk, how we love you. You're all so different and well rounded characters. It's amazing to us that you all spawn from the same acting genius. Who else could we be talking about other than the wonderfully talented Jeffrey Combs.
You guessed it, it's time for another installment of the Youtube video round-up: Jeffrey Combs edition. We've scoured the interwebs in search of the best Jeffrey Combs videos available. From Weyoun drinking poison to The Shat interviewing Jeff. Check out the embedded goodness below.
Weyoun drinks poison. Hilarious!