William Shatner's Star Trek TNG Documentary 'Chaos On The Bridge' Debuts Tonight
By Crewman Becky | August 25, 2014 - 5:03 pm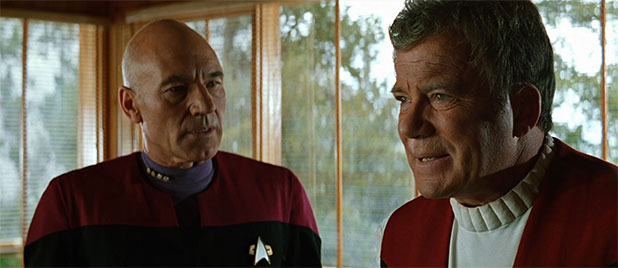 In case you haven't heard, William Shatner's Star Trek TNG Documentary 'Chaos On The Bridge' Debuts Tonight, Monday, Aug. 25, at 9 p.m. ET/MT on HBO Canada. Hey to all of our Canadian pals...you'll have to let us know how it is!!
The Toronto Sun writes;
Twenty years after Star Trek: The Next Generation made its final TV voyage, William Shatner – the face of the original series that started it all – delves into the tumultuous birth of Capt. Picard and pals in William Shatner Presents: Chaos on the Bridge. It debuts Monday on HBO Canada.

Through candid interviews with writers, producers, studio heads and cast members, Shatner pieces together an eye-opening look at the first two seasons of Star Trek: The Next Generation. The egos, the infighting, the fan backlash, the bluffs and threats and – lording over it all – Roddenberry trying to make a comeback while also battling with his own personal demons.

Written and directed by Shatner (in an interview with us, he called this "really, the best thing I've done"), the one-hour documentary is full of unvarnished insights and recollections from the likes of Paramount television's then-president John Pike, series writers Maurice Hurley and D.C. Fontana, producers and spin-off shepherds Rick Berman and Brannon Braga, Patrick "Jean-Luc Picard" Stewart and many, many others.
Read their full article here.
Greg David of TV, eh? got a sneak preview and had this to say;
It's a kick to see Shatner strutting around Paramount Studios' cavernous Stage 8 where the Enterprise bridge once sat, painting the picture of Roddenberry as a man in failing health who was clinging to hold onto his beloved creation. Roddenberry is depicted as an enigma, a man who was–depending on who you talked to–a visionary, stubborn, supportive, deceitful and decent. After years of failed television pilots and relegated to being a consultant on the various Trek feature films, he ended up in the captain's chair of a new series. It wasn't smooth sailing, as former Paramount executives recount Roddenberry's lawyer and the Trek creator's own health as major hurdles to jump on the way to getting cameras rolling on The Next Generation.

Those revelations, along with interviews with such cast members as Denise Crosby, Jonathan Frakes, Stewart and John de Lancie, paint an incredible picture. The cast weren't sure they should even be doing an updated Trek series, much less whether or not it would be a hit with die-hard fans who were upset it didn't focus on Kirk, McCoy and Spock. The briskly-paced one-hour doc covers every facet of the process that followed–from failed network pitches to a ludicrous suggestion that TNG be a miniseries–until the final product hit the air.
Read his full review here.
(Source: Toronto Sun & TV, eh?)