Star Trek: The Next Generation Crew Together At Calgary Expo
By Crewman Becky | January 30, 2012 - 11:11 pm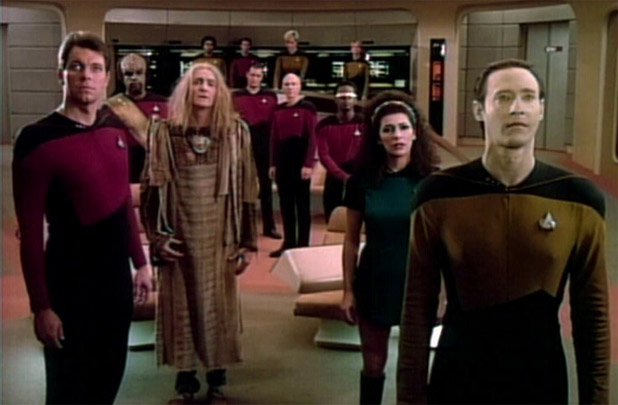 Well, the 25th anniversary of Star Trek: The Next Generation is swiftly upon us. I can't believe it's been so long. I still remember watching the first episode, begrudgingly, because my mom wanted to watch it and we only had one TV in the house. You see I was a purist…it wasn't the Original Series…so I didn't want any part of it. Needless to say, at the end of those two hours, I was totally hooked. Now, fast forward seven years to the series ender. We swear we didn't plan it this way, but "All Good Things…" just happened to be aired during our honeymoon. Being the fans that we were, we ordered in that night. There was no way either of us were going to miss that.
Now, as we enter the 25th year from the series beginning, and as the actual anniversary date speeds its way towards us, the first reunion of the Next Gen cast is on the books. The Calgary Comic Expo, April 27-29 2012, will reunite Sir Patrick Stewart (Captain Jean-Luc Picard), Jonathan Frakes (Commander William Riker), Brent Spiner (Lt. Commander Data), LeVar Burton (Chief Engineer Geordi La Forge), Marina Sirtis (Counselor Deanna Troi), Denise Crosby (Security Chief Tasha Yar), Gates McFadden (Dr. Beverly Crusher), Michael Dorn (Lt. Commander Worf) and Wil Wheaton (Ensign Wesley Crusher).
While talking about the upcoming reunion, LeVar Burton remarked, "I can safely say it will be the first time we have all been gathered together at a convention," and "It doesn't feel like it's been 25 years."
The show will be running Friday, Saturday and Sunday. In addition to the Star Trek presence there will be tons of other celebrities from all your favorite shows including; Firefly, Battlestar Galactica, SG1, and many more.
The 2012 Calgary Comic Expo is going to be a convention to remember. If we were even sort of close to this we'd be there in a heartbeat.
(Source: thestar.com and Calgary Comic & Entertainment Expo)