Star Trek Video Games
By Captain Pyke | September 23, 2011 - 11:45 pm
Star Trek Online Executive Producer Dan Stahl has thrown in the proverbial towel over at Cryptic. In a long letter to the players and fans, Dan left by saying "This was a difficult decision but ultimately one that will start a new chapter for me and my family." With a little over a year under his belt Dan has overseen several changes in STO since replacing Craig Zinkievich in July 2010. The biggest news of late being the purchase of Cryptic by Perfect World as well as the new free-to-play model. On the former, Dan mentions that he's "confident that the future of Star Trek Online is secure with Perfect World."
By Captain Pyke | August 27, 2011 - 10:39 pm
The free-to-play browser based game, Star Trek: Infinite Space, is getting closer to beta and final release. We've been patiently waiting to get our hands on Infinite Space since the first announcement back in summer 2010. In the meantime, the game's publisher Gameforge has just released a series of Q&A videos that feature Trek consultants Mike & Denise Okuda answering questions from the Infinite Space community. Mike & Denise answer a slew of general questions about Star Trek and the game, but one that caught our attention focused on Mike's LCARS contribution to the Trek universe.
Check out the full press release below, including both Q&A videos featuring the Okudas.
Star Trek Visionaries, Michael and Denise Okuda, Answer Fan-Related Questions and Shed Light on the Upcoming Free-to-play Casual Browser Game, Star Trek - Infinite Space
Karlsruhe, Germany - August 23, 2011 - Gameforge, Europe's largest publisher of free-to-play online games, today released an all-new community-based Q&A video featuring Star Trek expert consultants, Michael and Denise Okuda. In the video, they outline details regarding the upcoming Star Trek - Infinite Space free-to-play casual browser game and dive deep into the Star Trek universe.
By Captain Pyke | July 25, 2011 - 10:54 pm
With a release date set for "Summer 2011" and a fast approaching beta, Star Trek: Infinite Space is preparing to launch Trek fans into the Deep Space Nine era universe with a bang. We've been covering "Infinite" since it was announced last year, but for those who don't know; it will be free-to-play browser based game set in the Deep Space Nine timeline and has Trek alumni Mike & Denise Okuda on board to keep an eye on canon and consistency. Much like many browser games, "Infinite" will be free-to-play and casual, meaning you can pick up and play for short periods of time.
By Captain Pyke | July 5, 2011 - 9:03 pm
It's been a little while since we've reported on Cryptic's Star Trek Online MMO. Not that we don't have love for STO, we just have been focusing on other areas. The game has seen a few updates lately including Season 4 and we figured it was high-time that we covered a new instance of the Star Trek Online monthly series "Ask Cryptic". As usual, STO Executive Producer Dan Stahl answers fan questions that include tons about season 4, plus a few questions that peeked our interest. For instance, will the Defiant's pulse cannons be a playable ship weapon? Or, will you be able visit the bridge on your shuttle or captain's yacht? Also thrown into the mix;will the Tarmarians and other well known/liked "Aliens of the Week" make an appearance sometime soon? The answer? Absolutely! In fact, CBS has requested the very same thing. Expect to see some familiar faces in upcoming Series. Rock! Check out more of the questions & answers below.
Q: KBFLordKrueg Now that we have a beautifully redone Qo'noS, can we hope for more Klingon missions soon as well?
By Terilynn Shull | May 31, 2011 - 12:42 pm
Here we go again! STO players are now screaming from the top of their lungs: "We're all gonna DIE!" Okay, so maybe not quite so melodramatic, but pretty darn close!
Remember last week I told you that Atari had decided to divest itself of Star Trek Online's production company, Cryptic Studios? Yeah, I talked about the rumors flying around the forums and the podcasts and the blogs – all of which seemed to take a "wait and see" attitude, hoping that a company who actually might love STO and Cryptic's other products would be their knight in shining armor.
There was conjecture about almost every company – Blizzard, CBS, Microsoft – we even thought that maybe King Abdullah of Jordan might be interested…
Boy were we wrong.
By Terilynn Shull | May 27, 2011 - 6:32 pm
OK OK OK – it's been awhile I admit. I'm not going to ramble on about my excuses for being so long, so I will just jump right into it!
Not a lot really happened with Star Trek Online between my last (first) post at Subspace Communique and last week.
We had a "Featured Episode Re-Run" – which was the players opportunity to grab a special reward that was offered during the episodes' initial run and the C-Store was stocked with Oberth class ships and Section 31 uniforms … fun yes, but not something that warranted an article unto themselves.
By Terilynn Shull | April 6, 2011 - 7:29 pm
(Intro from Captain Pyke -- Subspace Communique would like to give a warm welcome to blogger & columnist Terilynn Shull and introduce you to a new article series focused solely on Star Trek Online called "STO: Uplink". This new series will be written from a player perspective and cover the latest news and happenings in the STO universe. Be sure to leave comments below welcoming Terilynn to the site. We're sure glad she's here.)
By Captain Pyke | March 20, 2011 - 10:33 pm
Cryptic studios recently added more player purchasable items to the Star Trek Online C-store. New items include Multi-Vector Advanced Escort (i.e. USS Prometheus form Voyager), a new federation costume pack that gives you an open jacket option (like Picard's captain's variant uniform from TNG), new melee weapons, and finally Vulcan science vessels and support craft. We're especially excited about the melee weapons pack because it includes the Vulcan Lirpa from the TOS episode "Amok Time". Ya know, dah dah daaah daaah daaah daah dah dah dah.... anyway, you get the idea. Now we can only hope that appropriate music plays when wielding the lirpa. Oh, and, that our character's shirt gets slashed at the midriff. Check out the new C-store updates below.
Federation Multi-Vector Advanced Escort
(1200 Atari Tokens)
By Crewman Becky | March 16, 2011 - 10:40 pm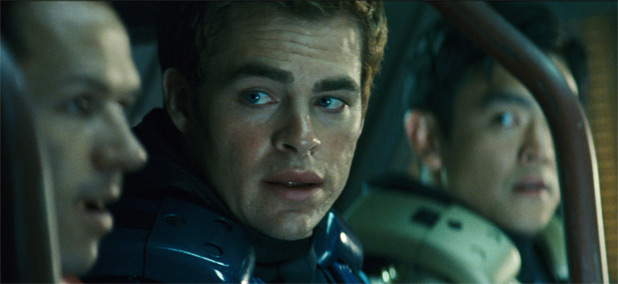 For all you slot machine fanatics out there (…and we've been to Vegas Khhaaan…we know you exist) a new online slots game set to the theme of Star Trek XI is out on the inter-webs and ready for your love and attention. Kerching, the online casino has just released their newest game in two varieties; free play and cash play modes. Here's a little bit of what Kerching has to say about the new game;
As soon as you enter the Star Trek online slots game, it's clear that this is the next generation of gaming. The graphics are just astonishing, from realistic animations to real images from the movie. Characters including Kirk, Spock, Scotty and the sultry Uhura adorn the reels and star in their own special bonus rounds.