Mike Okuda
By Captain Pyke | August 27, 2011 - 10:39 pm
The free-to-play browser based game, Star Trek: Infinite Space, is getting closer to beta and final release. We've been patiently waiting to get our hands on Infinite Space since the first announcement back in summer 2010. In the meantime, the game's publisher Gameforge has just released a series of Q&A videos that feature Trek consultants Mike & Denise Okuda answering questions from the Infinite Space community. Mike & Denise answer a slew of general questions about Star Trek and the game, but one that caught our attention focused on Mike's LCARS contribution to the Trek universe.
Check out the full press release below, including both Q&A videos featuring the Okudas.
Star Trek Visionaries, Michael and Denise Okuda, Answer Fan-Related Questions and Shed Light on the Upcoming Free-to-play Casual Browser Game, Star Trek - Infinite Space
Karlsruhe, Germany - August 23, 2011 - Gameforge, Europe's largest publisher of free-to-play online games, today released an all-new community-based Q&A video featuring Star Trek expert consultants, Michael and Denise Okuda. In the video, they outline details regarding the upcoming Star Trek - Infinite Space free-to-play casual browser game and dive deep into the Star Trek universe.
By Captain Pyke | August 6, 2011 - 10:32 pm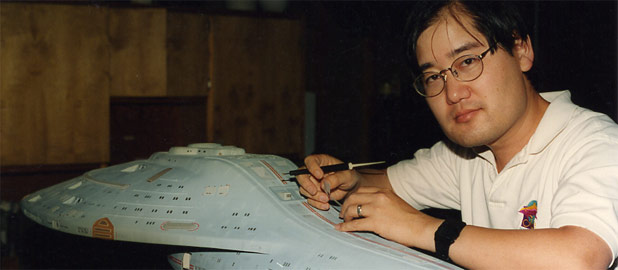 We would like to wish a very happy birthday to Mike Okuda. He has been responsible for a myriad of things throughout the various Trek incarnations since the mid-1980s starting with Star Trek IV: The Voyage Home. Mike gained notoriety for his work on Star Trek: The Next Generation as a scenic artist / technical consultant and for designing the futuristic graphical user interface (LCARS or Okudagrams) used throughout the TNG era and all the way to DS9. I would also like to personally thank Mike and give him credit for inspiring me to work professionally in the graphic arts and user interface design. Thanks Mike, your work has inspired an entire generation of graphics professionals!
By Captain Pyke | July 25, 2011 - 10:54 pm
With a release date set for "Summer 2011" and a fast approaching beta, Star Trek: Infinite Space is preparing to launch Trek fans into the Deep Space Nine era universe with a bang. We've been covering "Infinite" since it was announced last year, but for those who don't know; it will be free-to-play browser based game set in the Deep Space Nine timeline and has Trek alumni Mike & Denise Okuda on board to keep an eye on canon and consistency. Much like many browser games, "Infinite" will be free-to-play and casual, meaning you can pick up and play for short periods of time.
By Captain Pyke | September 30, 2010 - 10:53 pm
We reported back in June that Gameforge, the largest independent global provider of online games, had signed a worldwide licensing deal with CBS Studios to publish free-to-play casual browser games based on the Star Trek franchise. It looks like we're one step closer to getting our Trek gaming on in Google Chrome (yeah, that's how we roll).
DS9 will be the setting for the first browser-based free-to-play game called Star Trek: Infinite Space, with two other games in the works slated for 2011. One of the games will be a facebook exclusive, untitled as of yet, and will focus on the original series.
Gameforge has enlisted award-winning developer Keen Games to lead development on Star Trek: Infinite Space.
"Bringing Keen Games on board to develop Star Trek – Infinite Space was an easy decision to make as Keen has a strong history of producing outstanding titles," said Ralf Adam, VP of Publishing at Gameforge. "Our production team will work closely with Keen Games to bring the vision we have for Star Trek – Infinite Space to fruition."
By Captain Pyke | October 29, 2009 - 8:56 pm
Famed Star Trek artist Mike Okuda, responsible for so much of the look and feel of the Next Generation era, has also made quite a name for himself designing patches and insignias for various NASA missions. His latest work includes patches for the Constellation, Ares I-X, and Orion Missions.
As reported by Cleveland.com, Mike explains "I love the style of military unit or squadron emblems, that wonderful sense of bravado, since that's such a big part of NASA's culture." Check out the article exerpt below.

By Captain Pyke | June 3, 2009 - 9:37 am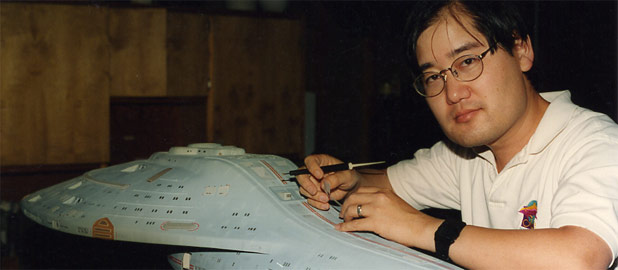 As reported by Wired, Michael Okuda will receive the NASA Exceptional Public Service Medal for his work on multiple exploration missions. According to the space program, the medal recognizes "exceptional contributions to the mission of NASA."