Mike Okuda to Receive NASA Public Service Medal
By Captain Pyke | June 3, 2009 - 9:37 am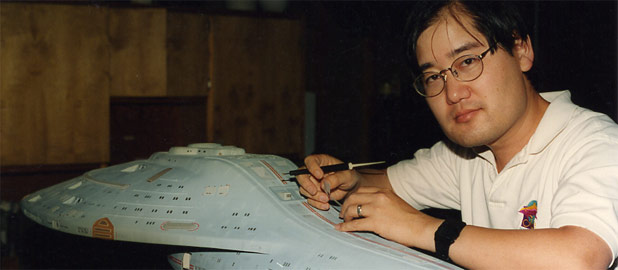 As reported by Wired, Michael Okuda will receive the NASA Exceptional Public Service Medal for his work on multiple exploration missions. According to the space program, the medal recognizes "exceptional contributions to the mission of NASA."
A veteran art designer for various incarnations of Star Trek (including The Next Generation, Deep Space Nine, Voyager, Enterprise and six Trek feature films) Okuda did extensive design work for NASA's Project Constellation, including program emblems for the Constellation, Ares, Orion and Altair programs, along with the mission patch for the upcoming Ares I-X development test flight.

Working with the most recent crew of Space Shuttle Atlantis, he also designed the mission patch for the successful STS-125 mission to repair the Hubble Space Telescope. He even did the unofficial Space Rescue team emblem for the STS-400 mission that would have shot up if the repair had gone wrong.

Okuda worked extensively on the Star Trek: Remastered series that brought modern visual effects to the 1960s' original series episodes and was credited with taking the time to preserve the spirit of those classic effects while cleaning up the look of the shows (source Wired)
Read the full article here.