Star Trek XI
By Captain Pyke | December 27, 2009 - 12:15 am
J.J. Abrams's 'Star Trek" has been in several top ten lists this year including the top 10 grossing films of 2009. One list that probably isn't favorable in the studio's mind is the top ten most pirated films of 2009. According to WorstPreviews.com, "Star Trek" has done just that and more. In fact, it's the most pirated film this year. Check out the article excerpt below.
By Captain Pyke | December 11, 2009 - 11:49 pm
In Star Trek XI, Visual Effects Supervisor Roger Guyett used an animation technique called "color mapping" throughout the entire movie. Each digitally created locale, be it a planet or a region of space, was assigned its own hues and tones.
The approach was practical because many of the pic's locales were entirely digital, just as in animation.

"When you're completely inventing something, you have more control over those colors and tones and the way that you light those spaces," Guyett says. When creating new locales with the color map, he could slot in a fresh keyframe and look at the map. "It really is clear whether (the locale) is confusing to the audience."

By Captain Pyke | November 25, 2009 - 8:49 pm
Responsible for the Delta Vega creatures in Star Trek XI, Neville Page talks to Animation World Network about his experiences working with J.J. Abrams on the Star Trek Reboot. Neville worked on Cloverfield and J.J. was so impressed by his talents, he was asked to work on J.J.'s next big project, our beloved franchise. Check out an excerpt from the interview below.
Bill Desowitz: So did you know from the start that you would be designing these two creatures on the Delta Vega Ice Planet?

Neville Page: No, when I read the script and it was originally a desert scene. I think they thought it was too similar to Tatooine.

BD: Anything you did would evoke Star Wars.

By Captain Pyke | November 23, 2009 - 9:43 pm
Another awesome episode of The SciFi Diner Podcast with Scott and Miles, has hit the interwebs. This time the guys interview Clifton Collins Jr., Nero's second in command from Star Trek XI.
Check out the deets below.

On tonight's science fiction podcast, we talk about shows we've been watching, our Facebook Fan Page, Mile's visit to Midtown Comics, the upcoming Battlestar Galactica Prequel Caprica, the made for TV Smallville Movie, 10 Star Trek Gadgets that came true, we share our review of 2012, and lastly give you our thoughts on the Farscape Megaset.

By Captain Pyke | November 17, 2009 - 5:26 pm
The new phone books are here, the new phone books are... uh, I mean, the new "Star Trek" 3-disc Blu-ray with Digital Copy is here. So, we went out today for a quick Doctor's appointment and just happened to pick up our prescription at the neighborhood Sam's Club. On the way to the pharmacy, we mysteriously and accidentally fell into the DVD / Blu-ray section and picked up a copy of J.J. Abrams' "Star Trek". None of this was planned of course.
By Captain Pyke | November 16, 2009 - 10:17 pm
Our friend and Shore Leave Contributor Miles McLoughlin recently had Star Trek writers Kevin Dilmore and Dayton Ward on the latest episode of his "The SciFi Diner" Podcast. Both Dayton and Kevin were on hand to talk about the impending release of J.J. Abrams' "Star Trek", due out tomorrow. And you know, anytime Kevin and Dayton are on a show hilarity ensues.
By Captain Pyke | November 5, 2009 - 8:54 pm
Our good friend, and counter-culture geek hero, Wil Wheaton recently revealed that he actually did the voice-over work for Nero's crew in Star Trek XI. It's a pretty interesting turn of events, I guess Leonard Nimoy wasn't the only former Trek actor to make an appearance in J.J. Abrams Star Trek reboot.
Thanks to The Trivia Tribble David Kleparek for sending us a link to the article.
By Captain Pyke | October 28, 2009 - 9:43 pm
As reported by Videogamer.com, a brand new Xbox 360 Elite bundle will be hitting store shelves featuring a theme based on J.J. Abrams "Star Trek".
According to the latest issue of trade publication The Future, Microsoft is readying two new Xbox 360 Elite bundles.
By Captain Pyke | October 23, 2009 - 8:23 pm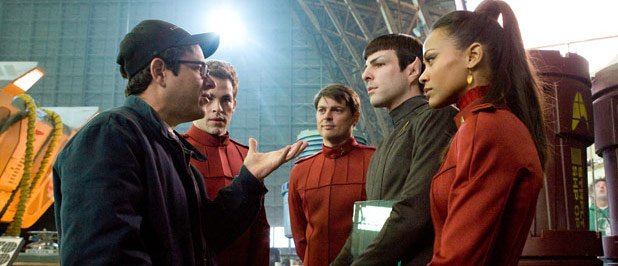 In a recent phone interivew with MTV Movie Blog, 'Star Trek' director J.J. Abrams talks about Star Trek XII needing to "evolve" and not become an "over the top, polemic, on-the-nose alegory".
Whew, we had to look a few of those up. Anyway, it's good to hear J.J. reassure us Trek fans that we're not in store for just any sequel.