Star Trek XI
By Captain Pyke | April 2, 2010 - 4:00 pm
We are like most Star Trek Fans, collect everything you can and put it out on display. Lots of Trek fans have huge collections, there's even a hashtag on twitter #trekcollection. Well, if you missed getting your hands on Star Trek XI stuff and you're a Sam's Club member, you still have a chance. Sam's is offering the Playmates 12 inch action figures in the Kirk, Spock, McCoy, and Original Spock flavors for $9.81 each.
By Captain Pyke | March 29, 2010 - 8:58 pm
After the almost complete Oscar snub, J.J. Abrams's "Star Trek" was a winner at the Empire Awards. According to wikipedia; since 1995, Empire, Britain's biggest selling film magazine, has organized the annual award show. Nominated for 3 awards total, Star Trek pulled ahead of the pack in the "best scifi / fantasy film" category.
"This is lovely and I'm happy to be apart of this story" said Simon Pegg during his acceptance speech for the win. He continues - "I said I wasn't going to cry.. but.. You canna defy the laws of physics"
Check out Simon Pegg's acceptance speech below.
By Captain Pyke | March 8, 2010 - 11:09 pm
We've been covering and complaining about Star Trek's lack of Oscar nominations this year. Though, one nomination has stood out from the crowd, Best Achievement in Makeup. Well after 31 years of Star Trek movie making, the franchise started by the Great Bird of the Universe finally got it's due.
By Captain Pyke | March 3, 2010 - 10:32 pm
Star Trek XI was practically snubbed this year by Oscar and his Hollywood cronies. One category though, proves to be a possible win for J.J. and crew, Best Makeup. Leading the award nominated team is legendary Makeup artist Barney Burman.
By Captain Pyke | February 13, 2010 - 10:26 pm
J.J. Abrams's "Star Trek" was over looked this year for several Oscar Nominations like best picture or director, but it did manage to score a few noms (not the little bunny eating a carrot kind) for Best Achievement in Sound, Best Achievement in Sound Editing, Best Achievement in Visual Effects, and Best Achievement in Makeup.
The Oscar nominated team responsible for Star Trek's fantastic Vulcans, Romulans, and other creatures consisted of Barney Burman, Mindy Hall, and Joel Harlow. In a recent interview Mindy Hall recalls the task of convincing Zachary Quinto and Eric Bana, among others, to shave their heads and eyebrows.
By Captain Pyke | January 31, 2010 - 10:15 pm
If your here reading this article, more than likely your a Star Trek fan and you probably no that we are too. We love pretty much everything that's available from our favorite sci-fi series, right down to the funny and sometimes just interesting bloopers that happen on set
This leads us into another edition of the Youtube Video Round-up Star Trek Bloopers edition!! (que cheesy echo) We've scoured youtube for bloopers from every series and even Star Trek XII. Set back, relax with a Raktajino and enjoy!
Star Trek: TOS Bloopers (apparently there were lots of door problems in the 60s)
By Captain Pyke | January 7, 2010 - 10:23 pm
According to an article in the LA Times, J.J. Abrams's "Star Trek" recieved a nomination for the Producers Guild of America Awards. It seems that this year's PGAA is chock full'o SciFi. "District 9" and "Avatar" are among the 10 nominees announced. Apparently, the winner of the Darryl F. Zanuck Producer of the Year film award is a precursor for some 13 Oscar best picture winners over the two last decadse. We can dream can't we. I mean, what are the chances that a Trek film would win let alone be nominated for an Oscar. What a crazy time to be a Trek fan!
By Captain Pyke | January 3, 2010 - 8:42 pm
According to a recent article from IDG News Service, some Trek fans are experiencing difficulties in redeeming their digital download copy of the new J.J. Abrams "Star Trek". Apparently when fans try to redeem the digital download from their Blu-ray version of the film, the code is coming back as already being used. Yikes, ComputerWorld.com speculates that some of the codes may have been seeded in torrents around the web.
By Captain Pyke | December 30, 2009 - 11:35 pm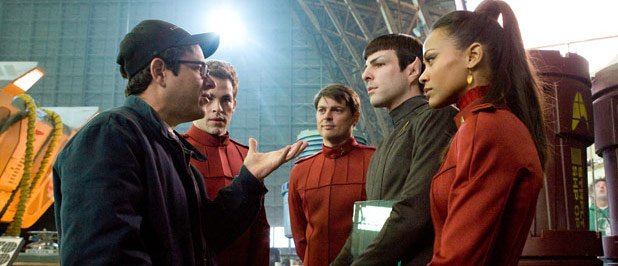 As reported by Wired.com, a new site called SoundWorks Collection puts a spotlight on the sound design & designers of J.J. Abrams's "Star Trek".
Tags: