Star Trek XI
By Captain Pyke | June 7, 2009 - 9:12 am
As reported by Action Figure Insider, Playmates Toys has more 'Star Trek' action figures in the works. We could see a new Kirk & Scotty Galaxy Collection figures as soon as August. And, if sales support it we could see 'Star Trek' figures all the way through 2010 with possible USS Kelvin charaters.
By Captain Pyke | June 6, 2009 - 12:12 pm
As reported by The Hollywood Reporter, 'Star Trek' received top honors at this years Golden Trailer awards.
The trailer for "Star Trek" was named best in show and also took home the Summer 2009 Blockbuster Award at the 10th annual Golden Trailer Awards, which were held Thursday night at the DGA Theater in Los Angeles.

By Captain Pyke | June 2, 2009 - 5:21 pm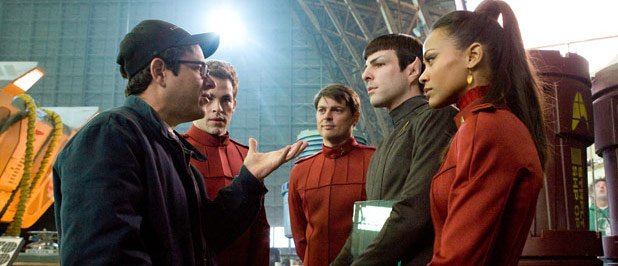 In an exclusive interview with Post Magazine, 'Star Trek' director J.J. Abrams talks about the technical side of shooting 'Star Trek'.

Post: You shot this 35mm anamorphic when so many sci-fi films are now shot digitally. Why?

By Captain Pyke | June 1, 2009 - 7:03 pm
The Pittsburgh Post-Gazette's Patricia Sheridan recently sat down with Bruce Greenwood and discussed Star Trek XI, Greenwood's skiing past, and life as a celebrity.
Q: I read that you once wanted to be a professional skier?

A: I was pretty outdoorsy. And yeah, that was my plan, professional skier or a poet, if you can imagine that. That was the fall-back position if the skiing didn't work out, I'd make a living as a poet.

Q: So, do you still ski?

By Captain Pyke | June 1, 2009 - 9:48 am
As reported by Airlock Alpha, J.J. Abrams' 'Star Trek' has surpassed the $200 million mark at the box office. Beating out Monsters and Aliens and being the first to pass $200 million 'Star Trek' holds on to the 5th spot in the top ten, but it's days may be numbered. however, it is still on track to be the highest grossing film of 2009.
By Captain Pyke | May 30, 2009 - 3:45 pm
As reported by io9, new concept art images from J.J. Abrams 'Star Trek' are starting to surface. From the Narada in the black hole to Vulcan's destruction, the images showing the planning stages of their subsequent scenes.
Beautiful stuff, definitely worth a look.

By Captain Pyke | May 27, 2009 - 1:23 pm
In a recent production focus article, CGsociety writer Renee Dunlop gets indepth info from ILM & Digital Domain about the two studios work on the new J.J. Abrams film 'Star Trek'.
Space may be the final frontier, but the ever-expanding capabilities of visual effects are nipping at its heels. And where the two meet, there is Star Trek.

By Captain Pyke | May 27, 2009 - 7:15 am
Tags:
By Captain Pyke | May 25, 2009 - 9:09 pm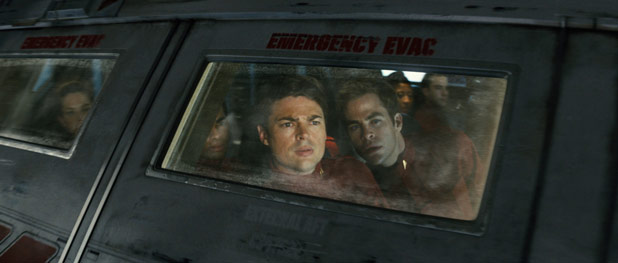 If you didn't know, William Shatner has his own Youtube channel called 'The Shatner Project'. In the most recently released video we see Karl Urban (Dr. McCoy in Star Trek XI) interviewed at The Shat's Hollywood Charity Horse Show.
Urban is asked all about his role as Bones including how he prepared for the role and if he actually watched Star Trek as a lad. Check out the video below.