Star Trek XI
By Captain Pyke | June 24, 2009 - 6:51 am
With no definitive release date as-of-yet, 'Star Trek' IS headed to blu-ray and the disc details are slowly emerging on the net. As reported by Blu-ray.com, the new release will feature behind the scenes featurettes, deleted scenes, gag reels and more.
Here's the details so far (keep in mind that these are still rumors):
By Captain Pyke | June 22, 2009 - 8:12 pm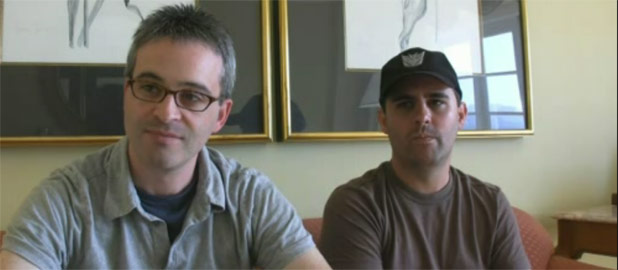 Collider has a great interview with Alex Kurtzman & Roberto Orci. In the interview they discussed the preasure they feel for a good sequel to 'Star Trek', Transformers 2, and a few more items listed below
By Captain Pyke | June 22, 2009 - 7:15 am
'Star Trek' is holding strong at number 7 in the U.S. top 10 for last week. A full 46 days after it's initial release on May 7th, the J.J. Abrams film has reached number 55 in the top 100 U.S. grossing films of all time.
Here's a rundown of last weeks movie top 10:
Tags:
By Captain Pyke | June 21, 2009 - 8:08 am
According to Airlock Alpha, the top Paramount exec that spearheaded the production of the new J.J. Abrams 'Star Trek' was fired on Friday.
It looks like one of the people who helped bring 2009's biggest movie (so far) to the big screen is scanning the classifieds for a new job.

Tags:
By Captain Pyke | June 17, 2009 - 7:47 pm
Pop Culture Zoo has just a posted a picture preview of the second wave of 'Star Trek' toys due out this fall.
By Captain Pyke | June 15, 2009 - 8:27 am
We've been wondering, as many of you, how the changes to the Star Trek universe timeline would be affected by what happened in Star Trek XI. And, more importantly, how the changes would affect the upcoming Star Trek Online.
The fine beings at Cryptic have put together an article explaining that very thing.
By Captain Pyke | June 14, 2009 - 4:23 pm
As reported by Airlock Alpha, 'Star Trek' is still going strong in the top ten grossing movies this week. Nearly beating the premiere of the new Eddie Murphy film 'Imagine That'.
It didn't grab the No. 5 spot for the third week in a row, but it almost got No. 6.

"Star Trek" earned $5.6 million at the box office over the weekend, beating out "Terminator: Salvation," "Drag Me To Hell" and "Angels & Demons."

By Captain Pyke | June 13, 2009 - 10:24 am
By Captain Pyke | June 8, 2009 - 10:44 am
As reported by Information Aesthetics, the visual design company OOOiii was responsible for creating the information displays on the bridge of the new enterprise. Apparently, which was a shocker to us, the displays were live and interactive for the cast to manipulate.