Star Trek Movie News
By Captain Pyke | March 9, 2013 - 4:32 pm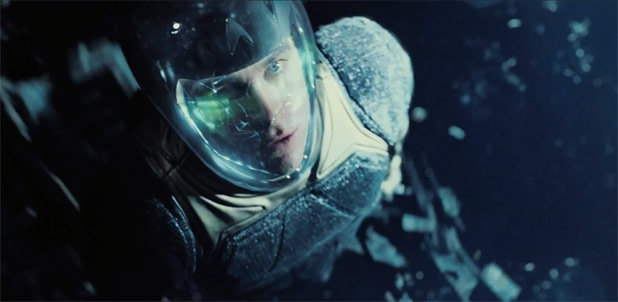 A brand new teaser trailer for the upcoming J.J.-verse Star Trek Into Darkness was leaked to the web. Supposedly, this is the trailer that's being shown as a preview before the new Disney film Oz the Great and Powerful. The new teaser features a handful of as-of-yet-seen intense action shots from the film including Kirk & Spock in a small (shuttle? fighter?) ship chase and general spacesuit awesomeness.
By Crewman Becky | February 18, 2013 - 12:14 am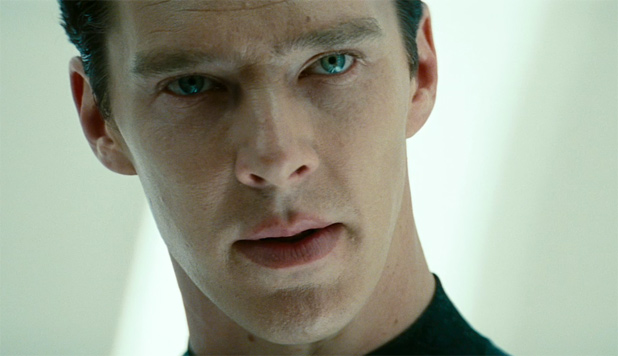 We all knew that Simon Pegg was a world class actor and writer. It now seems he can add world class prankster to that list.
British actor Benedict Cumberbatch spent a morning on the Star Trek set with cream smeared on his face after falling for a prank by his co-star Simon Pegg
By g4nd7n | January 9, 2013 - 11:26 pm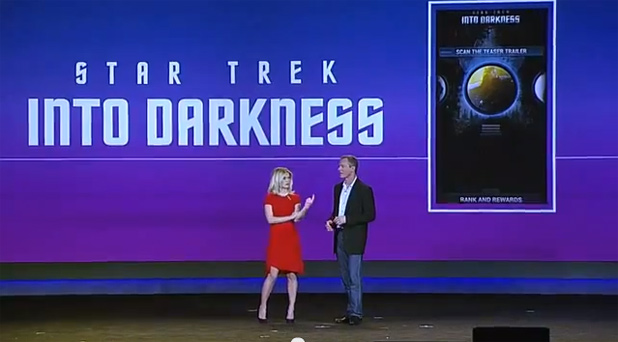 Two Star Trek Into Darkness videos have hit the web and showcase the upcoming film in different ways. First up is a video from the Qualcomm keynote address from CES in Las Vegas. CES is currently running all over Vegas with hundreds-of-thousands in attendance and Qualcomm has taken over as keynote presenter from Microsoft. The big Q had an awkward presentation that showcase everything from over-the-top actors, a fully electric Rolls Royce and Maroon 5. Sandwiched in there somewhere, was a brief appearance by Alice Eve (Dr. Carol Marcus), featuring a new augmented reality app for Star Trek: Into Darkness. You can see the video below, complete with awkward pauses and wandering teleprompter eyes.
By Captain Pyke | January 3, 2013 - 12:38 am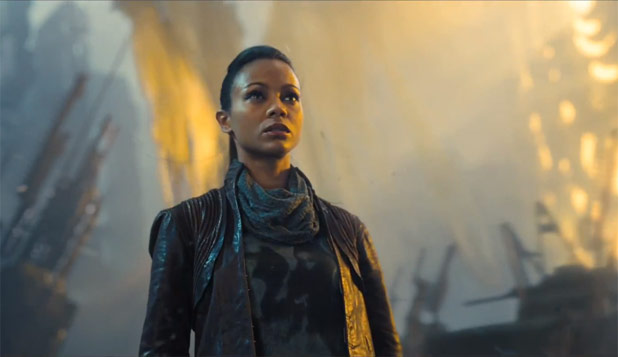 In a less than detailed interview with Extra, Into Darkness's Spock, Kirk, and Uhura are cagey about plot details. Of course they are, you say, but it's interesting that the Zoe Saldana, Chris Pine, and Zachary Quinto are already hitting the publicity circuit five months before the premiere. Zachary and Chris talk vaguely about the blossoming friendship between Kirk and Spock (notice I didn't say "slash")... "Kirk really earns his leadership" Zachary explains, "Spock really earns an understanding of friendship."
By Captain Pyke | December 29, 2012 - 11:09 pm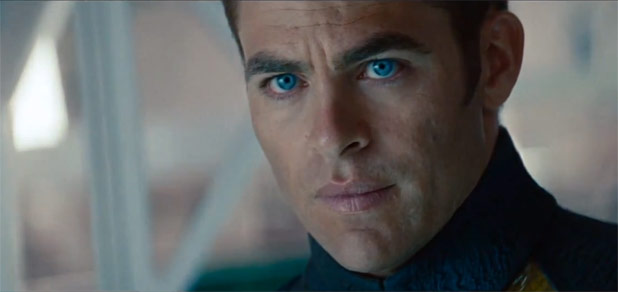 In an incredible act of kindness, Star Trek Into Darkness director J.J. Abrams grants the dying wish of a cancer patient. J.J. is going to arrange a screening of Star Trek Into Darkness for the terminally ill Trek fan. Originally posted on Reddit, the unnamed person is described as a 41 year-old husband who's survived various types of cancer only to be stricken with a very rare tumor that is destroying his liver. Check out the original Reddit post below.
By Captain Pyke | December 27, 2012 - 11:57 pm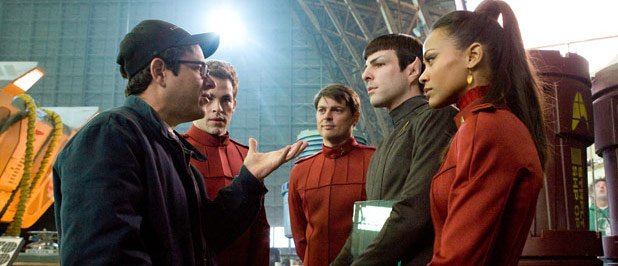 In an interview with Empire, J.J. Abrams revealed that he was asked early on to helm the new Star Wars movie Episode VII. J.J. wants to remain "loyal" to trek and considers himself too much of Star Wars fan to helm its next incarnation.
By Captain Pyke | December 24, 2012 - 9:58 pm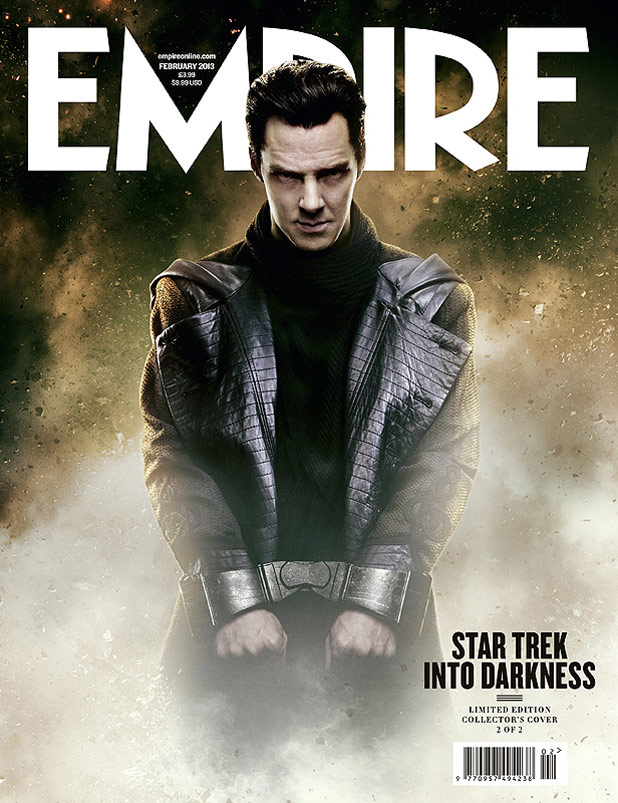 Like an early Christmas present, Empire Magazine just launched a sneak-peak of its December 27th issue chock full o'darkness photos. Empire is also releasing two covers featuring Benedict Comberbatch and Chris Pine with special editions for subscribers. Check the images and details below.
By Captain Pyke | December 19, 2012 - 3:06 pm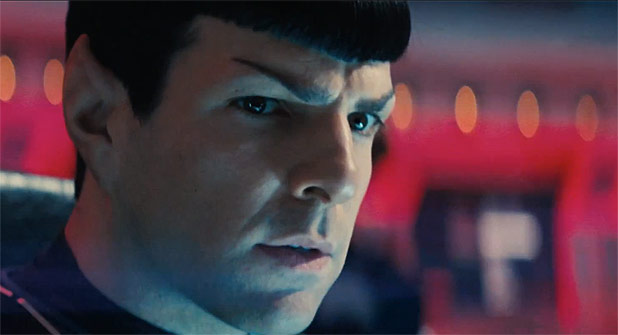 Yeah, I'm stoked and can't wait for May to get here. I've completely given up on seeing Darkness without most of the film being spoiler'd (uh, spoiled, spoiler-ed)... Who was I kidding, anyway? I run a Trek culture website for Pete's sake... With that said, Paramount and Bad Robot just dropped a brand new trailer on the tubes and it's choke full of Captain Pike's distinct voice and pathos. A couple things to note about the new trailer: First, Chekov is in a red tunic and running through engineering. Second, Kirk is wielding a phaser rifle. Yup, I'm on board. Check it out below.
By Captain Pyke | December 13, 2012 - 10:16 pm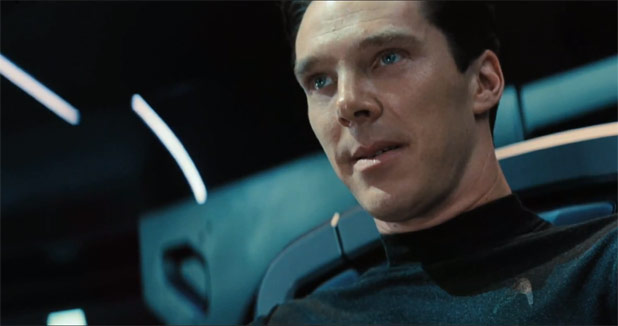 Benedict Cumberbatch recently talked to MTV News about his role in Star Trek Into Darkness. Mr. John Harrison... If that's your real name... "He is a terrorist, he operates as a terrorist," Says Benedict. "He has extraordinary physical powers but also mental powers."