Star Trek Movie News
By Captain Pyke | July 27, 2009 - 7:34 am
As reported by SciFi Wire, Zoe Saldana (Uhura, Star Trek XI) was interviewed last Friday at Comic-Con and revealed that the script for Star Trek XII is halfway done.
By Captain Pyke | July 4, 2009 - 8:47 pm
The space-mullet wearing fellas over at Den of Geek! have released their review of 'Star Trek II: The Wrath of Khan' on Blu-ray. In the review they discuss the finer points of the moive itself as well as the actually transfer and HD quality of the disc.
By Captain Pyke | June 30, 2009 - 3:15 pm
In a recent interview with Breakingnews.ie, Simon Pegg talks about Hollywood, why he prefers living in London, and the possible release timeline for Star Trek XII.
Simon Pegg thinks Hollywood is a "very friendly place" but insists his heart belongs in London.

By Captain Pyke | June 29, 2009 - 9:08 pm
It looks like someone got their hands on the original script for Star Trek XI. As reported by TNMC, there were several scenes that didn't make it into the final movie. Who knows if any of the scenes were even filmed, but they are most definitely in the original script. Check out the descriptions below.
By Captain Pyke | June 14, 2009 - 4:23 pm
As reported by Airlock Alpha, 'Star Trek' is still going strong in the top ten grossing movies this week. Nearly beating the premiere of the new Eddie Murphy film 'Imagine That'.
It didn't grab the No. 5 spot for the third week in a row, but it almost got No. 6.

"Star Trek" earned $5.6 million at the box office over the weekend, beating out "Terminator: Salvation," "Drag Me To Hell" and "Angels & Demons."

By Captain Pyke | June 9, 2009 - 9:38 am
By Captain Pyke | June 6, 2009 - 12:12 pm
As reported by The Hollywood Reporter, 'Star Trek' received top honors at this years Golden Trailer awards.
The trailer for "Star Trek" was named best in show and also took home the Summer 2009 Blockbuster Award at the 10th annual Golden Trailer Awards, which were held Thursday night at the DGA Theater in Los Angeles.

By Captain Pyke | June 2, 2009 - 5:21 pm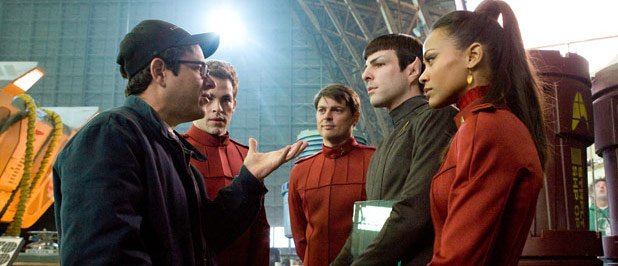 In an exclusive interview with Post Magazine, 'Star Trek' director J.J. Abrams talks about the technical side of shooting 'Star Trek'.

Post: You shot this 35mm anamorphic when so many sci-fi films are now shot digitally. Why?

By Captain Pyke | June 1, 2009 - 9:48 am
As reported by Airlock Alpha, J.J. Abrams' 'Star Trek' has surpassed the $200 million mark at the box office. Beating out Monsters and Aliens and being the first to pass $200 million 'Star Trek' holds on to the 5th spot in the top ten, but it's days may be numbered. however, it is still on track to be the highest grossing film of 2009.