Star Trek Movie News
By Captain Pyke | May 10, 2009 - 9:04 pm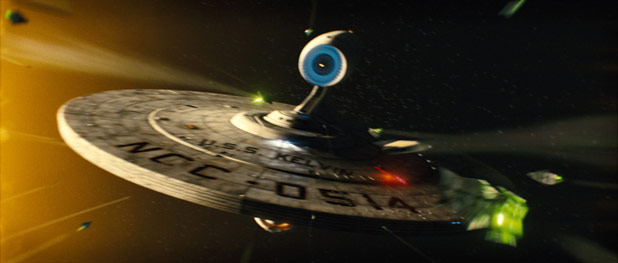 'Star Trek' bests predictions with a $76.5 million dollar opening weekend.
Paramount Pictures had estimated that the movie would make about $50 million for the weekend, but figured that strong reviews helped carry it to the bigger opening.
By Captain Pyke | May 10, 2009 - 7:44 am
As reported by POLITICO the President has asked Paramount Pictures for his own screening of the new "Star Trek" film in the White House.
The White House request could just be an attempt by the president to stay on top of pop culture by watching this box office bonanza — but could there be more to it?

By Captain Pyke | May 9, 2009 - 4:32 pm
As reported by Reuters, 'Star Trek' had a fantastic box office return for it's advanced screenings May 7th.
The big-screen return of "Star Trek" launched into warp drive as it grossed an estimated $7 million from advance screenings in North American theaters, Daily Variety reported on Friday.
By Adam Cohen | May 8, 2009 - 1:38 pm
STAR TREK
Review by Adam Cohen
(Beware! Contains Spoliers)

By Captain Pyke | May 7, 2009 - 4:11 pm
We scoured the internet looking for reviews of the new J.J. Abrams film 'Star Trek'. We wanted to find the good, the bad, and the ugly. Here's what we found so far.
New (updated May 7th)
By Captain Pyke | May 7, 2009 - 9:35 am
Today is the big day for us Trek fans who have nervously / anxiously awaited 'Star Trek' to hit the big screen. To celebrate, Paramount released 18 new stills including more behind the scenes photos with cast and crew.
By Captain Pyke | May 6, 2009 - 4:58 pm
On the eve of Star Trek's release we've compiled all of the current TV spots released by Paramount. All for your viewing pleasure. Enjoy. (Update: These may load a little slow. Paramount's servers must be getting hammered today.)
By Captain Pyke | May 6, 2009 - 8:09 am
Annie Craig, from Fox 5 New York, recently sat down with Chris Pine and Zachary Quinto to discuss all things trek and we have the video.
By Captain Pyke | May 5, 2009 - 6:11 pm