Star Trek XI Images
By Captain Pyke | May 17, 2009 - 9:07 pm
Since 'Star Trek' hit theaters May 7th, Paramount has released 3 more images from the movie. Included are Original Spock on the ice planet, Kirk in the Academy Shuttlecraft, and Nero's friend and henchman Ayel.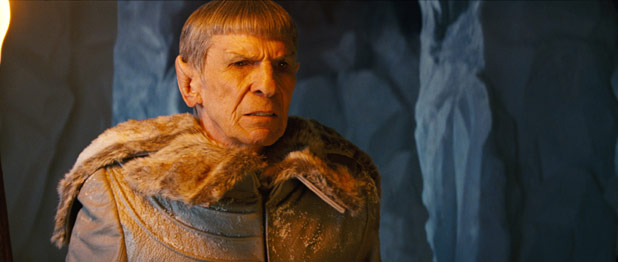 By Captain Pyke | May 7, 2009 - 9:35 am
Today is the big day for us Trek fans who have nervously / anxiously awaited 'Star Trek' to hit the big screen. To celebrate, Paramount released 18 new stills including more behind the scenes photos with cast and crew.
By Captain Pyke | May 5, 2009 - 10:53 am
New 'Star Trek' images hit the interwebs today. Officially released by Paramount, these new images include mostly cadet shots of the cast as well as behind the scenes images. Enjoy.
By Captain Pyke | May 2, 2009 - 11:46 am
StarTrekMovie.com has added the final dossiers for Nero, The Enterprise, The Jellyfish, and Nero's ship The Narada. Each new dossier also has a corresponding wallpaper for you to download and use one your computer's desktop.
By Captain Pyke | April 23, 2009 - 8:28 pm
We covered a new photo release earlier today, but it looks like Paramount opened the 'Star Trek' photo horn o'plenty. As reported by Sci fi Wire and other sites around the net, 9 more photos from 'Star Trek' were released today.
By Captain Pyke | April 23, 2009 - 4:07 pm
As reported on MTV Movies Blog, paramount released a brand new film grab from the upcoming J.J. Abrams 'Star Trek' The new photo features Kirk (Chris Pine) speeding a shipyard on a his motorcycle.
Click here to see the photo.