Star Trek Movie News
By Captain Pyke | July 24, 2010 - 10:11 pm
With the flurry of Star Trek XII production start date rumors (now it looks like later than January 2011), Zachary Quinto confesses that he "Can't Wait To Get Back" to work on our favorite franchise. In an interview with MTV News, Quinto talked about the possibility of January 2011 start date " I know there are sort of erroneous reports that we're going back in January — not true, as far as I know."
By Captain Pyke | July 19, 2010 - 9:25 pm
Bruce Greenwood was in attendance for the premiere of his new movie " Dinner For Schmucks" and let slip the filming date for Star Trek XII. Hollywood.com was there for the exclusive interview and asked Bruce what he knew about the sequel and whether or not we would see Captain Pike's return.
Is there anything that you can tell us about Star Trek 2?
I just know that the plan is to film it in January, more than that, I don't know.
By Captain Pyke | April 19, 2010 - 9:06 pm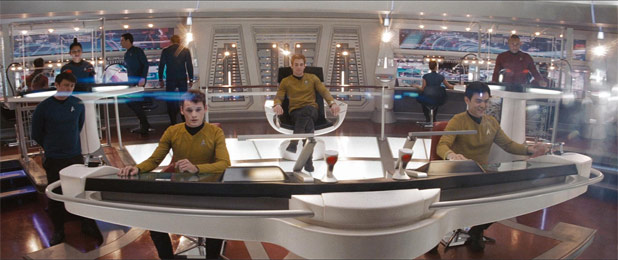 Star Trek XII is hot news on the interwebs, well the want for news on Star Trek XII is hot news on the.... you get the idea. Both Zoe Saldana and Karl Urban have been chatty about the subject recently. Zoe told Inquirer.net that she's expecting a phone call about the filming dates sometime soon.
"Within a month, we'll have specific filming dates for Star Trek 2. So we have to do whatever we have to do before the Enterprise comes calling."
By Captain Pyke | March 29, 2010 - 8:58 pm
After the almost complete Oscar snub, J.J. Abrams's "Star Trek" was a winner at the Empire Awards. According to wikipedia; since 1995, Empire, Britain's biggest selling film magazine, has organized the annual award show. Nominated for 3 awards total, Star Trek pulled ahead of the pack in the "best scifi / fantasy film" category.
"This is lovely and I'm happy to be apart of this story" said Simon Pegg during his acceptance speech for the win. He continues - "I said I wasn't going to cry.. but.. You canna defy the laws of physics"
Check out Simon Pegg's acceptance speech below.
By Captain Pyke | March 8, 2010 - 11:09 pm
We've been covering and complaining about Star Trek's lack of Oscar nominations this year. Though, one nomination has stood out from the crowd, Best Achievement in Makeup. Well after 31 years of Star Trek movie making, the franchise started by the Great Bird of the Universe finally got it's due.
By Captain Pyke | March 3, 2010 - 10:32 pm
Star Trek XI was practically snubbed this year by Oscar and his Hollywood cronies. One category though, proves to be a possible win for J.J. and crew, Best Makeup. Leading the award nominated team is legendary Makeup artist Barney Burman.
By Captain Pyke | February 13, 2010 - 10:26 pm
J.J. Abrams's "Star Trek" was over looked this year for several Oscar Nominations like best picture or director, but it did manage to score a few noms (not the little bunny eating a carrot kind) for Best Achievement in Sound, Best Achievement in Sound Editing, Best Achievement in Visual Effects, and Best Achievement in Makeup.
The Oscar nominated team responsible for Star Trek's fantastic Vulcans, Romulans, and other creatures consisted of Barney Burman, Mindy Hall, and Joel Harlow. In a recent interview Mindy Hall recalls the task of convincing Zachary Quinto and Eric Bana, among others, to shave their heads and eyebrows.
By Captain Pyke | February 4, 2010 - 11:18 pm
In the latest round of non-news for the upcoming Star Trek sequel, Nestor Carbonell (who we loving refer to as Batmanuel) says that he would "be thrilled" to play Khan in the next movie.
"Well, it would be tremendous, it would be amazing," Says Carbonell. "I know that ['Lost'] has already opened many doors for me, and that's the great thing about this business, that you never know which job you do will help you out with other jobs. This show has given me and my family so much, so if that were to happen, it would be tremendous."
By Captain Pyke | January 16, 2010 - 9:07 pm
With little info trickling out about J.J. Abrams's next installment of Star Trek and despite the half-way done claim by Zoe Saldana, it seems work is beginning on Star Trek XII. In a recent interview with IF Magazine, J.J. reveals that about the progress of the next movie, as well as Leonard Nimoy's continued involvement with Fringe. Check out the interview excerpt below.
iF MAGAZINE: How hands-on are you with FRINGE these days?