Star Trek Movie News
By Captain Pyke | December 10, 2012 - 11:39 pm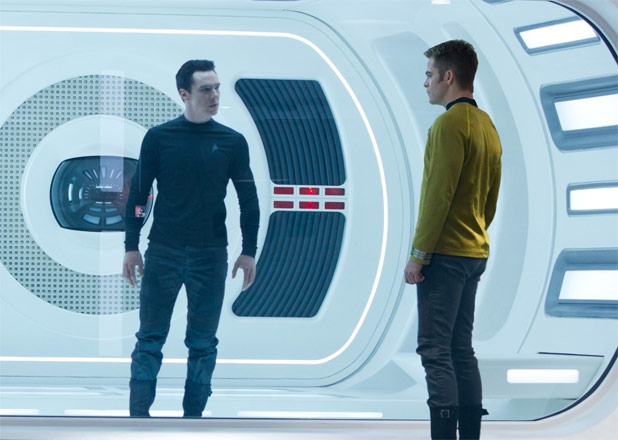 Yeah, we've guessed Gary Mitchell. Sure, we've said Landru or The Doomsday Machine. Heck, we've even thrown around The Horta, but who the heck is John Harrison? According to a recently released Paramount publicity still, that's who Benedict Cumberbatch is playing in Star Trek Into Darkness. Okay, okay, we get it. Maybe it's more of J.J's skillful subterfuge. Maybe it was released just to get the blogosphere (I so hate that word) whirring. Well, guess what kids? It worked.
By Captain Pyke | December 6, 2012 - 12:49 pm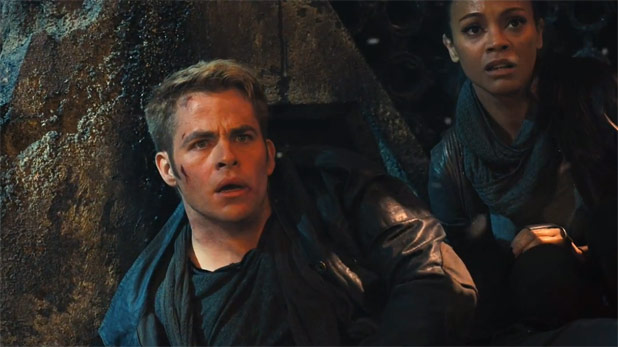 The first Trailers for Star Trek Into Darkness have hit the web and to us... it looks awesome. I'm still thinking that Benedict Cumberbatch is playing Gary Mitchell, but it wouldn't be the first time I've been wrong. One of our readers posted a few days back that it could also be Garth of Izar. That looks compelling and is a good possibility too. Heck, who knows, it could be Khan. J.J. is a master of subterfuge. ..... KHHHAAAANN! Sorry, had to. Check out both versions of the trailer below including the extended footage Japanese trailer.
By Captain Pyke | December 3, 2012 - 11:54 pm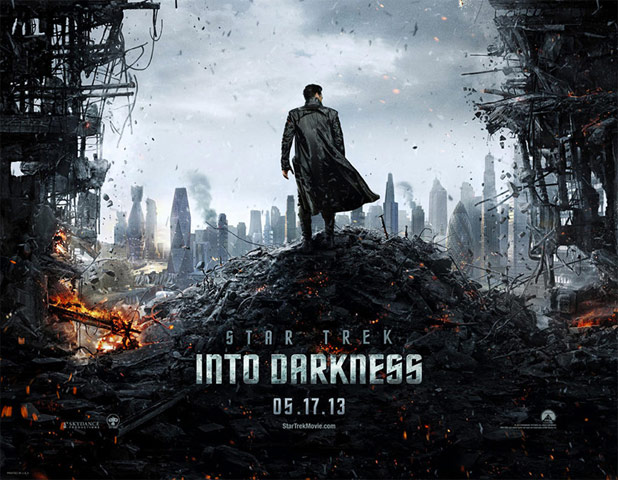 As some of you have probably seen, Paramount just released a brand new poster for Star Trek Into Darkness that features the iconic delta shield seemingly cut out of a destroyed building. I say building, it could be anything. One interesting thing to note, that someone pointed out on the net, is that you can clearly see the London Gherkin in the background. I'm not sure how much the poster tells us about the upcoming film, but it definitely is reminiscent of the poster for The Dark Knight Rises. That's not a bad thing, just not super original.
By Captain Pyke | November 27, 2012 - 10:16 pm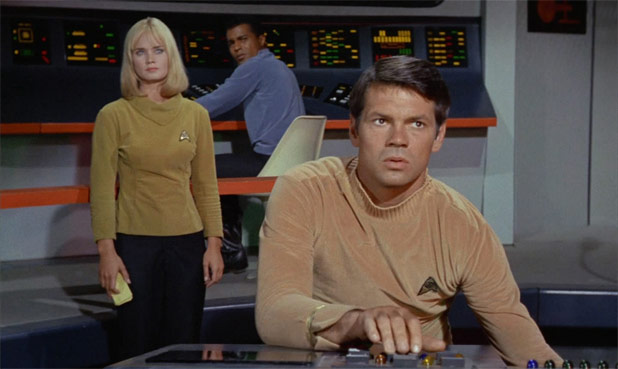 Remember how I said I didn't like spoilers... oh well. Paramount just released the synopsis for the upcoming J.J. Abrams helmed Trek sequel Star Trek: Into Darkness. From what I've read, it sounds like Benedict Cumberbatch IS NOT playing Landru, NOR The Horta, NOR The Doomsday Machine. Yeah, yeah, bad grammar... No, in fact it sounds more like Gary Mitchell. You be the judge.
By Captain Pyke | November 17, 2012 - 12:30 am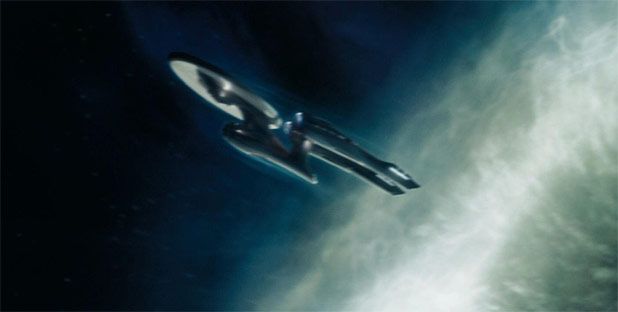 The full bore press frenzy has yet to start for J.J. Abrams's Star Trek Into Darkness, but we are starting to see an upswing in news. It seems that not only will the film's first theatrical trailer debut December 14th with The Hobbit, but the first nine minutes of the film will be shown at IMAX theaters. I gotta say, I don't think we'll be going to see the short preview. I'm one of those guys that doesn't enjoy spoilers... of course they're hard to escape when you run a Trek site. I've tried my best to avoid news for films like The Dark Knight Rises and Skyfall and have been mildly successful, with Into Darkness though, it will definitely prove to be more difficult.
By Captain Pyke | October 17, 2012 - 9:34 pm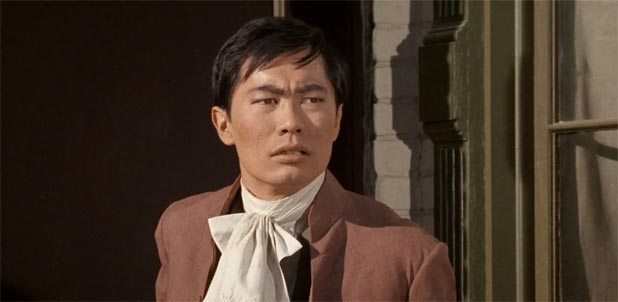 Quick, but awesome news, kids. Our favorite swashbuckling swordsman is headed to the beautiful isle of Hawaii in a brand new guest role on the popular Hawaii Five-0. In a tweet today, CBS announced that George will appear as the uncle of Chin Ho Kelly, played by one of favs from Lost Daniel Dae Kim. Oooh My! Yeah, I couldn't resist.
By Captain Pyke | June 26, 2012 - 10:30 pm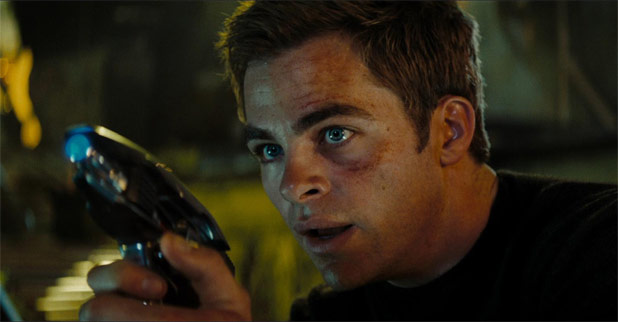 The next installment of the rebooted Trek franchise is currently in post production and speeding along at warp 9 (well, maybe full impulse) towards its May 17, 2013 release date. In the meantime, one of its writers, and a certain young captain, are out promoting their new film People Like Us. Ain't It Cool News recently sat down with Alex Kurtzman and Chris Pine to discuss the new project plus get some insight into Star Trek 2. Chris Pine is calling Trek 2 "Relentless"...
By Captain Pyke | June 10, 2012 - 9:30 pm
Star Trek 2 wrapped production early last month and now heading into post production and its eventual release May 17th, 2013. During publicity rounds for Prometheus, ST:2 Producer & Co-writer Damon Lindelof recently stat down with IGN to talk about the new film and its difference from the first JJ-verse movie.
By Captain Pyke | May 23, 2012 - 10:54 pm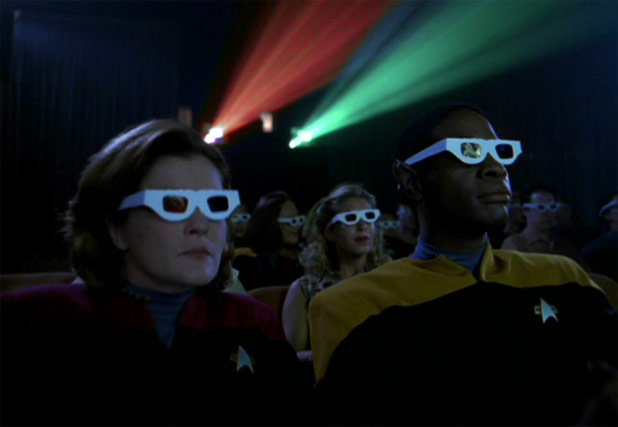 In breaking news today, Amazon announced a new partnership with Paramount that will roll out hundreds of hit moves to the internet giant's poplar Prime Instant Video service. According to the press release, Star Trek will be counted among the hundreds. No word on whether that will include all eleven Trek films. Also included in the list are Braveheart, Top Gun, The Italian Job and Forrest Gump, just to name a few.