Gary Mitchell, Anyone? Paramount Releases Star Trek: Into Darkness Synopsis
By Captain Pyke | November 27, 2012 - 10:16 pm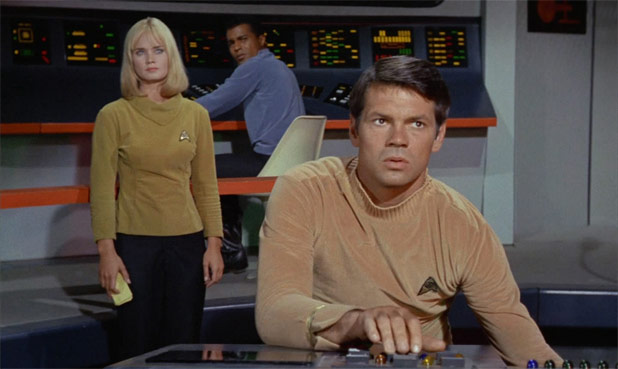 Remember how I said I didn't like spoilers... oh well. Paramount just released the synopsis for the upcoming J.J. Abrams helmed Trek sequel Star Trek: Into Darkness. From what I've read, it sounds like Benedict Cumberbatch IS NOT playing Landru, NOR The Horta, NOR The Doomsday Machine. Yeah, yeah, bad grammar... No, in fact it sounds more like Gary Mitchell. You be the judge.
In Summer 2013, pioneering director J.J. Abrams will deliver an explosive action thriller that takes Star Trek Into Darkness.
When the crew of the Enterprise is called back home, they find an unstoppable force of terror from within their own organization has detonated the fleet and everything it stands for, leaving our world in a state of crisis.
With a personal score to settle, Captain Kirk leads a manhunt to a war-zone world to capture a one man weapon of mass destruction.
As our heroes are propelled into an epic chess game of life and death, love will be challenged, friendships will be torn apart, and sacrifices must be made for the only family Kirk has left: his crew.
As many of you may remember earlier this year, Karl Urban let it slip that Benedict (or Benny as we like to call him) was going to play a kick butt Gary Mitchell. From then on I just assumed that was the way it was and this new synopsis seems to confirm it. Who knows, maybe it isn't the silver-eyed devil from "Where No Man Has Gone Before". Maybe they've created a new character that acts just like Gary Mitchell, but is named Barry Gitchell or Harry Snitchell. As Larry Nemecek points out; the Kelvin did blow up after all.
Also, can't Starfleet catch a break? Didn't Nero decimate the fleet in the first film? Maybe they mean "detonated the fleet" figuratively. Like, everyone is just really bummed out and won't report to duty on time.
Man, I was really hoping it was Landru...
YOU ARE NOT OF THE BODY!
By the way, this is the image I really wanted to use for this article...
I just didn't want to risk the ubiquitous "Hey, that's not Gary Mitchell (pushes up glasses)" comment. Although, I do completely expect another anti-JJ diatribe. Voice of Reason (yeah, that's their username), you out there?...
Don't forget that you can check out the first nine minutes of "Darkness" before the showing of The Hobbit starting December 14th at your local IMAX.
(Source: The Film Stage)