Chris Pine On Star Trek 2: "The Movie Is Relentless"
By Captain Pyke | June 26, 2012 - 10:30 pm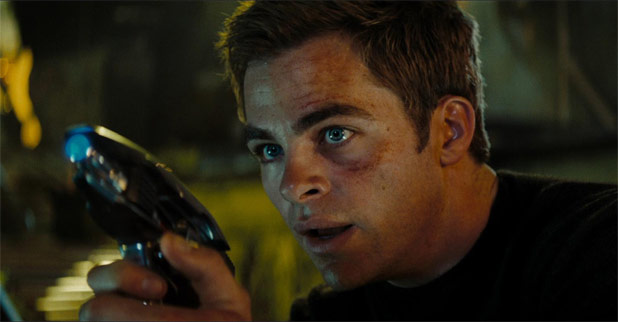 The next installment of the rebooted Trek franchise is currently in post production and speeding along at warp 9 (well, maybe full impulse) towards its May 17, 2013 release date. In the meantime, one of its writers, and a certain young captain, are out promoting their new film People Like Us. Ain't It Cool News recently sat down with Alex Kurtzman and Chris Pine to discuss the new project plus get some insight into Star Trek 2. Chris Pine is calling Trek 2 "Relentless"...
"The movie is relentless, and for the visually inclined people who want to see major sequences, there are a couple specifically that I think… I'm not a huge 3-D fan, but I think will be incredible." says Chris. He also chimed in on the crew of the Enterprise; "But what I'm more excited about and what I think they did so well is that really the story is that much better, and the journey that these guys go on is that much more, and what they always talked about is that even though they're a crew from what we know about the original team, the fun of getting there is following that journey to where they become that tight-knit crew. It's no fun if they're already a tight-knit crew. So suffice it to say, they're still learning how to get along."
Alex Kurtzman added: "They only really came together as a team at the end of the first movie as a function of story. But the bridge crew from the original series, they aren't those people yet, neither in age nor in experience. So I think the worst mistake that we could have made was to assume that they were there already at the top of the movie and skip that stuff."
You can check out the full here.
(Source Ain't It Cool News)