Star Trek Into Darkness Pics
By Captain Pyke | April 9, 2013 - 9:07 pm
Star Trek writer Roberto Orci is an admitted Trek fan. He and Alex Kurtzman penned both Star Trek 2009 and the upcoming Star Trek Into Darkness for director J.J. Abrams. When Roberto was asked about his thoughts on J.J. helming both the Trek & Wars franchises he mentioned feeling a disturbance in the force.
By Captain Pyke | March 24, 2013 - 11:00 pm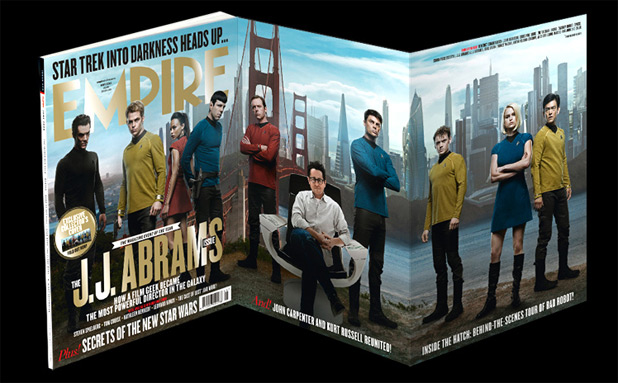 Empire magazine just released photos of its May issue cover featuring Star Trek Into Darkness cast and crew. In a first ever three page fold-out cover, the magazine features the main crew of the J.J.-prise with Alice Eve, Benedict Cumberbatch, and the director himself parked in the captain's chair. The magazine will be available March 28th and will feature a full 75 pages about J.J. and his "Star" franchises. You can get your copy from newsstands everywhere, online, or via your mobile devices. Any news on Khan, Klingons, or Robocop? Not yet, but we'll keep you posted.
By Captain Pyke | February 7, 2013 - 11:27 pm
Looks like the folks over at Entertainment Weekly have been privy to another Into Darkness exclusive, or exclusives, as the case may be. In the FEB 15, 2013 print & digital issues, EW is showcasing several new sneak peak images of the upcoming J.J. Abrams sequel.
By Captain Pyke | December 24, 2012 - 9:58 pm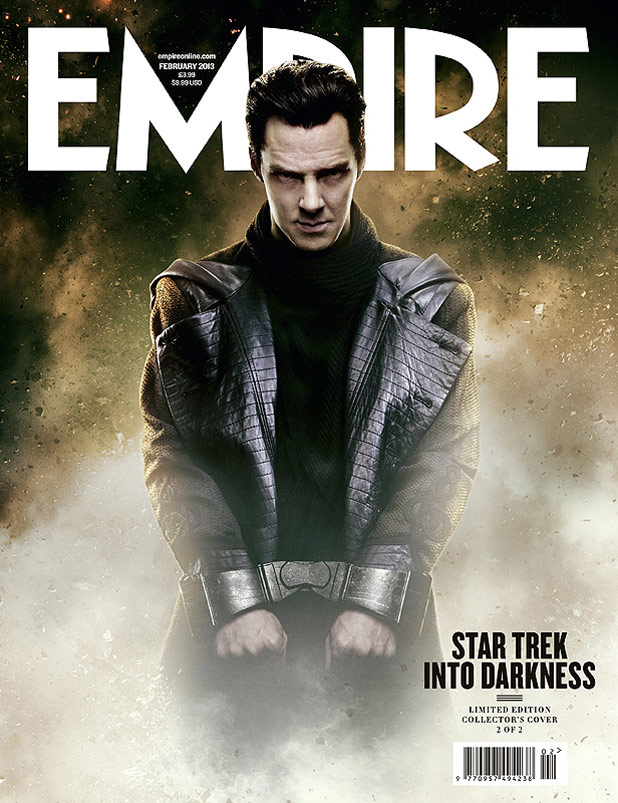 Like an early Christmas present, Empire Magazine just launched a sneak-peak of its December 27th issue chock full o'darkness photos. Empire is also releasing two covers featuring Benedict Comberbatch and Chris Pine with special editions for subscribers. Check the images and details below.
By Captain Pyke | December 10, 2012 - 11:39 pm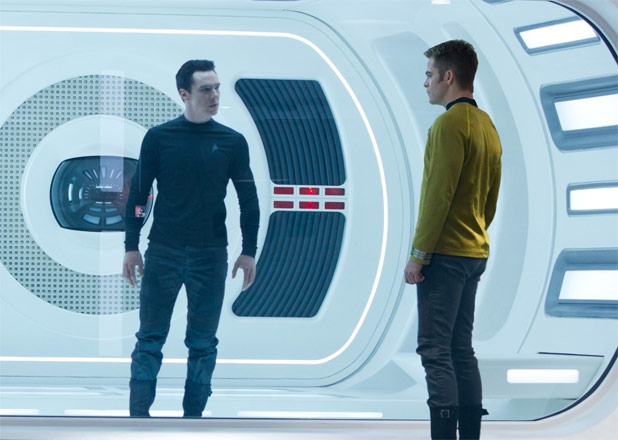 Yeah, we've guessed Gary Mitchell. Sure, we've said Landru or The Doomsday Machine. Heck, we've even thrown around The Horta, but who the heck is John Harrison? According to a recently released Paramount publicity still, that's who Benedict Cumberbatch is playing in Star Trek Into Darkness. Okay, okay, we get it. Maybe it's more of J.J's skillful subterfuge. Maybe it was released just to get the blogosphere (I so hate that word) whirring. Well, guess what kids? It worked.
By Captain Pyke | February 24, 2012 - 6:44 pm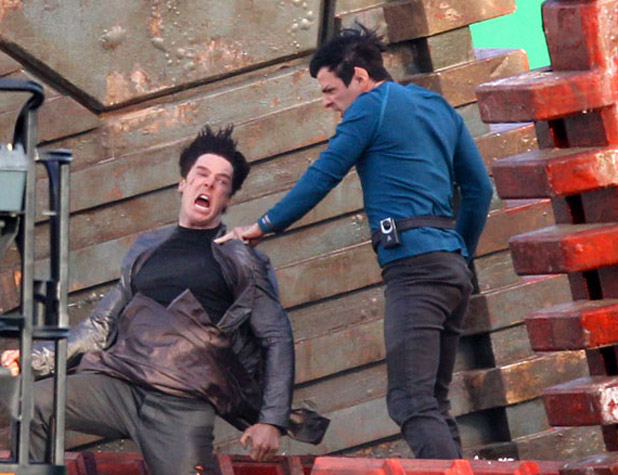 As with it's predecessor, the next film in the J.J. Abrams Trek universe is currently being shot and is veiled in secrecy.. Everyone is still up in arms about who the villian will turn out to be (possibly played by Benedict Cumberbatch) and how the plot will twist and turn. J.J. does an amazing job of keeping his projects underwraps and to be honest we prefer it that way. In this world of spoliers it's hard to still be suprised by a film's storyline.