Star Trek 2 Set Pictures Leaked To Reveal... Not A Whole Lot
By Captain Pyke | February 24, 2012 - 6:44 pm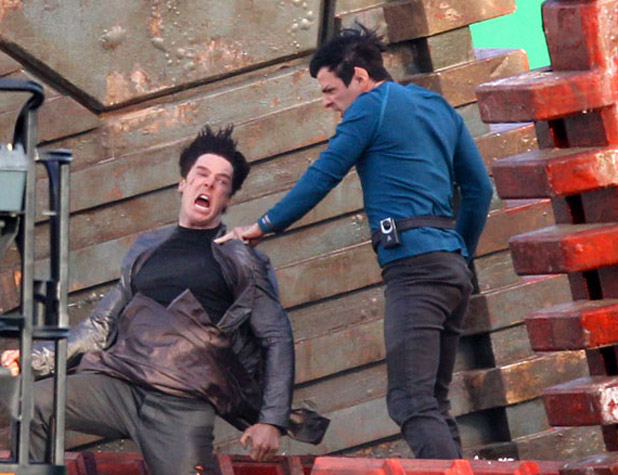 As with it's predecessor, the next film in the J.J. Abrams Trek universe is currently being shot and is veiled in secrecy.. Everyone is still up in arms about who the villian will turn out to be (possibly played by Benedict Cumberbatch) and how the plot will twist and turn. J.J. does an amazing job of keeping his projects underwraps and to be honest we prefer it that way. In this world of spoliers it's hard to still be suprised by a film's storyline.
Anyway, in the vein of spoilers that we hate... the first pics from Star Trek 2 have leaked out. MTV Movies Blog has just posted the two shots that seem to show Spock & Uhura in an epic battle with Cumberbatch's unknown character. I don't know, maybe he's not the villian. Maybe Spock has gone ape shirt and Cumberbatch has to subdue the Vulcan with whatever force is necessary. Of course Uhura is going to side with her man. Maybe this leads to Cumberbatch being forced to kill Spock and as a reward for saving the day he takes over as second in command of the Enterprise. Then again... maybe not.
UPDATE -- Star Trek author Dayton Ward posted this via twitter: "@subspacecomms I saw green in the background. Maybe it's the Companion, kidnapping friends for Zefram Cochrane!"..... Oh let it be true!
You can check out the second pic below.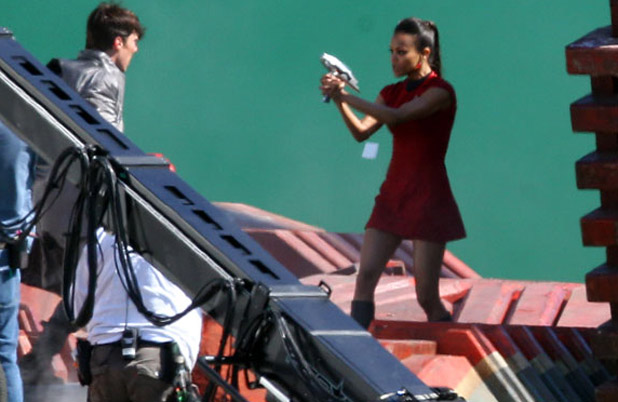 (source MTV Movies Blog)