Zoe Saldana
By Adam Cohen | May 20, 2013 - 10:04 pm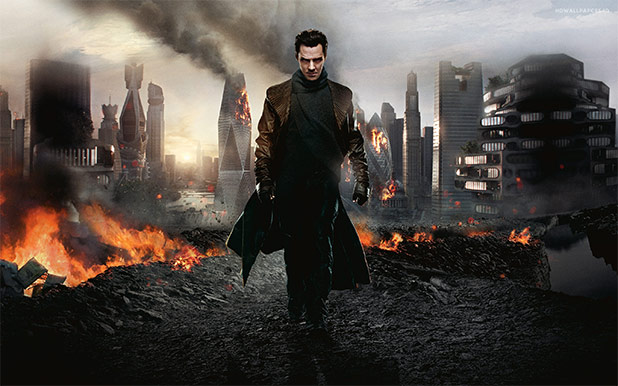 [WARNING! SPOILERS AHEAD]
About three weeks before STAR TREK INTO DARKNESS (STID) was released in the U.S., I shamelessly tracked down posts on Trek message boards for any single spoiler review following the initial press screenings. I wanted to know the truth behind everything: John Harrison, whether the Enterprise is destroyed and what about those pesky Klingons?
I got a lot more than I expected from a couple of reviews that gave excruciatingly detailed scene-by-scene breakdowns of the entire film. As I scanned the posts, my eyes began to widen at the most unbelievable (and at the time unforgiveable) revelations: Kirk dies saving the Enterprise, the death scene from THE WRATH OF KHAN (TWOK) is reversed and Spock screams Khan. I declared this movie a complete failure in that moment.
I kept this knowledge to myself among my friends. I was committed to see this disaster regardless of what I had read; I purchased my advance tickets in February, I never missed a STAR TREK movie in the theaters since I was old enough to decide I wanted to see STAR TREK (for the record, STAR TREK III: THE SEARCH FOR SPOCK rocked my seven year-old brain). I gave up hope for this film and I had negative expectations going in.
By Captain Pyke | February 7, 2013 - 11:27 pm
Looks like the folks over at Entertainment Weekly have been privy to another Into Darkness exclusive, or exclusives, as the case may be. In the FEB 15, 2013 print & digital issues, EW is showcasing several new sneak peak images of the upcoming J.J. Abrams sequel.
By Captain Pyke | January 3, 2013 - 12:38 am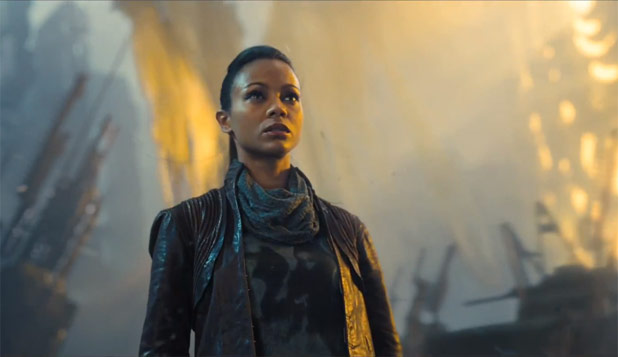 In a less than detailed interview with Extra, Into Darkness's Spock, Kirk, and Uhura are cagey about plot details. Of course they are, you say, but it's interesting that the Zoe Saldana, Chris Pine, and Zachary Quinto are already hitting the publicity circuit five months before the premiere. Zachary and Chris talk vaguely about the blossoming friendship between Kirk and Spock (notice I didn't say "slash")... "Kirk really earns his leadership" Zachary explains, "Spock really earns an understanding of friendship."
By Crewman Becky | February 26, 2012 - 11:39 pm
We agree with you J.J. We aren't super happy about it either. Over the years we've taken the matter of movie spoilers into our own hands by "tuning-out" when an anticipated title is mentioned. We just don't read or watch any news about movies we want to remain a surprise. Oh, we hear them mentioned...and feel the thrill of anticipation with each new "avoided story". But somehow, instead of forgetting about the "avoided" movie, we become more focused on it and are all the more excited when we finally do watch it.
By Captain Pyke | February 24, 2012 - 6:44 pm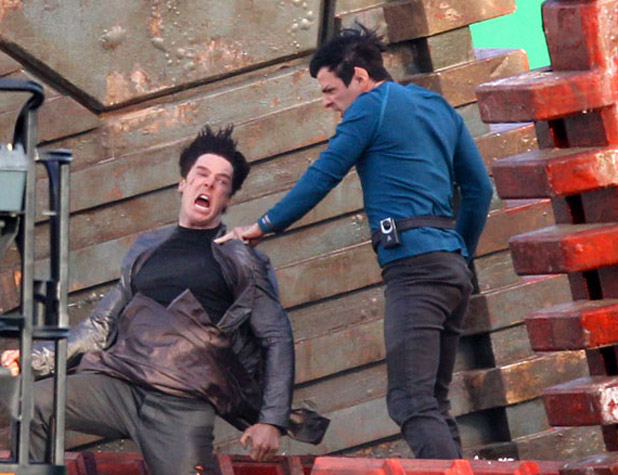 As with it's predecessor, the next film in the J.J. Abrams Trek universe is currently being shot and is veiled in secrecy.. Everyone is still up in arms about who the villian will turn out to be (possibly played by Benedict Cumberbatch) and how the plot will twist and turn. J.J. does an amazing job of keeping his projects underwraps and to be honest we prefer it that way. In this world of spoliers it's hard to still be suprised by a film's storyline.
By Captain Pyke | April 19, 2010 - 9:06 pm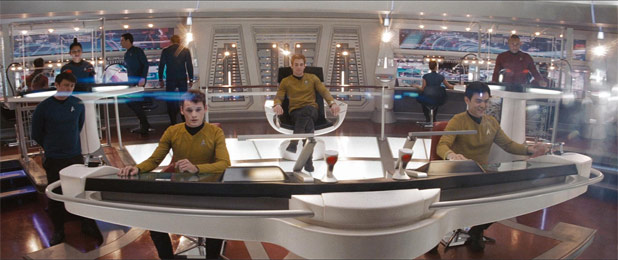 Star Trek XII is hot news on the interwebs, well the want for news on Star Trek XII is hot news on the.... you get the idea. Both Zoe Saldana and Karl Urban have been chatty about the subject recently. Zoe told Inquirer.net that she's expecting a phone call about the filming dates sometime soon.
"Within a month, we'll have specific filming dates for Star Trek 2. So we have to do whatever we have to do before the Enterprise comes calling."
By Captain Pyke | October 24, 2009 - 9:20 pm
In a recent interview with the EOnline.com, Zoe Saldana reports that she received a call about the next Star Trek flick and "They were calling to see where we were going to be and how my schedule is next year."
She smiled, "Just that was worth me doing a cartwheel when I got the phone call, because I cannot wait to put on the suit and go back to the Enterprise, take my shirt off and be with all those yummy guys."

By Captain Pyke | September 14, 2009 - 8:16 pm
Zoe Saldana is quite the rising sci-fi heroin in Hollywood these days. Of course, Starring in J.J. Abrams's 'Star Trek' as well as the upcoming James Cameron film Avatar. Cinematical got the chance to talk to Zoe about both films as well as what she would like to see in Star Trek XII.
By Captain Pyke | July 27, 2009 - 7:34 am
As reported by SciFi Wire, Zoe Saldana (Uhura, Star Trek XI) was interviewed last Friday at Comic-Con and revealed that the script for Star Trek XII is halfway done.