Scott Bakula
By Crewman Becky | April 3, 2013 - 11:35 pm
We've loved Scott Bakula since (at least) his time on Quantum Leap and then even more so on Enterprise, so when we came across a great interview with him by Hero Complex, LA Times we had to tell you guys about it.
By Captain Pyke | June 16, 2012 - 10:09 pm
The Vegas bound former captain of the NX-01 is set to co-star in the Liberace biopic Behind the Candelabra. The new film stars Michael Douglas as Liberace and co-stars Matt Damon, Dan Aykroyd, and Debbie Reynolds. According to Variety, Scott will play Liberace's friend Bob Black, the choreographer who introduced Lee (as his friends would call him) to his longtime boyfriend Scott Thorson. Directed by Steven Soderbergh, Behind the Candelabra will premiere on HBO and will be released in theaters outside of the US & Canada markets. Filming is set to begin this summer.
By Captain Pyke | May 22, 2012 - 10:53 pm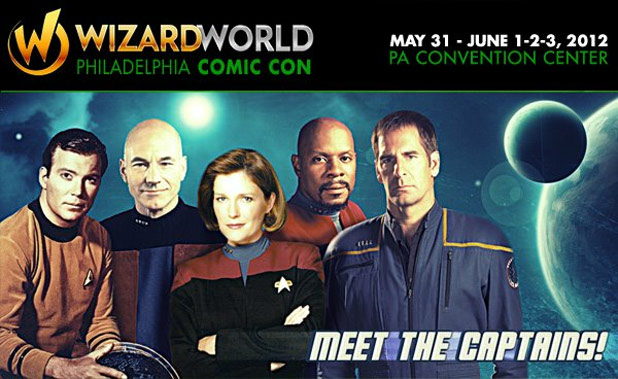 We've said it before and we'll say it again, we love Wizard World Comic Cons. They run some of the best conventions in the business. It seems that their world famous Philadelphia Comic Con is shaping up to be, not only a well run convention, but also a Trek fan's dream come true. All five captains are signed on as guests for the upcoming, May 31st through June 3rd convention. That's right woodchuck-chuckers, William Shatner, Patrick Stewart, Avery Brooks, Kate Mulgrew, & Scott Bakula are beaming down to the city of brotherly love. Really, you could say 6 captains will be on board since Chris Hemsworth will also be a featured guest. Chris plays Thor in all the Marvel awesomeness that's going on lately, but he also played George Kirk. He was captain of the USS Kelvin for 12 minutes, after all...
By Captain Pyke | February 20, 2012 - 11:50 pm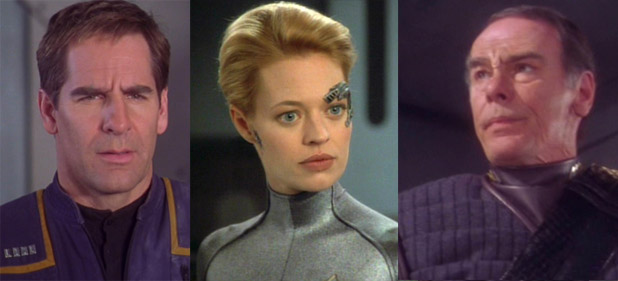 We've said it before and we'll say it again, Wizard World puts on a fantastic convention. With the likes of Scott Bakula & Jeri Ryan, it seems that their Toronto Comic-con will be no exception. That's right kiddies, April 14th-15th at the Metro Toronto Convention Centre, both Seven of Nine & Captain Archer will be in attendance. As an added bonus, for all you Quantum Leap fans, Dean Stockwell will also be in attendance. We're huge QL fans (not mention BSG) and would make the trip in a heartbeat to see Sam Beckett/Jonathan Archer & Al/Cylon John Cavil/Colonel Grat (bet you thought we forgot about Dean's appearance on Enterprise); oh and Seven of Nine too. Plus there are plenty of other stars, from various scifi series, that will be in attendance as well. Check the full press release below for all the details.
By Crewman Becky | January 24, 2012 - 7:40 pm
Well, knock me over with a feather…Scott Bakula was announced today, by Creation Entertainment as their latest guest at the 2012 Star Trek Las Vegas convention!!! (that totally deserved the 3 exclamation points) Do you guys realize if Patrick Stewart agrees to attend…that maybe, just maybe…we may get to see all the captains up on stage TOGETHER!!!! Oh my!
That would be the convention of all conventions to see. I can't speak for Creation, or Sir Pat, but I can't recall a Vegas convention (in recent years) that he didn't attend, so the odds are pretty good. Not to mention that this year is the 25th anniversary of The Next Generation and they already have most of that crew (sans their fearless captain) on the roster already. Yikes! I can hardly stand the suspense! If I were in Vegas now, I'd put money on it.
You can see the full Creation STLV guest list here.
By Captain Pyke | October 30, 2011 - 9:25 pm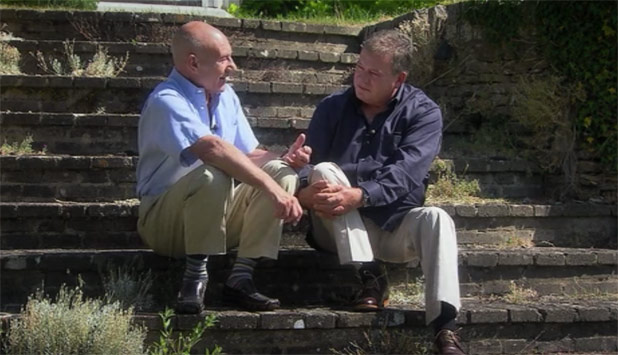 So I was cruising Netflix tonight, searching for Chuck Norris's The Delta Force (no lie!) and I stumbled upon William Shatner's documentary The Captains
on Watch Instantly. You know the one; it features interviews with all six Star Trek captains... Patrick Stewart, Avery Brooks, Kate Mulgrew, Scott Bakula, and Chris Pine. Oh, and The Shat, of course. I've been meaning to sit down and watch The Captains since release back in July, but I just simply haven't made the time. Now that I have, here are a few takeaways; First, Patrick Stewart seems to be one of the most thoughtful and eloquent actors in the history of the stage, Kate Mulgrew is tough-as-nails and can hold her own with anyone, Avery Brooks is down right crazy & amazing all at the same time, Scott Bakula is extremely down-to-earth, and Chris Pine IS William Shatner 30 years younger. And on top of that, Patrick Stewart's chair is gigantically disproportionate to Shatner's.
By Captain Pyke | October 9, 2011 - 8:53 pm
It's been a long road, gettin' from there to here... Okay, many of you are probably groaning by now, so I'll spare you the rest of the song, but who out there doesn't love the captain of the NX-01? I remember hearing about Enterprise shortly after the demise of Voyager and learning that Sam Beckett (AKA Scott Bakula) would be taking the reigns as the next captain (or first) of Starfleet's flagship. Oh man, I was stoked. You see, I absolutely loved Quantum Leap and remember thinking that Scott was the perfect choice. Through the unfortunately short run of Enterprise, Scott surely didn't disappoint. So, why not say happy birthday to the man who brought life to the first captain, Scott Bakula. He turns 57 today.
We've heard nothing but glowing compliments from Scott's former co-stars. Like, How he's the nicest guy in show business, or how "He's the calm voice of reason" according to Anthony Montgomery. Enterprise director LeVar burton had this to say about Scott; "His leadership is absolutely vital to the life and health of the show." Jolene Blalock continued; "I can go to him with any problem. He, I know, will have my back no matter what. " It's not often that you hear this kind of praise from other actors in the business we call show.
By Captain Pyke | August 31, 2011 - 10:53 pm
While we slowly recover from what seems to be the Cardassian Flu, we stumbled across a bit of news for Scott Bakula fans in the UK. It seems he's making his UK stage debut in the world premiere of Saul Rubinek's Terrible Advice. The new play will make it's stage premiere at London's Menier Chocolate Factory on September 22nd. Directed by the legendary Frank Oz (uh huh, that Frank Oz), the play is described as dark, dirty & dangerous.
Set for a limited run from September 22nd to November 12th, Terrible Advice is written by Saul Rubinek another Trek alum. You'll remember Saul as Kivas Fajo from the TNG episode "The Most Toys", one of our favorites. I guess Kivas is adding one starship captain to his collection. If we were in the UK, this would be on our calendars. Tickets start at £29.50 (£25.00 during previews) and you can find more info & synopsis below.
Terrible Advice Synopsis:
Stanley (Stinky to his friends) and Jake are best friends. Hedda and Delila are best friends. Jake loves Hedda; Stinky loves Delila. Stinky plans to marry Delila...until Jake shares some secrets and then gives him some advice... (source)
By Captain Pyke | March 21, 2011 - 11:08 pm
So, okay, maybe we're not sharpest tools in the shed, but we just ran across a fantastic new (to us) podcast called Trek Radio. We say podcast, but it's actually a full-fledged internet radio station syndicating other Trek podcast, plus their own. Well, coming Saturday March 26th, Trek Radio is interviewing none other than Scott Bakula. That's right Enterprise fans, Captain Archer is going to rock out with his Spock out and talk nothing but Trek to the Trek Radio crew. This is something we're NOT going to miss and neither should you. Check out the details below.
Trek Radio is proud to announce a rare interview with Scott Bakula, the individual that took Star Trek from First Contact to the forming of the United Federation of Planets. As Captain of the lead exploration vessel the USS Enterprise, history was formed by the actions of the crew that really did take those first steps into where no one had gone before.