Jeri Ryan
By Captain Pyke | February 20, 2012 - 11:50 pm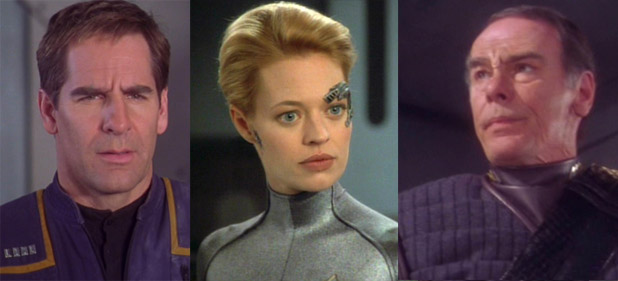 We've said it before and we'll say it again, Wizard World puts on a fantastic convention. With the likes of Scott Bakula & Jeri Ryan, it seems that their Toronto Comic-con will be no exception. That's right kiddies, April 14th-15th at the Metro Toronto Convention Centre, both Seven of Nine & Captain Archer will be in attendance. As an added bonus, for all you Quantum Leap fans, Dean Stockwell will also be in attendance. We're huge QL fans (not mention BSG) and would make the trip in a heartbeat to see Sam Beckett/Jonathan Archer & Al/Cylon John Cavil/Colonel Grat (bet you thought we forgot about Dean's appearance on Enterprise); oh and Seven of Nine too. Plus there are plenty of other stars, from various scifi series, that will be in attendance as well. Check the full press release below for all the details.
By Crewman Becky | June 10, 2011 - 11:45 pm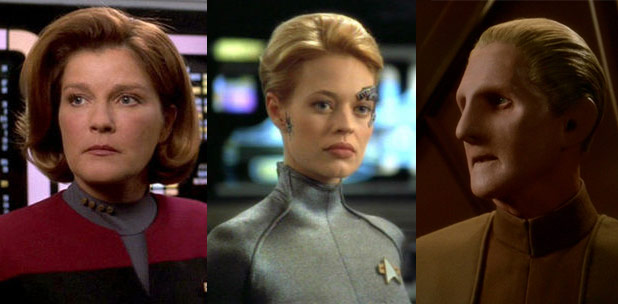 It's looking like season 3 of Warehouse 13 is turning out to be one of the best places to watch your favorite Star Trek alumni strut their stuff. So far, TV Guide says that Kate Mulgrew (Voyager), Jeri Ryan (Voyager), and Rene Auberjonois (DS9) are making appearances (or in some cases "re"appearances ) during the upcoming season.
Star Trek Voyager's Jeri "Seven of Nine" Ryan debuts as a bride named Amanda on Aug. 1, while Kate "Captain Janeway" Mulgrew begins her four-episode run as Warehouse protector Jane in September. Both characters share a shocking connection to a series regular.
Also look for Star Trek: Deep Space Nine's Rene Auberjonois to reprise his role from last season as computer expert Hugo Miller. "We discover a little bit more about his past, too," Kenny says.
By Crewman Becky | April 13, 2011 - 10:48 am
For the Jeri Ryan fans out there (and come on, who isn't) we bring you more Mortal Kombat news with a new interview from DreadCentral.com. As we mentioned in our previous article(s) Jeri is starring as Sonya Blade in the Mortal Kombat: Legacy web series by director Kevin Tancharoen. This new web series is a grittier more "realistic" version of the story and doesn't have the camp that the video game contained.
By Crewman Becky | March 17, 2011 - 9:59 pm
A couple of months ago we reported on the trailer for the live action web series Mortal Kombat, by director Kevin Tancharoen, starring Jeri Ryan as Sonya Blade. Recently Jeri did her first interview on the set of the new series and talks about her experiences including; the tons of action sequences she shot, boosting her cool factor with her son, and Sonya Blade's finishing moves.
During part of the video Jeri describes what it was like filming.
"This is fun. This is really fun." Says Jeri, "It's fun to do something that's so different than the other things that I get to do."
Andy asks, "What are some of the things that have stood out for you? (that we were just talking about…)"
Jeri answers, "A lot of sore muscles. A lot of dirt. A lot of blood. - laughs - …No, it's just cool, and Kevin (Tancharoen) is amazing. I mean, a very talented guy. He's got an amazing vision. He's got an amazing eye."
By Captain Pyke | January 18, 2011 - 10:50 pm
Last summer the internet was all abuzz with a fan made Mortal Kombat live action trailer featuring Voyager's Jeri Ryan as Sonya Blade. It appears the trailer was actually made by director Kevin Tancharoen to pitch Warner Bros on a new Mortal Kombat live action project. The new web series is heading to development with Jeri along for the ride.
According to PasteMagazine.com; the project has been greenlit by Warners into a 10 episode web series. The series will follow character Jax Briggs, played by the same actor as in the trailer, Michael Jai White. Other characters appearing in the trailer were Reptile, Johnny Cage, Scorpion, Baraka, and Sonya Blade, the latter played by actress Jeri Ryan.
We definitely loved Mortal Kombat & Mortal Kombat II (especially that guy who would pop out of nowhere to yell "woooohoooo") and look forward to seeing Jeri in another action role.
Check out last years teaser trailer below (FYI it's pretty graphic. Not for the young or squeamish)
By Captain Pyke | June 26, 2009 - 10:03 am
As reported by Reuters, our favorite Borg Jeri Ryan is set to co-star in the second season of the TNT drama 'Leverage'.
Former "Star Trek: Voyager" heroine Jeri Ryan is set to play a recurring role on the TNT vigilante drama "Leverage," which begins its second season next month.