Kate Mulgrew
By Captain Pyke | May 22, 2012 - 10:53 pm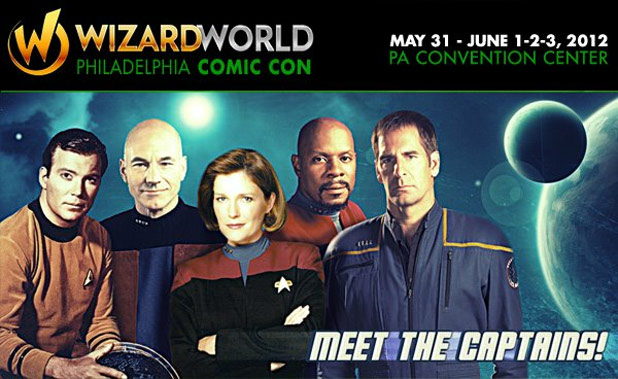 We've said it before and we'll say it again, we love Wizard World Comic Cons. They run some of the best conventions in the business. It seems that their world famous Philadelphia Comic Con is shaping up to be, not only a well run convention, but also a Trek fan's dream come true. All five captains are signed on as guests for the upcoming, May 31st through June 3rd convention. That's right woodchuck-chuckers, William Shatner, Patrick Stewart, Avery Brooks, Kate Mulgrew, & Scott Bakula are beaming down to the city of brotherly love. Really, you could say 6 captains will be on board since Chris Hemsworth will also be a featured guest. Chris plays Thor in all the Marvel awesomeness that's going on lately, but he also played George Kirk. He was captain of the USS Kelvin for 12 minutes, after all...
By Captain Pyke | April 29, 2012 - 10:53 pm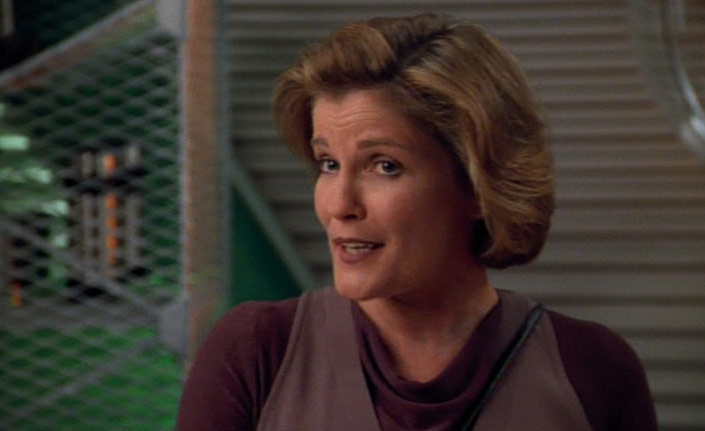 I fondly remember watching the first episode of Star Trek: Voyager back in January of 1995 with high expectations. I would dare say that my expectations were too high. I remember thinking; there's no way that this will be as good as TNG or DS9. After watching "Caretaker", I was left with one thought. Holy crap, Captain Janeway is awesome! Fast forward 16 years later and I got to experience Kate Mulgrew's appearance on stage at Vegas Khhaaann! 2011. I left the panel thinking; Holy crap, Kate Mulgrew is awesome! With that said, we'd like to wish a very Happy Birthday to the awesome Kate Mulgrew who, in turn, made Captain Janeway so awesome.
By Captain Pyke | October 30, 2011 - 9:25 pm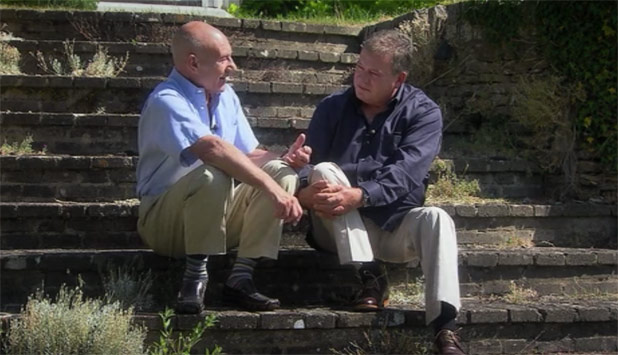 So I was cruising Netflix tonight, searching for Chuck Norris's The Delta Force (no lie!) and I stumbled upon William Shatner's documentary The Captains
on Watch Instantly. You know the one; it features interviews with all six Star Trek captains... Patrick Stewart, Avery Brooks, Kate Mulgrew, Scott Bakula, and Chris Pine. Oh, and The Shat, of course. I've been meaning to sit down and watch The Captains since release back in July, but I just simply haven't made the time. Now that I have, here are a few takeaways; First, Patrick Stewart seems to be one of the most thoughtful and eloquent actors in the history of the stage, Kate Mulgrew is tough-as-nails and can hold her own with anyone, Avery Brooks is down right crazy & amazing all at the same time, Scott Bakula is extremely down-to-earth, and Chris Pine IS William Shatner 30 years younger. And on top of that, Patrick Stewart's chair is gigantically disproportionate to Shatner's.
By Captain Pyke | September 2, 2011 - 11:30 pm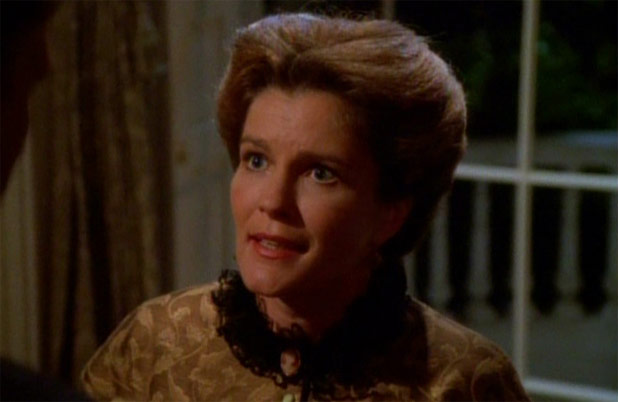 Since CBS finally launched most of Star Trek on streaming, offered by Netflix, I've been watching tons of Voyager. Really?, you say. Yes, and I've been thoroughly enjoying it. Maybe it's because we recently saw Kate Mulgrew at Vegas Khhaaan! and she completely stole the show. We'll, in our minds she did. She's also been rocking in Warehouse 13, as of late. If you're a Kate fan, like we are, you'll want to see her in George Bernard Shaw's The MILLIONAIRESS. The one time showing will be held September 26th at The Player's Club in New York City. A part of "Project Shaw", The MILLIONAIRESS was written in 1935 and is a madcap comedy about the richest woman in the world, who embarks on a life-changing journey through lawyers' offices, sweat-shops, and out of the way hotels, finally confronting herself in surprising ways. Kate will be playing the part of Epifania Fitzfassenden, the lead character and Millionairess. Be sure to check out the brief synopsis and show details below.
By Captain Pyke | August 29, 2011 - 9:07 pm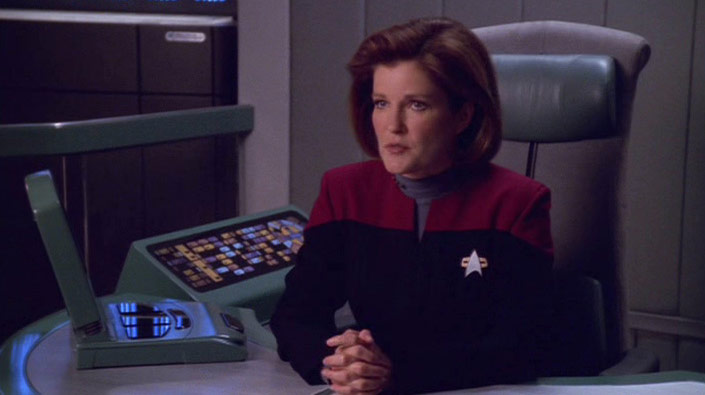 We're still living off of the adrenaline of Vegas Khhaaan!, or Creation Entertainment's 45th anniversary Star Trek convention Las Vegas, as mere mortals know it. One of the highlights of the show for us was watching Kate Mulgrew on stage. Not only could she hold her own with Sir Patrick & Sir Billiam (BTW, if you noticed, we're trying to start an internet meme with that...), but Kate was also fantastic with the fans. She was truly engaged and willing to answer any question in stride. Let's face it, we love Kate. Tonight she made her debut in Warehouse 13 on Syfy and recently TVology sat down and talked to Kate about her character and the Warehouse 13 regulars.
"Saul Rubinek is one of the great actors, I think of our generation -- certainly my generation. And I felt, he's consummate and he's unexpected. So I had to step up to the plate whenever I was acting with him. Joanne Kelly is like a delicious confection. And Eddie McClintock, I would have to tell you, as well as Allison Scagliotti, are natural actors. So it's like playing ball with people who are the best; you really have to play badly not to hit well."
By Crewman Becky | June 10, 2011 - 11:45 pm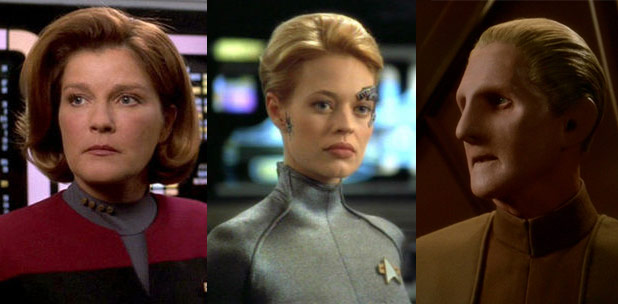 It's looking like season 3 of Warehouse 13 is turning out to be one of the best places to watch your favorite Star Trek alumni strut their stuff. So far, TV Guide says that Kate Mulgrew (Voyager), Jeri Ryan (Voyager), and Rene Auberjonois (DS9) are making appearances (or in some cases "re"appearances ) during the upcoming season.
Star Trek Voyager's Jeri "Seven of Nine" Ryan debuts as a bride named Amanda on Aug. 1, while Kate "Captain Janeway" Mulgrew begins her four-episode run as Warehouse protector Jane in September. Both characters share a shocking connection to a series regular.
Also look for Star Trek: Deep Space Nine's Rene Auberjonois to reprise his role from last season as computer expert Hugo Miller. "We discover a little bit more about his past, too," Kenny says.
By Captain Pyke | April 26, 2011 - 7:53 pm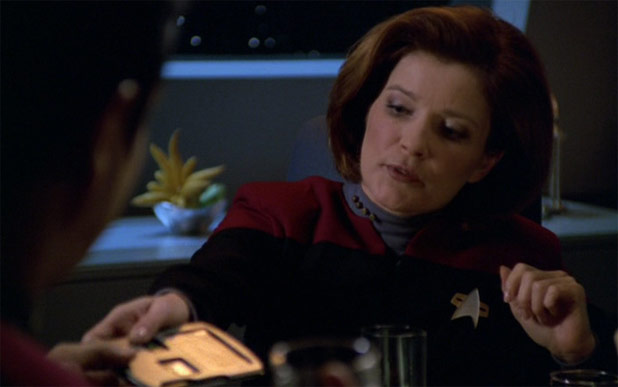 Here's your chance to have an intimate dinner with Captain Janeway (Kate Mulgrew) and at the same time give money to a worthy cause. In the 5th annual online auction Playwrights Horizons (an award-winning not-for-profit off Broadway theater) is offering up this unique opportunity to support the theater's annual season of six plays & musicals, year-round play & musical theater development programs, audience development activities, a resident internship program, the Playwrights Horizons Theater School at NYU, and Ticket Central, a low-cost box office service available to the entire performing arts community.
By Captain Pyke | April 21, 2011 - 2:30 pm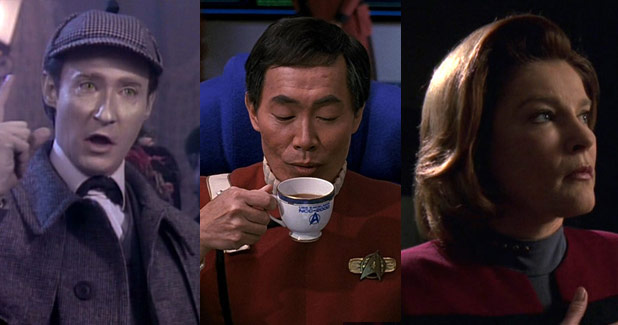 With so many new comic conventions across the country, Trek fans have a better chance at seeing their favorite stars than ever before. Detroit area fans can get up close and personal with two captains & an android. That's right, Brent Spiner, George Takei, and Kate Mulgrew will be heading to Michigan May 13th through the 15th for the upcoming Motor City ComiCon. Described as Michigan's largest comic book convention, the MCCC has been bringing awesome guests to the Motor City since 1989. Besides getting the rare chance to see Kate, the show is also packing two Brady's, a Cylon, three Colonial Warriors, and a slew of other guests. Check out the full media guest list and show details below.
By Captain Pyke | October 5, 2010 - 10:06 pm
Kate Mulgrew is set to premiere her latest theater endeavor this Friday in Hartford, Connecticut. 'Antony and Cleopatra' is one of Shakespeare's greatest romantic tragedies. A story of the love and loss that gave birth to an empire. The show marks the re-opening of the Hartford Stage after it's nearly $4 million renovation including a new roof, better lobby access for the disabled, updated restrooms and performance lighting.