Star Trek's Kate Mulgrew, Brent Spiner, & George Takei At Motor City ComiCon In May
By Captain Pyke | April 21, 2011 - 2:30 pm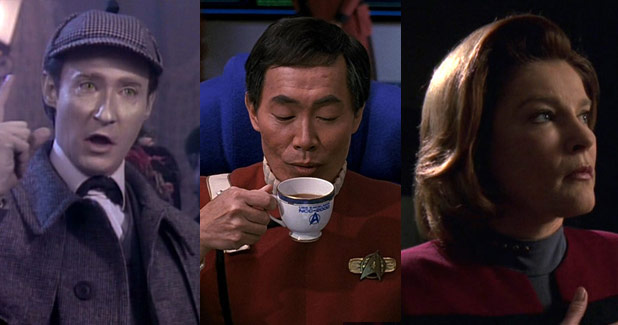 With so many new comic conventions across the country, Trek fans have a better chance at seeing their favorite stars than ever before. Detroit area fans can get up close and personal with two captains & an android. That's right, Brent Spiner, George Takei, and Kate Mulgrew will be heading to Michigan May 13th through the 15th for the upcoming Motor City ComiCon. Described as Michigan's largest comic book convention, the MCCC has been bringing awesome guests to the Motor City since 1989. Besides getting the rare chance to see Kate, the show is also packing two Brady's, a Cylon, three Colonial Warriors, and a slew of other guests. Check out the full media guest list and show details below.
Motor City ComiCon
May 13th - 15th, 2011
Suburban Collection Showcase
46100 Grand River, Novi, MI. 48374
Official Website
Times:
Friday - Public - 12:30pm - 7pm, Doors open at 12:00pm for Advance Ticket Holders
Saturday - Public - 10:30am - 6pm, Doors open at 10am for Advance Ticket Holders
Sunday - Public - 10:30am - 5pm, Doors open at 10am for Advance Ticket Holders
Admission:
Adult 1 Day, Ages 11 and up - $25 at door, $22 advance
Adult 3 Day, Ages 11 and up - $55 at door, $50 advance
Child 1 Day, Ages 6 - 10 - $10 at door
Child 3 Day, Ages 6 - 10 - $20 at door
Children 5 & Under are FREE with paid adult ticket
SUNDAY ONLY - Children 12 and Under are FREE for Kid's Day with paid adult ticket
Star Trek Media Guests
Brent Spiner
"Data" from the television series Star Trek: The Next Generation.
George Takei
Best known for his portrayal of "Mr. Sulu" in the acclaimed television and film series Star Trek. Has more than 40 feature films and hundreds of television guest-starring roles to his credit. Will next star in Larry Crowne opposite Tom Hanks and Julia Roberts, in theaters July 2011 from Universal Pictures
Kate Mulgrew
An American actress, most famous for her roles on Star Trek: Voyager as "Captain Kathryn Janeway" and Ryan's Hope as "Mary Ryan". She has performed in multiple television shows, theatre productions and movies, she has also earned multiple awards for her acting, including an Obie Award, a Golden Satellite Award and a Saturn Award. She has also been nominated for a Golden Globe Award. She is also an active member of the Alzheimer's Association National Advisory Council and the voice of Cleveland's Metro Health System.
Lee Arenberg
Best known for his role as "Pintel", one of Captain Barbossa's crew of miscreants, in the Pirates of the Caribbean film series. He has guest starred on all the Star Trek spin-offs, Star Trek: The Next Generation, Star Trek: Deep Space Nine, Star Trek: Voyager, and Star Trek: Enterprise.
Olivia D'Abo
Conan The Destroyer, The Wonder Years, Justice League, Batman Beyond, Star Wars: The Clone Wars (TV series) playing "Luminara Unduli", Law & Order: Criminal Intent, Star Trek: The Next Generation playing "Amanda Rogers" in episode: "True Q", Greedy, The Animatrix, Green Lantern: First Flight, Wayne's World 2.
Dean Stockwell
American actor of film and television, active for over 60 years. He played "Rear Admiral Albert 'Al' Calavicci" in the NBC television series Quantum Leap and in the Sci Fi Channel revival of Battlestar Galactica as "Brother Cavil.
Kristin Bauer
Currently plays vampire "Pam" on the HBO series True Blood. Also made a number of guest appearances in several television shows, including L.A. Law, Seinfeld, Everybody Loves Raymond, Dark Angel, Two and a Half Men, Star Trek: Enterprise, CSI: Crime Scene Investigation, Desperate Housewives, and George Lopez.
Other Media Guests
Angelique Sky
Zombie Apocalypse: Redemption, Hostel: Part III, Ben Stiller's :30 Minutes or Less"
Antonio Mireles
Up-and-coming Actor Antonio Mireles is a Michigan native featured in numerous independent films. He has played roles along sides with many well known actors such as Meltdown starring Robert Z'dar (Tango & Cash, Mobsters, Maniac Cop) and Street Boss starring Nicholas Turturro (NYPD Blue, Longest Yard, Jungle Fever). He has also landed roles in big budgeted films such as in Clint Eastwood's Gran Torino.
Betsy Russell
Actress best known for her role as "Jill Tuck" in the Saw films. She starred in Saw III, Saw IV, Saw V, Saw VI and Saw 3D.
Cerina Vincent
Cerina Vincent is an American film actress, and model best known for playing the Yellow Ranger "Maya" in the television series Power Rangers: Lost Galaxy, a naked foreign exchange student in Not Another Teen Movie, and "Marcy" in Cabin Fever. She is considered a scream queen.
Cookie
TNA Wrestling Knockout & valet to Robbie E. Popular for "Jersey Shore" theme.
Cindy Morgan
Cindy Morgan is an American actress best known for her appearances as "Lora/Yori" in Tron and "Lacey Underall" in Caddyshack.
Cindy WIlliams
An American actress best known for starring in the television situation-comedy series Laverne & Shirley, in the role of "Shirley Feeney". She is also known for her role as "Laurie Henderson" in the classic film American Graffiti.
Dirk Benedict
American movie, television and stage actor, perhaps best known for playing the characters "Lieutenant Templeton 'Faceman' Peck" in The A-Team television series and "Lieutenant Starbuck" in the original Battlestar Galactica film and television series.
Erika Eleniak (Saturday and Sunday only)
Baywatch, Under Siege, Bordello Of Blood, The Beverly Hill, Desperate Housewives, The Beverly Hillbillies
Ernie Hudson
Ghostbusters, voice in Beverly Hills Chihuahua 2, Law & Order, Heroes, Desperate Housewives, The Crow, The Hand That Rocks The Cradle, OZ, Stargate SG-1, Miss Congeniality
Felix Silla
Felix Anthony Silla is an Italian film and television actor and stuntman, best known for his role as "Cousin Itt" on television's The Addams Family, and many other classic character roles.
Gena Lee Nolan
Actress best known for her role as "Neely Capshaw" in Baywatch. Appeared in 65 episodes. Also, starred in Sheena TV series in 2000-2002. Playboy celebrity cover girl in Dec 2001 issue.
Greg "The Hammer" Valentine
John Wisniski, Jr. (born September 20, 1950) is an American professional wrestler, better known as Greg "The Hammer" Valentine. He is the son of wrestler Johnny Valentine.
Herbert Jefferson Jr.
Best known for his role as "Lieutenant Boomer" on the original Battlestar Galactica television series. Later, in the 1980 spin-off Galactica 1980, his character had moved up in the chain of command, becoming "Colonel Boomer, Executive Officer of the Galactica." Herb also portrayed a reporter in the film Apollo 13 and a doctor in Outbreak (1995), in 2007 he played "Captain Gault" in the Star Trek fan mini-series Of Gods and Men. In addition to his long list of great qualities (friendly, charismatic and fun to name a few!) He also graduated with honors from New York's American Academy of Dramatic Arts in 1969.
Ian Ziering
Actor best known for his role as "Steve Sanders" on the original Beverly Hills 90210 TV series. In 2008 he was a contestant on TV's Dancing With The Stars.
Joan Severance
Wiseguy, See No Evil, Hear No Evil, Lake Consequence, Black Scorpion 1-2.
John Wesley Shipp
The Flash, The Neverending Story II: The Next Chapter , One Life To Live (2010), Dawson's Creek, Batman: The Brave and the Bold - Professor Zoom: Requiem for a Scarlet Speedster! (1 episode, 2010).
Josh Becker
Writer/film director. Alien Apocalypse, Thou Shalt Not Kill...Except, Running Time, Xena, Hercules.
Joyce Hyser
Just One Of The Guys, The Flash, Greedy, The Hollywood Knights, This Is Spinal Tap, L.A. Law.
Joyce Hyser
Just One Of The Guys, The Flash, Greedy, The Hollywood Knights, This Is Spinal Tap, L.A. Law.
Larry Thomas
Actor best known for his role as "The Soup Nazi" (No Soup For You!) on TV's Seinfeld. Other credits include: Austin Powers Int'l Man of Mystery, CSI, Arrested Development, Scrubs and Arli$$.
Lydia Green
Star Wars: Episode VI - Return of the Jedi - Ewok
Marta Kristen
Best known for her role as "Judy Robinson" in the television series Lost in Space (1965-1968).
Martin Klebba
Acted in various productions, most notably Pirates of the Caribbean as "Marty", one of Captain Jack Sparrow's Black Pearl crew, in all three of the first trilogy. He made many appearances as "Randall Winston" in the television series Scrubs. As of 2010, he is working on the 2011 NBC show The Cape as a series regular named "Rollo."
Mickie James
TNA Wrestling Knockout! Country music recording artist. Former WWE 6-Time Women's/Diva Champion!
Mike Lookinland
Known to millions as the youngest son "Bobby" from the 1970s series The Brady Bunch.
Mitzi Kapture
Actress best known for her role as "Alex Ryker" in Baywatch and as "Sgt. Rita Lee Lance" in Silk Stalkings TV series. Other credits include: The Young and the Restless, Rules of Engagement and MacGyver TV series.
Peter Mayhew
Peter Mayhew is an English actor known for playing the Wookie "Chewbacca" in the Star Wars movies. His peak height was 7 feet 3 inches (2.21 m) tall. He received his first acting job in 1977 when the producers of the movie Sinbad and the Eye of the Tiger discovered Mayhew from a photograph in a newspaper article about men with large feet, and they cast him in the role of the minotaur.
Richard Hatch
Best known for his role as "Captain Apollo" in the original Battlestar Galactica television series, and also as "Tom Zarek" in the remake of Battlestar Galactica.
Robbie E.
TNA Wrestling Superstar! Popular for "Jersey Shore" theme with valet "Cookie".
Robert Z'Dar
Tango & Cash, Pocket Ninjas, Soultaker, Future War
Sam Huntington
Sam was recently seen as 'Eric' in the Weinstein Company's Fanboys, opposite Kristen Bell and Jay Baruchel and just wrapped production on Hyde Park's Dead Of Night where he stars opposite his Superman co-star Brandon Routh. You can now watch Sam every Monday night on the Sci-Fi channel's new, critically acclaimed hit series, Being Human, where he playswerewolf/tortured soul 'Josh'.
Scotty Schwartz
A Christmas Story, The Toy, Kidco
Susan Olsen
Susan Olsen is best known for her role as Mike and Carol Brady's (played by Robert Reed and Florence Henderson) youngest daughter, Cindy Brady, on the 1970s television sitcom The Brady Bunch for the full run of the show, from 1969-1974.
Terence Cover
Suburban Heroes, Cosmos Locos, Seve, The Amazing Cynicalman: The Movie, Mimesis.
Theresa Russell
"Spider Man 3", "Empire Falls", "Wild Things", "Black Widow", "A Young Connecticut Yankee in King Arthur's Court", "The Razor's Edge", "Fringe"-'Momentum Deferred - Rebecca Kibner', "Cold Case"
Tom Sullivan
Special effects artist. Evil Dead, Army of Darkness.
Torrie Wilson
Former WCW and WWE Wrestling Diva superstar! In 2009 appeared on the hit reality show I'm A Celebrity... Get Me Out Of Here
Tricia Helfer
Tricia Janine Helfer is a Canadian actress and former model, best known for her role as Number Six in the re-imagined Battlestar Galactica miniseries and television series, her role as "Carla" on Burn Notice, Dark Blue as FBI Special Agent Alex Rice, and for hosting the first season of Canada's Next Top Model.

In 2003, the television series Battlestar Galactica was used as the basis for a three hour miniseries on the Sci Fi channel. Helfer played the role of Number Six, a humanoid Cylon operative. She continued that role as a regular cast member in the TV series, which completed its fourth and final season on March 20, 2009.

Helfer also starred in a number of other projects including: Behind the Camera, Memory, and Walk All Over Me, Two and a Half Men and Human Target. She also showcased her voiceover talents for mega-hit, video game franchises in "Halo: ODST" as Commander Veronica Dare and will soon be reviving her characters from "Mass Effect 2" as EDI, and the lead character, Sarah Kerrigan in Bizzard's "Starcraft 2" for which she won a Spike Award for her voiceover work.
(source Motor City ComiCon