Scott Bakula, Jeri Ryan, Dean Stockwell, & More At Toronto Comic-Con In April
By Captain Pyke | February 20, 2012 - 11:50 pm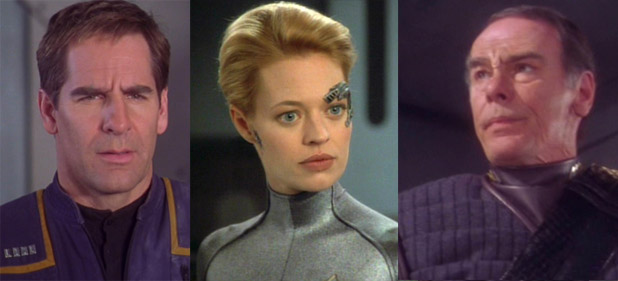 We've said it before and we'll say it again, Wizard World puts on a fantastic convention. With the likes of Scott Bakula & Jeri Ryan, it seems that their Toronto Comic-con will be no exception. That's right kiddies, April 14th-15th at the Metro Toronto Convention Centre, both Seven of Nine & Captain Archer will be in attendance. As an added bonus, for all you Quantum Leap fans, Dean Stockwell will also be in attendance. We're huge QL fans (not mention BSG) and would make the trip in a heartbeat to see Sam Beckett/Jonathan Archer & Al/Cylon John Cavil/Colonel Grat (bet you thought we forgot about Dean's appearance on Enterprise); oh and Seven of Nine too. Plus there are plenty of other stars, from various scifi series, that will be in attendance as well. Check the full press release below for all the details.
FOR IMMEDIATE RELEASE

In a career which began as a standout child actor in the 1940s, Dean Stockwell has appeared in nearly 200 movies and television shows. Now after having starred in "Quantum Leap" and performed memorable roles in shows like "Battlestar Galactica" and films like MARRIED TO THE MOB, the Academy Award nominee and four-time Emmy nominee will be making his first appearance at a Wizard World show when he meets fans, signs autographs, poses for photos and takes part in a Q&A panel at Wizard World Toronto Comic Con, April 14-15 at Metro Toronto Convention Centre (MTCC).

Stockwell will be joined at the event by Scott Bakula, the lead in "Quantum Leap," for which Stockwell earned all four of his Emmy nods. Other popular stars scheduled to attend Toronto Comic Con include Paul Wesley, Jeri Ryan and Amy Acker along with WWE® Superstar Edge® and dozens of standout celebs and talented comic book artists and writers.

Stockwell, who will turn 76 on March 3, is one of a handful of Hollywood child stars who has gone on to on-screen success as an adult. His preteen roles included 1940s blockbusters ANCHORS AWEIGH (1945) and GENTLEMAN'S AGREEMENT (1947), followed by well-received parts in SONS AND LOVERS (1960) and LONG DAY'S JOURNEY INTO NIGHT (1962).

After a hiatus, Stockwell resumed his film career, taking on sophisticated supporting roles, including his Oscar-nominee-worthy performance in MARRIED TO THE MOB (1988) before playing the "boss" to Bakula in "Quantum Leap" (1989-93), appearing in the sci-fi series' entire 97-episode run.

Toronto Comic Con, produced by Wizard World, Inc. (WIZD.PK), will bring together thousands of fans of all ages and dozens of celebrities and industry professionals to celebrate the best in pop-fi, pop culture, movies, graphic novels, comics, toys, video gaming, television, sci-fi, gaming, original art, collectibles, contests and more.

Children and adult attendees are encouraged to come dressed as their favorite villain, superhero or pop culture personality for the chance to win special prizes in costume contests. Event-goers may also try their hand interactive product exhibits and shop for collectible comics, movie and television memorabilia, toys and games at scores of dealer booths.

Toronto Comic Con is scheduled as the second stop on Wizard World's 2012 North American tour. Hours are Saturday, April 14, 10 a.m. - 7 p.m.; and Sunday, April 15, 11 a.m. - 6 p.m. Tickets are available in advance online at http://www.wizardworldcomiccon.com/toronto.html at a savings over tickets purchased at the door. Advance adult single-day tickets are priced at $25 ($38 on site); two-day tickets are $40 ($55 on site), and tickets are free for children age 10 and under when accompanied by a paid adult (limit two children per adult). VIP packages with special entry and exclusive items are also available on a limited basis.

About MTCC
The Metro Toronto Convention Centre (http://www.mtccc.com) is Canada's #1 convention and trade show facility. It is located in the heart of downtown Toronto, within walking distance of almost 13,000 hotel rooms, shopping, restaurants and Toronto sites.

About Wizard World:
Wizard World produces Comic Cons and pop culture conventions across North America that celebrate graphic novels, comic books, movies, TV shows, gaming, technology, toys and social networking. The events often feature celebrities from movies and TV, artists and writers, and events such as premieres, gaming tournaments, panels, and costume contests.
Check out the full details (with guest list) for Toronto Comic-con here.