Trek Culture
By Crewman Becky | April 17, 2013 - 8:54 pm

That's right you guys, the old girl is struttin' her stuff in this gorgeous new poster by artist Mark Brayer, and published by Bye Bye, Robot. U.S.S. Enterprise is the second poster in Brayer's vintage ships series for Bye Bye, Robot. Brayer's love of book cover art from the mid to late 1900s is the basis for the retro design of this new ship's portrait poster.
By Crewman Becky | April 16, 2013 - 10:10 pm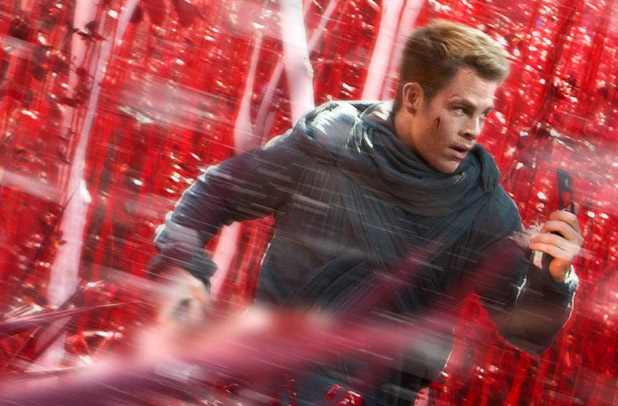 Just like the header says, there's a new Star Trek Into Darkness trailer out today, and whoa Nellie, it's a doozie. I can't wait to get my peepers on this movie! ...like you didn't know...
What I didn't mention in the title is that the Kirk poster is finally released making the Into Darkness posters an even four. You can check them out here.
By Aaron Gallo | April 14, 2013 - 9:16 pm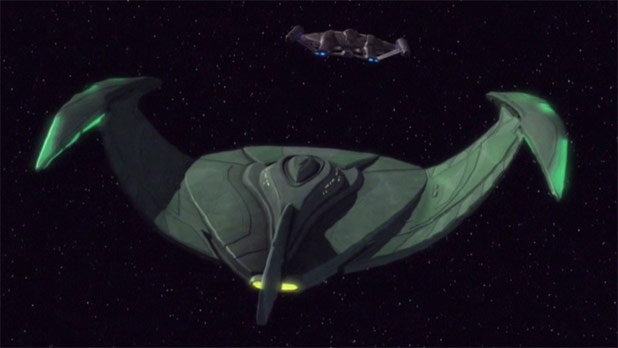 This post contains two of the latest episodes from the Starfleet Escape PodCast on the Four Eyed Radio Network. First up, Aaron, Marty, and Eric discuss one of Star Trek's greatest foes, the Romulans. We begin this episode talking about the latest news from the Trek universe including the new Vulcan characters in "Star Trek The Game," "Star Trek Renegades" updates, the passing of Malachi Throne, and the upcoming wedding of Sir Patrick Stewart. We highlight another great "Would You Buy It?" from Bye Bye Robot and find out if the crew would buy it or not.
By Captain Pyke | April 12, 2013 - 9:24 pm
Famed video game writer (Betrayal at Krondor and Dungeon Siege), The Con of Wrath directory of photography, and all around good guy, Neal Halford is launching a brand Kickstarter project. Entitled The Thief of Dreams, the first fantasy novel by Neal, is set in a world where magic is forbidden, where sorcerers are spies, and where a force beyond imagination threatens to transform the long simmering cold war between the nine kingdoms into a cataclysmic, world-shattering conflict.
By Crewman Becky | April 10, 2013 - 9:12 pm
We already knew there were a ton of Star Trek fans in the world, but if you need proof, how about this? So many people tried to buy tickets to the "early" UK screening (UK debuts on May 9th) that the IMAX website crashed
By Captain Pyke | April 9, 2013 - 9:07 pm
Star Trek writer Roberto Orci is an admitted Trek fan. He and Alex Kurtzman penned both Star Trek 2009 and the upcoming Star Trek Into Darkness for director J.J. Abrams. When Roberto was asked about his thoughts on J.J. helming both the Trek & Wars franchises he mentioned feeling a disturbance in the force.
By Captain Pyke | April 7, 2013 - 11:30 pm
If you're like me, Starlog Magazine has a very special place in your heart. Outside of Star Trek Communicator, Starlog was the one way to find out all the current info regarding Star Trek, Star Wars, and any other scifi television series or movie. This was pre-internet days we're talking about. Unfortunately, Starlog ceased operations in April of 2009, but its memory lives on in the form of 20 years of issues being available through The Internet Archive.
By Captain Pyke | April 5, 2013 - 10:16 pm
It's that time of year again, where Star Trek fans join together to celebrate the future meeting of Humans and Vulcans in a small town in Montana. Exactly 50 years from today, after performing his first warp flight, Zephram Cochrane will get a visit from pointed eared aliens that will change the course of history for the galaxy...forever.
Tags:
By Crewman Becky | April 3, 2013 - 11:35 pm
We've loved Scott Bakula since (at least) his time on Quantum Leap and then even more so on Enterprise, so when we came across a great interview with him by Hero Complex, LA Times we had to tell you guys about it.