Trek Culture
By Captain Pyke | March 31, 2013 - 9:42 pm
Here's a bit of nostalgia for you. I recently stumbled upon a documentary on Youtube called Star Trek Voyager - Inside the New Adventure. The documentary was originally released on January 14th, 1995 on the fledgling UPN network just two days before the premiere of Janeway and her crew. Hosted by Robert Picardo, the hour long (42 mins sans commercials) video showcases what new viewers could expect from the next installment of the Trek franchise.
By Captain Pyke | March 29, 2013 - 10:52 pm
We recently got word of a pretty cool Trek event that's happening On April 7th (4/7, get it?). Let's put it this way; it involves Khan, the Enterprise, the SS Botany Bay and as many Trek fans as twitter and the interwebs can hold. That's right kids, TrekTweets.com is launching a "Space Seed" tweet event that lets fans get together and talk about a specific episode all in real time.
By Crewman Becky | March 26, 2013 - 10:53 pm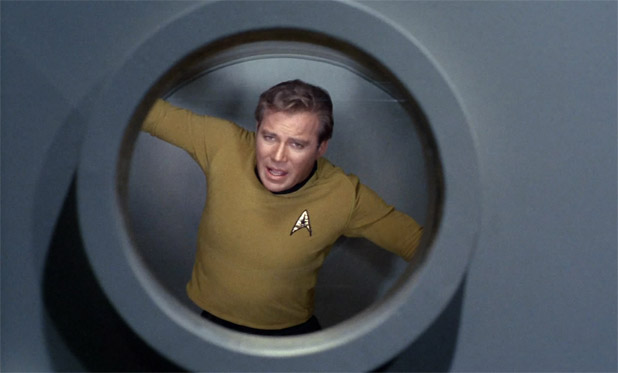 If you have already heard about Hulu's Free Star Trek Week, then you won't see this article because you've been on your couch since the announcement watching it…like we have…and are not diligently checking your interwebs. But…if you haven't heard about it, then listen up! Go grab some munchies, adjust your favorite recliner, and be prepared to enjoy non-stop Star Trek till the end of the month!!! (it deserved triple exclamation points, fer-sure)
Hulu is offering everyone free access to all Star Trek shows, in honor of The Shat's birthday.
You can watch your favorite series, or your favorite episodes…but if you've never watched (or hardly watched) Star Trek before and are overwhelmed about where to start, check out this list of excellent episodes. It pretty much hits it right on the nose with the suggestions.
By Captain Pyke | March 25, 2013 - 11:20 pm
In a fit of "this is probably a bad idea, but we're going to spend the money anyway" the Internal Revenue Service created a poorly executed training video that parodies a certain scifi series that starts with the word "Star" and ends with "Trek". CBS News gained access to the video through the Freedom of Information Act after the IRS earlier refused to turn over a copy to the congressional committee that oversees tax issues: House Ways and Means.
By Captain Pyke | March 24, 2013 - 11:00 pm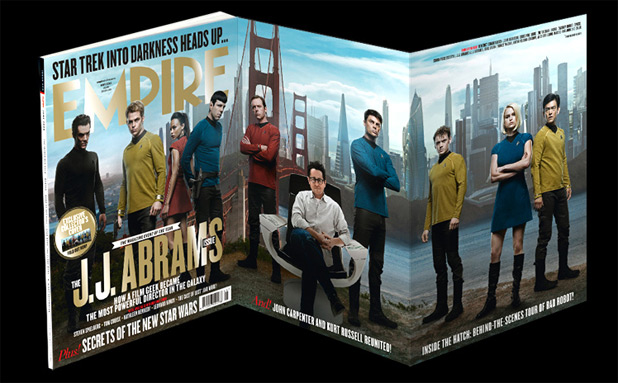 Empire magazine just released photos of its May issue cover featuring Star Trek Into Darkness cast and crew. In a first ever three page fold-out cover, the magazine features the main crew of the J.J.-prise with Alice Eve, Benedict Cumberbatch, and the director himself parked in the captain's chair. The magazine will be available March 28th and will feature a full 75 pages about J.J. and his "Star" franchises. You can get your copy from newsstands everywhere, online, or via your mobile devices. Any news on Khan, Klingons, or Robocop? Not yet, but we'll keep you posted.
By Crewman Becky | March 21, 2013 - 10:22 pm
Here's a fun project we know you're going to like, a fan film about fan films…and so much more. Trekoff: The Motion Picture is a documentary, being made by the Trekoff Podcast, which is all about Star Trek fans who create more Trek culture (a concept we just happen to be familiar with, ourselves). These guys are interviewing, filming, and participating in Star Trek based podcasts, blogs, fan fiction, conventions, etc… all over the country.
By Captain Pyke | March 18, 2013 - 11:28 pm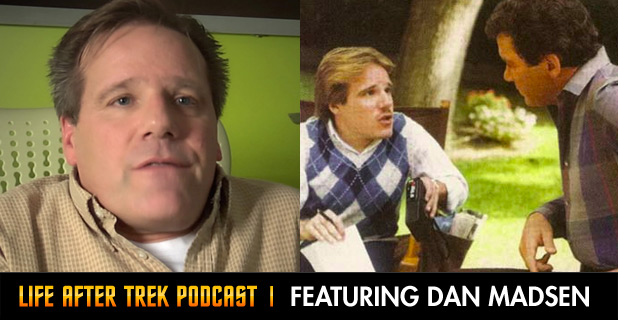 We're pleased to announce episode 24 of our "Life After Trek" podcast featuring Dan Madsen. Dan is know for forming the first official Star Trek fan club, creating Star Trek Communicator Magazine, and running the official Lucasfilm Fan Club for nearly 20 years, just to name a few. Being a longtime fan of Star Trek, beginning with TOS syndication in the 70s, Dan started his jaunt into the fan club scene with a small ad in Starlog Magazine in 1979. The fan club grew with leaps and bounds until 1982 when he was approached by Paramount to head the first officially licensed Star Trek fan club. Dan has been a major force in Trekdom for over 30 years and has continued his work today with the extremely popular Her Universe clothing and collectibles company.
By Crewman Becky | March 16, 2013 - 11:43 pm
Since Star Trek Into Darkness isn't out yet, and we know you're jonesin' for some cast interaction something fierce, here's one you might like. It's been reported that Sulu … er, uh… John Cho, will be guest starring in Sleepy Hollow, Fox's new supernatural crime drama based on The Legend Of Sleepy Hollow.
By Captain Pyke | March 13, 2013 - 10:29 pm
Ever want to be in the collective? Weird question, right? Cybernetic implants, a hive mind, no individuality, what's not to like? Well here's your chance to do the next best thing. To celebrate the launch of Star Trek: The Next Generation - Season Three [Blu-ray] and the special "Best of Both Worlds" theater event, CBS just released its "Be a Borg" app on Facebook.