Captain Kirk Tries To Save The Oscars... From Itself
By Captain Pyke | February 24, 2013 - 10:55 pm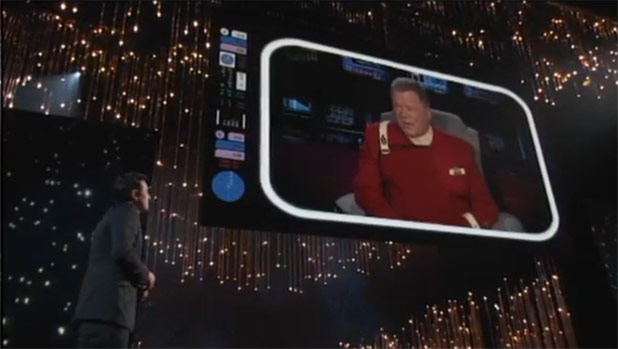 During the opening number for the 85th Academy Awards, one James Tiberius Kirk sent a message... from the future. The fate of the Oscars was at stake and host Seth MacFarlane was in dire need of help.
"I'm here to stop you from doing what you're about to do," the exasperated Kirk explained. "I've come back in time from the 23rd century to stop you from destroying the Academy Awards!"
Alright, it wasn't from the future... He said he traveled through time... In the Enterprise? I'm so confused.
Dressed in full Starfleet regalia (ST:II to VI style uniform) and on the "bridge", Bill "The Shat" Shatner dropped a few choice truth bombs on the Family Guy creator.
The Captain proclaimed MacFarlane to be the "worst host ever." Adding insult to injury with "Your jokes are tasteless and inappropriate," and "Everyone ends up hating you."
In his best tongue-in-cheek style, Shatner ended his pep talk with; "Make your audience feel welcome, and then you start the show." Not bad advice after all. Although, I haven't sat through an Oscar broadcast in probably 15 years. It's kinda like watching an Amway presentation on repeat... with less John Tesh.
(Source MTV News)