Star Trek: Voyager
By Captain Pyke | August 17, 2011 - 9:43 pm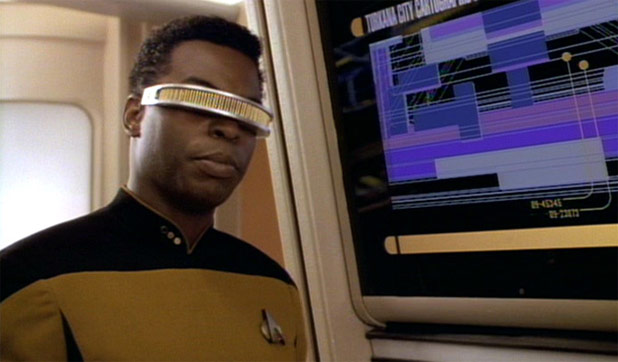 A brand new series heading to TNT is set to feature a recurring role with our favorite Chief Engineer, LeVar Burton. Perception stars Eric McCormack (from Will & Grace fame) as Dr. Daniel Pierce, a neuroscientist and professor recruited to help the federal government crack difficult cases. LeVar is set to play the Dean of the University where Pierce is a professor. The show is created by long time Star Trek: Voyager writer / producer Kenneth Biller. Kenneth joined Voyager as an Executive Story Editor with the first season episode "Parallax". Beginning with the second season episode, "Dreadnought", Biller became a Co-Producer on the series. He was named Producer by season four, Supervising Producer at the start of season five, and Co-Executive Producer at the beginning of the sixth season. During the seventh and final season, he was an Executive Producer on the show. Kenneth also co-wrote the Klingon Encounter ride for Star Trek: The Experience with René Echevarria.
Check out the press release below for the full details on Perception.
Release Date: 8/17/2011
TNT Begins Production on Perception, New Drama Series Starring Emmy® Winner Eric McCormack
By Captain Pyke | August 6, 2011 - 10:32 pm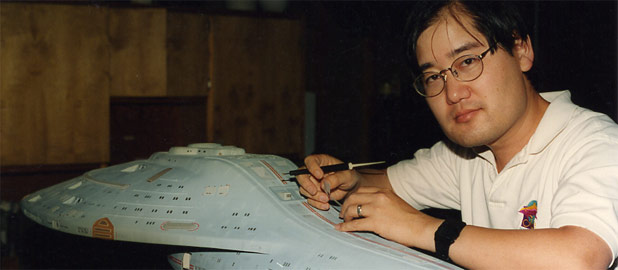 We would like to wish a very happy birthday to Mike Okuda. He has been responsible for a myriad of things throughout the various Trek incarnations since the mid-1980s starting with Star Trek IV: The Voyage Home. Mike gained notoriety for his work on Star Trek: The Next Generation as a scenic artist / technical consultant and for designing the futuristic graphical user interface (LCARS or Okudagrams) used throughout the TNG era and all the way to DS9. I would also like to personally thank Mike and give him credit for inspiring me to work professionally in the graphic arts and user interface design. Thanks Mike, your work has inspired an entire generation of graphics professionals!
By Captain Pyke | July 20, 2011 - 11:59 am
Just like the recent announcement and launch with Netflix, Amazon Instant Video
is adding Star Trek: The Original Series, Star Trek: The Next Generation, Star Trek: Deep Space Nine, Star Trek: Voyager, & Star Trek: Enterprise, for your streaming pleasure. Announced today, CBS via Amazon is also going to server up other hit shows like Cheers, Fraizer, plus more on Amazon's Netflix competitor. No word on an exact release date, but Amazon is promising "this summer". Check out the full press release below.
Update - Maybe The Animated Series? We noticed that the press release said the entire Star Trek Franchise. We'll have to get confirmation...
By Captain Pyke | July 6, 2011 - 8:42 pm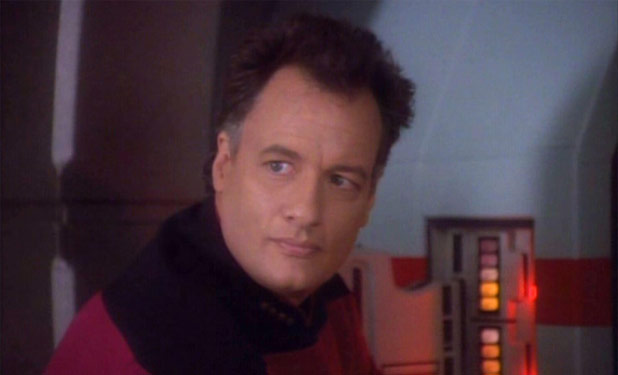 Shore Leave, one of the longest running fan operated conventions, is quickly approaching. We've never been to this particular con, but we have had fantastic reports the last two years thanks to The SciFi Diner's Miles McLoughlin. Be sure to check out the Shore Leave 31 & 32 reports to get an idea of what to expect. There's an interesting group of stars that visit Maryland every year and this time is no different. If you're a TOS fan (and who isn't?) Gary Lockwood & Sally Kellerman from "Where no man has gone before" will be on hand. Of course you'll know Gary from 2001: A Space Odyssey and Sally from the motion picture version of MASH as well as many other TV and motion picture appearances. On top of that, our favorite omnipotent being Q, John De Lancie, Star Trek authors Dayton Ward, Kevin Dilmore, David Mack, Keith DeCandido, Peter A. David and many others will also be on hand.
By Captain Pyke | July 1, 2011 - 4:08 pm
As of today (July 1st) 4 out of the 6 Star Trek series are now available on Netflix via it's Watch Instantly service. Notice how we say 4 out of 6, we're including The Animated Series in those numbers. Included are Star Trek: The Original Series, Star Trek: The Next Generation, Star Trek: Voyager, & Star Trek: Enterprise. Star Trek: Deep Space Nine will be available in October, with no word on when The Animated Series will be available.
We've started the celebration by watching some Voyager... That's right, the big V word. We love Captain Janeway and the crew and began our Netflix Trek journey with two favorites, "Workforce PT 1 & 2", and "Q2". What will you be watching?
Get your Trek on at Netflix.com
By Crewman Becky | June 10, 2011 - 11:45 pm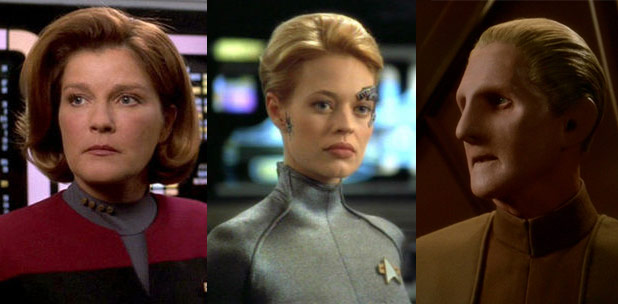 It's looking like season 3 of Warehouse 13 is turning out to be one of the best places to watch your favorite Star Trek alumni strut their stuff. So far, TV Guide says that Kate Mulgrew (Voyager), Jeri Ryan (Voyager), and Rene Auberjonois (DS9) are making appearances (or in some cases "re"appearances ) during the upcoming season.
Star Trek Voyager's Jeri "Seven of Nine" Ryan debuts as a bride named Amanda on Aug. 1, while Kate "Captain Janeway" Mulgrew begins her four-episode run as Warehouse protector Jane in September. Both characters share a shocking connection to a series regular.
Also look for Star Trek: Deep Space Nine's Rene Auberjonois to reprise his role from last season as computer expert Hugo Miller. "We discover a little bit more about his past, too," Kenny says.
By Captain Pyke | May 30, 2011 - 11:06 pm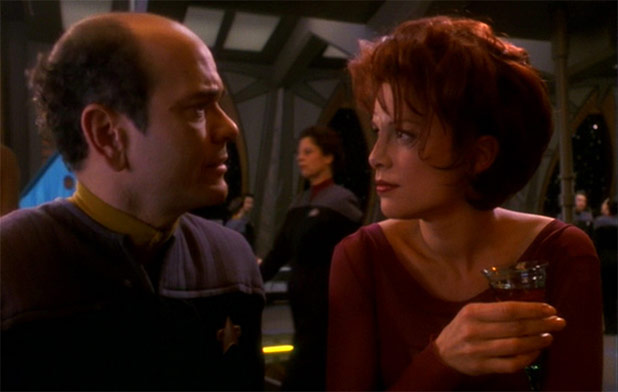 Here's an interesting event that was just brought to our attention by the show organizers. It's is called the Frank & Son Collectable show and on June 11th they will be hosting they're 2nd annual Star Trek Day featuring cast members & guest stars from every Trek series. It's not a convention per se, but more of a chance for fans to get autographs and photo-ops with their favorite stars. Also at the event, the Cinema Makeup School of Los Angeles will be on hand doing Star Trek/ Sci-Fi makeup effects on attendees. Cryptic Studios will be there as well, with PCs setup for you to try out "Star Trek Online", plus free trials of the game for the first 150 people in attendance.
By Captain Pyke | May 28, 2011 - 7:35 pm
Any Trek fan (Voyager fan, or not) can appreciate an Intrepid class shaped computer case. This scratch built computer mod is the brainchild of Cooler Master forum member ASPHIAX and serves as his entry in the Cooler Master 2011 Case Mod contest. Made from XPS foam, fiberglass, epoxy, epoxy clay and Depron foam, the entire project took over 5 months to complete and is chock-full of LEDs.
By Crewman Becky | May 26, 2011 - 10:58 pm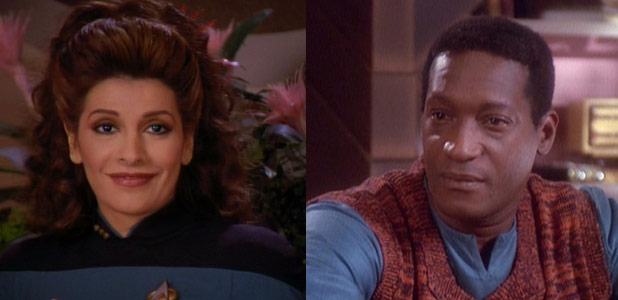 Get your party hats on and head to Houston, cuz Comicpalooza is happening this weekend! You'll get a chance to see, hear, and meet Marina Sirtis (Next Gen) and Tony Todd (Next Gen, DS9, Voy) over a fantabulous three day weekend.
In addition to the Trek representation they have a ton of other guests including; Edward James Olmos (Battlestar Galactica), Sean Maher (Firefly/Serenity), Meaghan Rath (Being Human), Sam Tramell (True Blood), and many many more. You say, "Who's gonna be there?!"